Daniel Cormier only willing to fight a 'clean' Brock Lesnar
Updated July 8, 2018 - 7:07 pm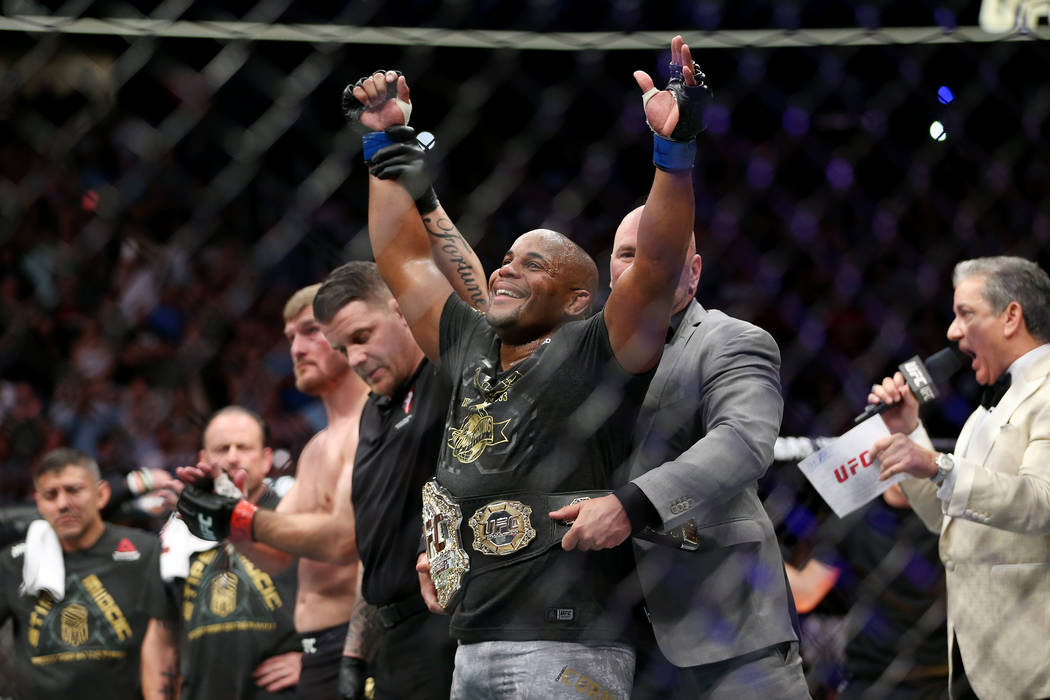 Daniel Cormier was hoping to secure his legacy and stake his claim as one of UFC's the all-time greats when he moved up to challenge for the heavyweight title Saturday night.
His first-round knockout of Stipe Miocic in the main event of UFC 226 at T-Mobile Arena also likely earned him a massive future payday.
Former heavyweight champion Brock Lesnar confronted Cormier in the cage and appears poised to return to the octagon for a bout that figures to do big numbers at the box office and on pay-per-view.
There's still the complicated matter of when Lesnar is actually eligible to return to action. He retired and exited the USADA testing pool with six months still to serve on his 2016 suspension for violating the organization's anti-doping policy.
Both UFC and USADA officials confirmed Lesnar began the process of getting back in the pool within the past week, putting his return date sometime in early January.
Cormier has options, especially now that he is only the second fighter in UFC history after Conor McGregor to simultaneously hold belts in two different weight classes. He can either wait for Lesnar or go back down to light heavyweight and defend the 205-pound title.
"I hold all the cards," Cormier said late Saturday night.
One thing he won't do is step in the cage with Lesnar if he believes he's still skirting the rules.
"Brock's got to be clean, man," Cormier said. "I'm not going to fight him unless he's clean. We'll do testing above USADA to make sure. I'll even pay for it.
"I'm not going to fight him if he's cheating. I've done that on a number of occasions already."
Cormier's only losses in the cage have come against Jon Jones, though one was overturned due to a positive test and one happened before USADA testing came to the UFC.
The intensity of his rivalry with Jones, who is still awaiting sanctioning from USADA for his positive test after the Cormier fight last year, is in stark contrast to his relationship with Lesnar.
Cormier and Lesnar go back to the late 1990s when they were elite collegiate wrestlers. He acknowledged at least some of the pushing and shoving in the cage after the fight on Saturday night was to trump up interest in their potential fight, but has a message for those that would write it off as just a staged performance.
"Fine, stay broke," Cormier said. "When you've got a guy like Brock Lesnar and you don't go crazy on him? Are you crazy? When Brock decided to step in the octagon with me, he's a pro wrestler. He does fake fighting. So I'll do fake fighting with you until I put my fist upside your face. You call it fake. Tune in. Get on board.
"I watch the WWE. I love it. Brock Lesnar is the champion of the WWE, but when he comes here, there's no script, no Vince McMahon saying, 'Hey, D.C., lay easy on the punches.' When Brock punches me, I'm going to get in (his face). He can talk big and bad now, but when that cage door closes, he's going to have to answer for his words."
Cormier did reiterate his long-standing vow to retire before he turns 40 in March 2019. That probably gives him two more fights, which he insists will be chosen for box office appeal.
A tough heavyweight contender with a low profile like Alexander Volkov doesn't make sense to Cormier, who mentioned Lesnar, a rematch with Miocic and a trilogy bout against Jones if he's reinstated as possibilities.
He also said light heavyweight contender Alexander Gustafsson could "get it" as long as he does something impressive against Volkan Oezdemir at UFC 227 in Los Angeles next month.
Miocic said he would be interested in a rematch, but it's not his immediate focus.
His wife Ryan is due to give birth to their first child, a daughter, in the next few weeks.
"It was D.C.'s night," said Miocic of the end of a title reign that saw him make the most successful defenses of the heavyweight belt in UFC history. "I lost. No excuses. He was the better man tonight.
"All I care is about getting home. I've got my daughter waiting."
More MMA: Follow MMA and UFC coverage at CoveringTheCage.com and @CoveringTheCage on Twitter.
Contact Adam Hill at ahill@reviewjournal.com or 702-277-8028. Follow @AdamHillLVRJ on Twitter.
UFC 226
Box office and bonus information from Saturday's event at T-Mobile Arena
Gate: $5,677,238.21
Attendance: 17,464 (sellout)
Performances of the Night: Daniel Cormier, Khalil Rountree Jr., Anthony Pettis, Paulo Costa