Daniel Cormier putting title, state pride on line at UFC 230
Updated November 2, 2018 - 5:41 pm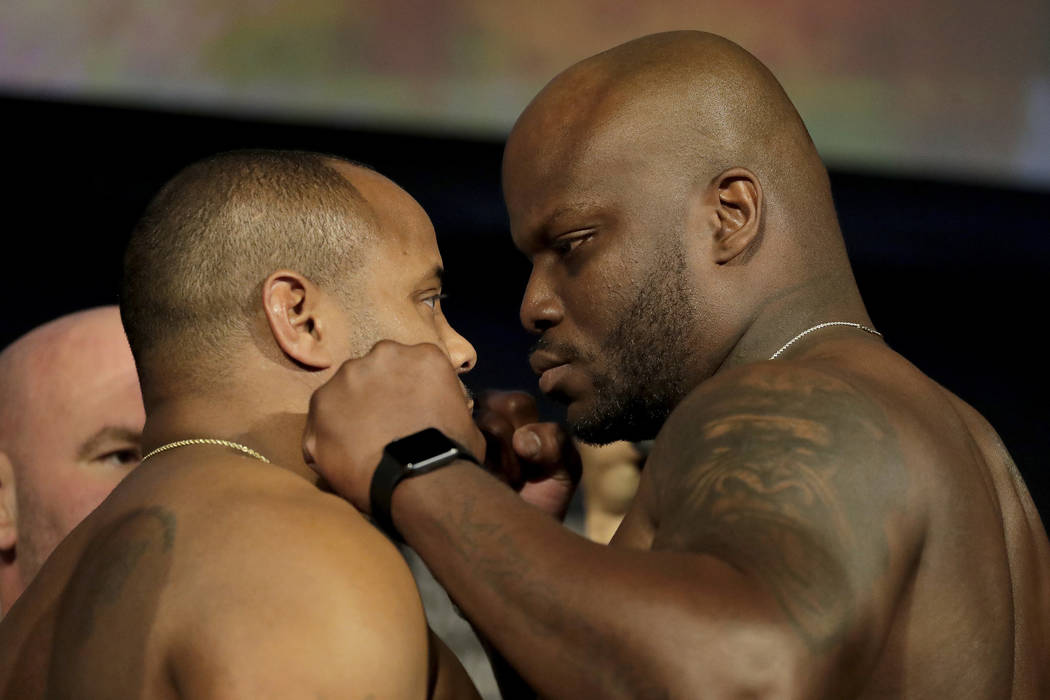 UFC heavyweight Daniel Cormier and his challenger in the main event of Saturday night's UFC 230 card were both born in the same state.
Cormier has no doubt about who the folks back home will be cheering for when he steps into the cage against Derrick Lewis at Madison Square Garden in New York, though.
The pay-per-view broadcast begins at 7 p.m., with four fights from the preliminary card airing on Fox Sports 1 at 5.
"Louisiana loves Daniel Cormier," the two-division champion said.
Lewis, born in New Orleans, relocated to Texas in his teenage years and is a fan of the Houston-area teams.
Cormier lives and trains in California, but hasn't changed his sports allegiances from his days growing up in Lafayette. He hopes a win over Lewis will be part of a big sports weekend on the bayou.
"The state is ready to explode on Saturday night," Cormier said. "Right before I enter the octagon, LSU will complete their improbable rise under the great Ed Orgeron and become No. 1 in the rankings. Then, on Sunday, the Saints will defeat the Rams and become top seed in the NFC. So a big Louisiana weekend."
Cormier wasn't expected to be in action again until early 2019 when Brock Lesnar is eligible to return from suspension for what will be a massive showdown. He elected to put that lucrative payday on the line to take this fight on short notice when the card was in need of a main event.
"It's very risky," Cormier said. "This is a guy that can finish the fight in no time."
Lewis has won nine of his last 10 fights to rise steadily up the rankings.
Still, his title shot was a bit unexpected.
Lewis saw his popularity increase exponentially with a spectacular knockout finish in the final seconds of a fight he was losing against Alexander Volkov last month, which he followed up with a hilarious interview after the fight. It just so happened to take place on a card that featured Conor McGregor and Khabib Nurmagomedov.
"He was on the biggest stage in mixed martial arts history and he took notice and made the most of his moment and he got this title fight," Cormier said. "He deserves this."
It was enough to earn Lewis the offer of the headlining spot and Cormier decided to accept it even though he was still recovering from surgery.
He insists it won't be a hindrance to his performance.
"I was rehabbing my hand when they started offering me fights and I thought it was still hurt because every time they would squeeze and grind on it, but that was just scar tissue," Cormier said. "The moment I got the fight and started punching, it was fine."
Part of the appeal was competing in the world's most famous arena.
"It's crazy," he said. "I remember being here back in 2003 for the (wrestling) world championships and being in the locker room and walking out to this floor to compete almost two years to the day after (Sept. 11). Just walking out and every time we emerged from the tunnel just hearing, 'USA, USA,' every time and having that pride to represent our country was just an amazing thing.
"Now to be back as a competitor is truly amazing. Even for my coaches walking out on this floor and seeing the Knicks logo, it's just different. We've been everywhere together as a team and even they were like, 'Wow, this is MSG.'"
Cormier is a prohibitive minus-650 favorite to retain the belt in his first defense of the heavyweight title. The Olympian began his pro career in the division and was dominant in his first 13 fights as he never lost so much as a round.
He dropped to light heavyweight only because his close friend Cain Velasquez was the heavyweight champ at the time and Cormier eventually became champion at 205 pounds where he engaged in a notorious feud with Jon Jones.
Cormier finally made his return to heavyweight in July to take the belt from Stipe Miocic with a first-round knockout. He still holds the light heavyweight title, but it is expected to be stripped next month when Jones returns to fight Alexander Gustafsson.
Saturday's heavyweight title bout headlines a main card that features four middleweight bouts, including a contender bout between Ronaldo "Jacare" Souza and former champ Chris Weidman.
More MMA: Follow all of our MMA and UFC coverage online at CoveringTheCage.com and @RJ_Sports on Twitter.
Contact Adam Hill at ahill@reviewjournal.com or 702-277-8028. Follow @AdamHillLVRJ on Twitter.