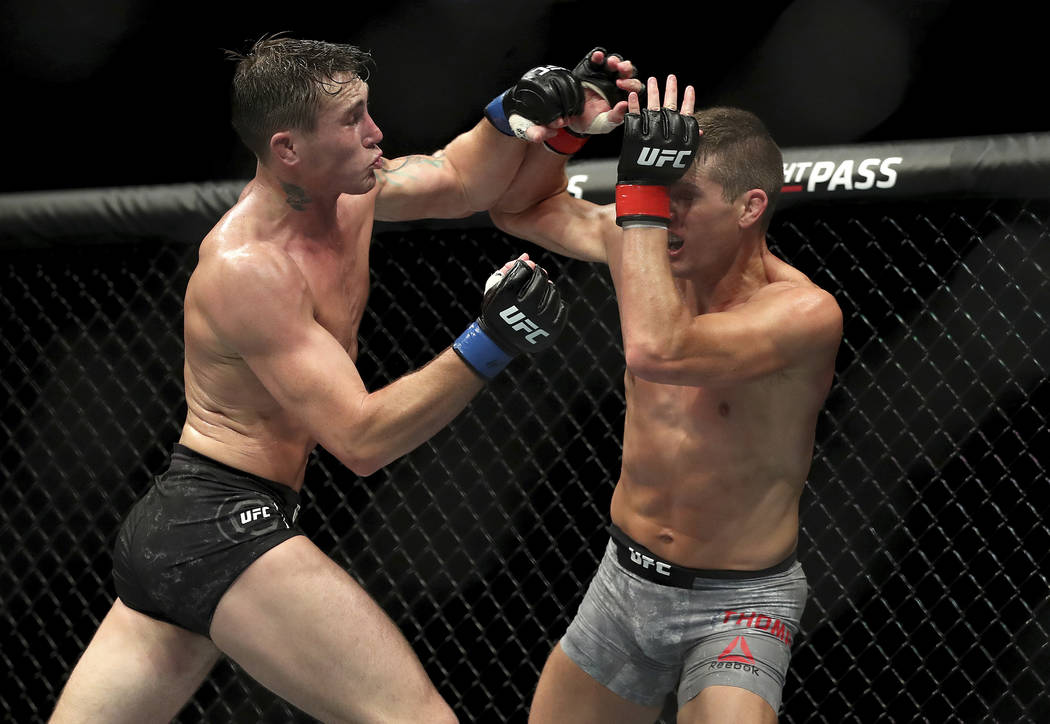 UFC welterweight Darren Till scored the biggest victory of his career Sunday in his hometown of Liverpool, England, when he won a unanimous decision over No. 1 contender Stephen Thompson.
Till, who missed weight Saturday, didn't use the occasion to demand a title shot. In fact, he used the UFC Fight Night 130 postfight news conference to lobby for the man he beat.
"I couldn't care less," Till said when asked whether he thought he had earned an opportunity to fight for the belt.
"I think Stephen deserves a go at the (belt) more than myself. I know I just beat him in a close fight, but give it to Stephen. He made weight, and he's still No. 1 and beat more guys than me, so give it to him. I'm a realist, I'm not going to sit here and (expletive) anyone. I'm not going to (expletive) myself, and I'm certainly not going to (expletive) you. So give it to Stephen. I'm just going to go and train."
Till, 25, improved to 17-0-1 in his career and 5-0-1 in the UFC. He still has his sights set on the title, but thinks he has plenty of time.
He's also discouraged by missing the welterweight limit by 3½ pounds. He said he was pulled from cutting weight by a family emergency.
"I still want to beat them all in the division," he said. "I want to come back and put that weight thing behind me.
"I'm ashamed. I am a professional, and I'm a big guy for the weight, and I've got to get it more under control. I've made weight before. I've just got to get it more under control now. Adversity, good or bad, I'll take it."
Thompson, who has a draw and narrow loss to Tyron Woodley in title bouts, said he thought he had done enough to win.
"Yeah, I thought I edged it out, but it is what it is," Thompson said. "He's a big boy. Definitely a big boy, you could feel his weight out there a little bit.
"I'm gonna go back and definitely learn from this, but hats off to Darren."
Also on the card, veteran welterweight Neil Magny knocked out late replacement Craig White late in the first round.
White to meet with McGregor
UFC president Dana White's plans to meet with superstar Conor McGregor during his visit to Liverpool this weekend didn't materialize because of scheduling conflicts.
They now will speak on White's home turf.
"Conor and I are going to meet in Vegas," White said during Sunday's postfight news conference. "He and I haven't seen each other since New York. We haven't seen each other, we haven't talked, nothing. So we need to see each other soon."
White said McGregor's return to action could be a lightweight title fight against champion Khabib Nurmagomedov.
"I'm pretty confident that is the fight that Conor wants," White said. "And I'm pretty confident that is the fight that Khabib wants. So I can see that happening."
ESPN deal might end 'TUF' franchise
White confirmed this week that the organization's new deal with ESPN might signal the end of "The Ultimate Fighter."
The reality show, a concept largely cited as the springboard for the organization's success, is airing its 27th season.
Production will start soon for Season 28 on Fox Sports 1, but ESPN's deal with the UFC will begin in January.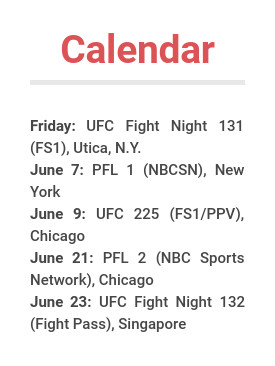 "We don't know," White told USA Today in England. "It might be the last one. Thirteen years, "The Ultimate Fighter" has gone, it's incredible."
UFC debuts in Utica
UFC Fight Night 131 on Friday will mark the organization's first card in Utica, New York.
Bantamweight Jimmie Rivera puts his 20-fight winning streak on the line against Marlon Moraes in the headliner of a main card airing at 7 p.m. on Fox Sports 1.
Veteran welterweights Jake Ellenberger and Ben Saunders also will meet on the main card.
More MMA: Follow all of our MMA and UFC coverage online at CoveringTheCage.com and @CoveringTheCage on Twitter.
Contact Adam Hill at ahill@reviewjournal.com or 702-277-8028. Follow @AdamHillLVRJ on Twitter.