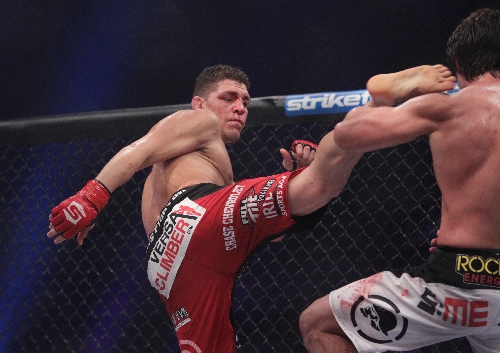 For several years, Ultimate Fighting Championship president Dana White has said Nick Diaz could be a huge star if he would just play the game a little bit.
That proved too much to ask of the ultra-talented, but brash 28-year old.
Diaz was removed from his scheduled UFC 137 welterweight title bout against Georges St. Pierre at Mandalay Bay on Oct. 29 after he failed to show up for news conferences promoting the fight on consecutive days.
"I've had my reservations about Nick Diaz for a long time," White said. "You've heard me use the term 'play the game.' All I asked this kid to do was play the game this much. When we signed this fight, we sat down in my office and I said, 'Let me tell you what kid. Add up all the purses of your career and you're going to make so much more money for this fight. It will be biggest fight of your life. But I need you to do certain things.'
"You have to promote this fight. You have to show up for press conferences. You can't start fights at fights,' and the list goes on of the things we needed from him and Nick looked right in my face and lied to me and said he would do it."
White made the announcement at a news conference at Mandalay Bay that was supposed to kick off ticket sales for the fight.
White stood at the podium with St. Pierre seated on one side and an empty seat with two water bottles, a microphone and an energy drink in the spot reserved for Diaz.
Carlos Condit, who was slated to face BJ Penn on the same card, has been promoted to the title shot against St. Pierre.
White said Condit began crying when told about the opportunity and had to call back 15 minutes later to work out the details.
Diaz, on the other hand, could not be reached.
White detailed the series of events that led up to the decision to remove Diaz from the bout.
He missed a flight to Toronto on Monday for a scheduled Tuesday news conference and asked for the UFC to rebook him for a Monday night flight. Diaz then texted White to tell him he wouldn't be on that flight, either.
"I called and left him a message on Monday night and I still haven't heard back from him," White said Wednesday.
White said Diaz's manager asked for a third flight to be booked by the UFC, but once again the fighter did not make it. White said he woke up Wednesday morning to news Diaz wouldn't make it to Las Vegas, either.
He made the decision then to remove Diaz from the event.
"I expected some stress and headaches over the next couple months, but I didn't expect this," White said.
As of Wednesday afternoon, White said both the UFC and Diaz's camp were unaware of the fighter's location.
St. Pierre said he was concerned for the well-being of Diaz when he missed the Tuesday event, but was more "shocked" when he found out the details.
"I don't understand how someone can not show up to an opportunity like this," St. Pierre said. "I just can't believe it. It's amazing. I don't know what to say. It's crazy."
He joked that perhaps Diaz had been abducted by aliens or that the entire situation was an elaborate prank being staged against St. Pierre.
White wasn't laughing. He speculated Diaz was "cracking under the pressure" of the big stage.
It has been an opportunity a long time in the making.
Diaz has had plenty of success inside the cage, but has run into more than his fair share of problems that have slowed his progress.
He failed a post-fight drug test for extremely high levels of marijuana in 2007, was part of the infamous Strikeforce brawl on live television on CBS in April 2010 and even got into a fight with Joe Riggs in a Las Vegas hospital just hours after the two had fought in a UFC bout in 2006.
Those factors, combined with Diaz's unwillingness to cooperate with UFC officials have kept him out of the sport's biggest organization since 2006, despite White continually acknowledging the Stockton, Calif. native as one of the best and most exciting fighters in the sport.
Diaz thrived in other organizations, winning his last 10 fights, and was given the shot against St. Pierre largely because fans were clamoring for the fight.
White said Diaz had been very cooperative in June when it was announced the Strikeforce welterweight champion would be moved over to the UFC and be given an immediate title shot against St. Pierre.
"The kid flew out, signed a contract, and sat in my office and told me he wanted this, and he was going to do everything that we needed him to do," White said. "We're not asking him to do anything that Georges St-Pierre isn't so the whole thing makes no sense. It's beyond comprehension."
White said no decision has been made as to whether Diaz would be cut from the organization, but did seem to leaning in that direction.
He also said he is trying to determine a replacement opponent for Penn. He said he hadn't even had time yet to alert Penn about the change.
"I have a feeling I'll be dealing with a pissed off Hawaiian," White said.
Contact reporter Adam Hill at ahill@reviewjournal.com or 702-224-5509. Follow him on Twitter: @adamhilllvrj.com.