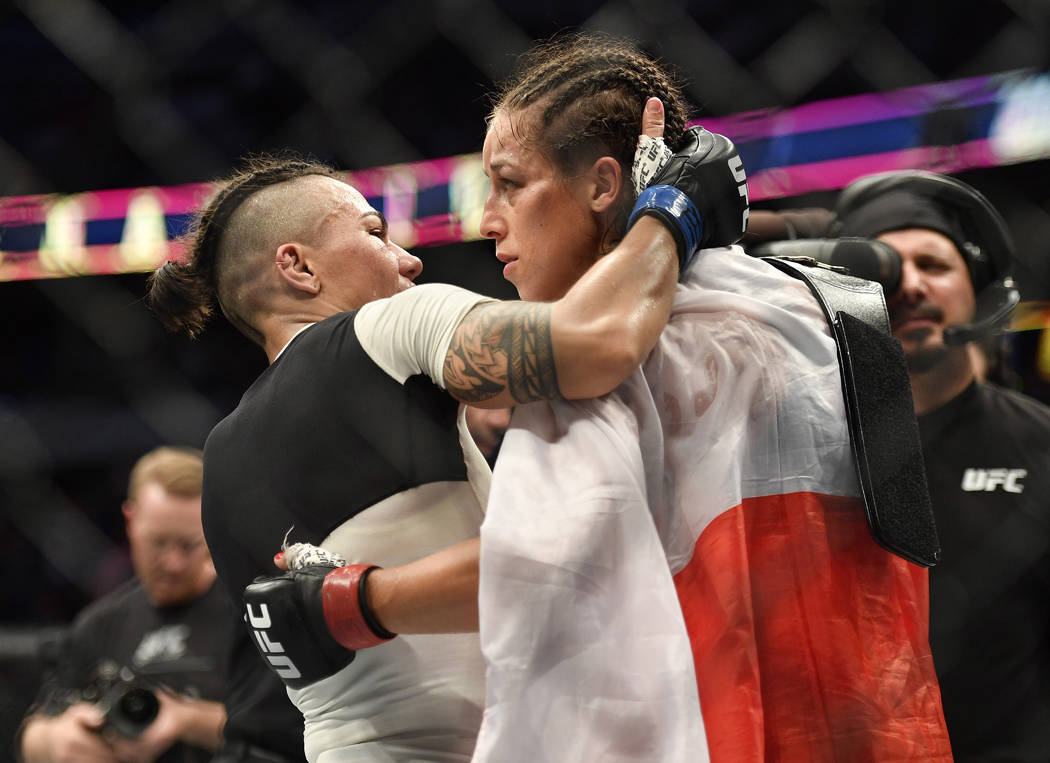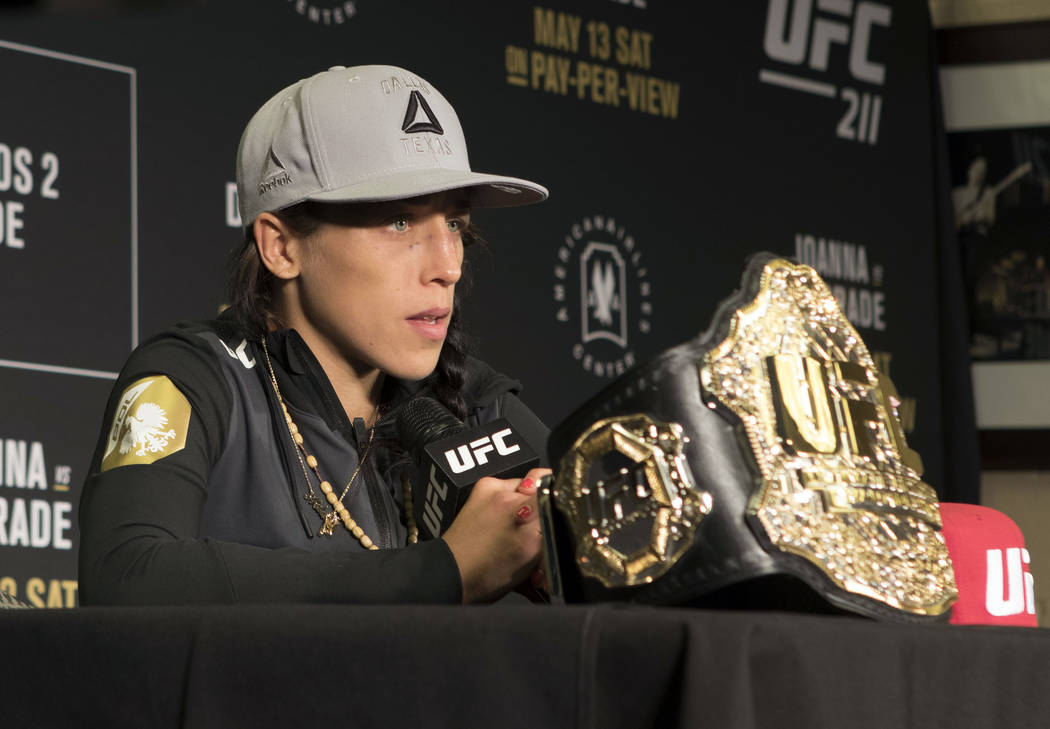 DALLAS — UFC women's strawweight champion Joanna Jedrzejczyk insists she doesn't care who the organization chooses as her next opponent.
Her pursuit of history matters far more to her than whatever name announcer Bruce Buffer calls out just before the bell rings.
Jedrzejczyk won all five rounds of her UFC 211 co-main event bout against Jessica Andrade on Saturday night at American Airlines Center to record her fifth consecutive title defense.
After a close first round, Jedrzejczyk slammed the door shut on Andrade. She made her whiff on the vast majority of her attacks and then punished her aggressiveness with surgical precision. Jedrzejczyk landed a UFC title fight record 225 significant strikes, which broke her own record of 220.
The win leaves her just one win short of tying Ronda Rousey's record for longest reign by a female champion in UFC history. Jedrzejczyk wants that record and plans to go further and accomplish what Rousey couldn't by retiring undefeated.
Yet despite her charm and disarming wit outside the cage and the ruthless destruction she inflicts inside it, Jedrzejczyk hasn't broken through in the mainstream culture to anywhere near the degree Rousey had at this point in her reign. While she's seemingly every fighter's favorite fighter and a darling of the diehard mixed martial arts fan base, she hasn't quite caught the attention of the more casual sports fans that are required to truly take fighters to the next level.
Jedrzejczyk, a 29-year-old native of Poland, knows the window of opportunity to take advantage of all of her success won't be open forever.
She relocated to the United States last year to live in Florida and train with American Top Team. The move had a great deal to do with expanding her game at one of the top gyms in the sport, but there were other benefits.
"I want to build my brand," she said in the wee hours of Sunday morning at the post-fight news conference. "I feel like I'm an international champion, but I feel like I need to be here to continue to grow my name."
She also signed with Paradigm Sports Management, which also represents Conor McGregor, as she seeks ancillary opportunities outside the cage that can help her reach a broader audience.
She knows none of it will matter if she lets her work in the cage lapse.
"The most important thing to all of that is to continue to work hard and defend this belt," she said.
UFC president Dana White has worked with a number of athletes who became superstars. He said there's no formula to catching on as a star.
"She's got a great personality. She's awesome and she's so technical and so bad ass. Some people just have different paths and it takes a little longer, but if she keeps doing what she's doing, I do believe she will get there," White said. "When we bought the UFC, Chuck Liddell wasn't in it because they didn't want him. We brought him in and he became the biggest star, but it didn't happen right away. He was in Tito (Ortiz's) shadow for a long time and then he finally won the fight against him and became one of the biggest stars in the sport. The path that she's on is ridiculous. She's a win away from tying Ronda's record and then possibly going up to 125 pounds and winning that title, too. Some people have a longer road than others, but if you keep doing what she's doing, you're going to get there."
She's doing more than just maintaining her superiority in the division. Jedrzejczyk seems to get better with every fight.
After what she deemed the best performance of her career on Saturday night, the champion expressed a desire to get back in the gym as soon as she takes a few days to visit family in Poland.
'I'm getting older, but I feel this fire to learn," she said, complimenting the work her coaches at ATT have done with her in just a few months. "I feel like a bird who has escaped from its cage."
One of the reasons she's so motivated to continue to improve despite the gap between her and the rest of the strawweight contenders is how much she loves having the belt.
"When I first became a UFC fighter, I was thinking, 'Oh man, I've got a great chance here. I can't screw this up,"' she said. "That's why I worked so hard to get better every fight. When I became champion, my life got changed. I'm not talking about money or material things, I'm just happy. I feel like I was born to be a champion and it makes me happy to put in great work."
Jedrzejczyk wouldn't offer a name when asked about her next challenger. Rose Namajunas makes the most sense as the only contender in the top five of the UFC's rankings who Jedrzejczyk hasn't fought.
"Right now, I'm just happy about this fight and this show," she said. "I don't care who is my next opponent. All I know is I will put in great work and defend this title for the sixth time."
That would tie a record. For Jedrzejczyk, she hopes that's just scratching the surface of what she can accomplish.
Contact Adam Hill at ahill@reviewjournal.com or 702-277-8028. Follow @adamhilllvrj on Twitter.
UFC 211
American Airlines Center, Dallas
Gate: $2,662,645
Attendance: 17,834
Fight of the Night: Chase Sherman vs. Rashad Coulter
Performances of the Night: Stipe Miocic and Jason Knight