Double duty: WSOF president keeps on punching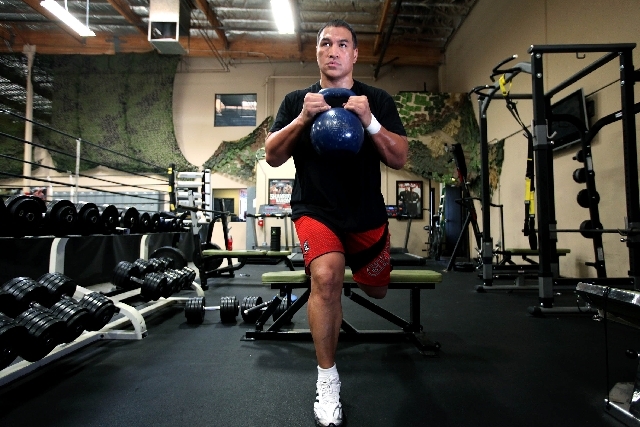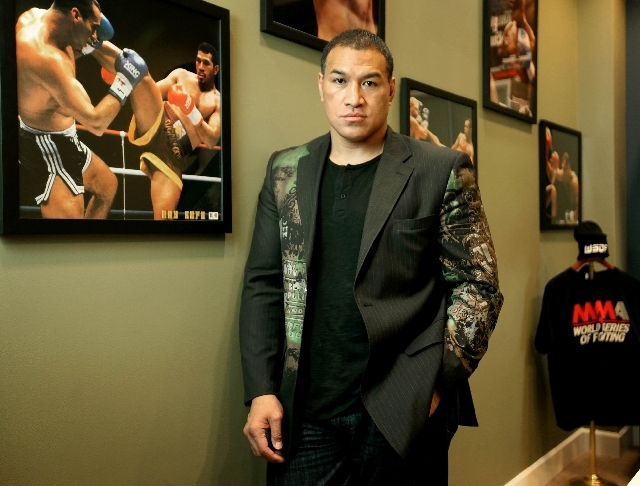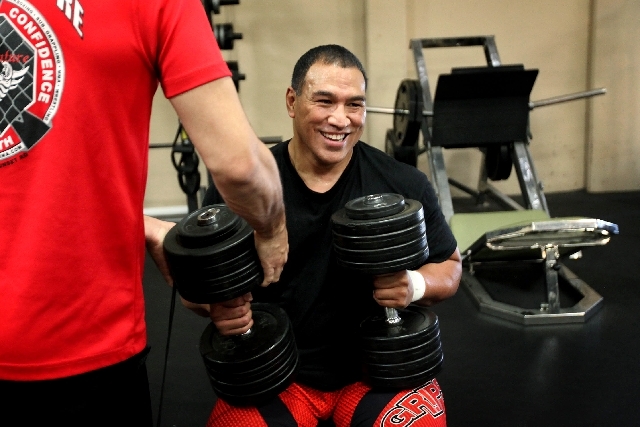 The Joint was packed at the Hard Rock Hotel on a recent Friday night and Ray Sefo couldn't have been happier.
The president of the World Series of Fighting was working the crowd at his fight promotion company's third show, and everyone seemed to know the sturdy-built and popular Sefo, dressed sharply in a brown suit.
Just a few mornings after putting on the June 14 mixed martial arts fight event, Sefo donned red shorts and a black T-shirt for a sweaty, hourlong workout at the Xtreme Couture gym. The stretching and barbell lifting was not just to stay in shape. He had a bigger goal in mind.
The World Series of Fighting executive who oversees a staff of 12 was getting into fighting shape because he will be taking on an opponent on his own WSOF event card in the Los Angeles area in August. It's unprecedented for an MMA fight organization chief to enter the cage to fight. Dana White, president of Las Vegas-based Ultimate Fighting Championship, enjoys working out but has never fought a UFC match.
Imagine Major League Baseball Commissioner Bud Selig cutting a broadcast rights deal, then putting on a uniform to pitch for the Milwaukee Brewers.
Or NFL Commissioner Roger Goodell finalizing a merchandise licensing deal, then strapping on his helmet to play for the New York Giants.
Now you understand the dual role of Sefo, a fight league president moonlighting as heavyweight MMA fighter.
"The thing about Ray is that when he puts his mind to it, he just does it," said Gil Guardado, the strength and conditioning trainer working with Sefo at Xtreme Couture.
"He can separate the things he's working on. He can separate the fighting and the business side of things. That will never be a problem for him."
Sefo is no weekend MMA warrior. The 42-year-old married father of one is a former famed kick-boxing champ and six-time Muoy Thai world champion. He's battling MMA fighter Dave Huckaba at WSOF 4 on Aug. 10.
But why fight at age 42 when you can enjoy an air-conditioned office instead of training in a sweaty gym? The man with the nickname "Sugarfoot" hasn't fought an MMA foe in more than a year.
Sefo said he is leaving his business attire behind and entering the cage for his 100th fight, which he considers a major milestone. Sefo's fight and the rest of the fight card at Citizens Bank Arena in Ontario, Calif., will be broadcast on the NBC Sports Network.
Sefo said he can handle running the World Series of Fighting while training for his historic career fight because he has a capable office staff handling the fight show logistics.
"I'm not all worried about the business side. I have an amazing team," Sefo said. "The focus is on the fight coming up."
Sefo is a fighting legend in his native New Zealand, where he was a former MMA heavyweight champion in 1990 after receiving his first boxing gloves at age 5. In fact, Sefo is flying in a former "striking" coach from New Zealand to prepare him for the August fight.
Sefo, who is half-Samoan, moved to the United States in 1993. In 1997, he promoted his first fight event, laying the groundwork for starting World Series of Fighting 2½ years ago.
The WSOF's first show was in November 2012. Sefo launched the fight league with a silent partner whom he said is an MMA fan who trained under martial arts actor Chuck Norris.
Sefo and his business team scored one of their biggest wins when they were able to convince NBC Sports Network to broadcast WSOF shows. It's a three-year deal that expires in 2105, he said.
Sefo said the best part of managing a fight show league is that he can sign up MMA fighters and give them a national TV platform to show their fighting skills.
Jen Wenk, a Las Vegas-based public relations company owner who specializes in MMA clients, said Sefo will be a quick study in running a fighting organization.
"Everybody in combat sports loves Ray Sefo. He has what it takes to lead an MMA organization because, as a world kick-boxing champion, he knows the business from the inside and out," Wenk said.
"He's also humble and doesn't pretend to know it all. He is learning as he goes with the World Series of Fighting, and I think he's trying to do everything right," she said.
Sefo said his fight in August will be his last one in the U.S. After his 100th career bout, he plans to have a farewell fight event in New Zealand to retire in front of his hometown.
"It's very rare to do what you love as an athlete," Sefo said. "Now I'll get to do what I love as a promoter and businessman."
Contact reporter Alan Snel at asnel@reviewjournal.com or 702-387-5273.