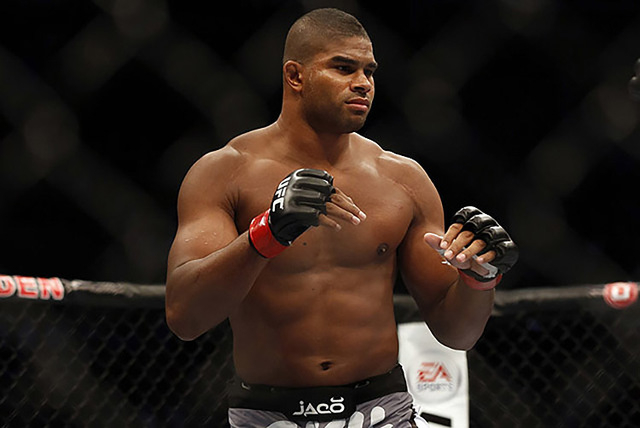 There's no place like home for Dutch fighters in the Ultimate Fighting Championship.
Netherlands natives went 3-0 with three knockouts on the organization's first card in the country on Sunday.
Alistair Overeem capped off the action with a second-round knockout of former heavyweight champion Andrei Arlovski in the main event of UFC Fight Night 87.
It was the fourth straight win for Overeem, including three by knockout. The impressive victory will likely earn him a shot at the heavyweight title, which Fabricio Werdum will defend against Stipe Miocic in Brazil next week.
Overeem said he's got next.
"We're going to get that belt in November at Madison Square Garden," Overeem said in reference to the organization's first-ever card at the arena on Nov. 12. "Then next year we'll be defending the belt in Amsterdam."
After staying patient for most of the first round, Overeem dropped Arlovski with a jumping crane kick followed by a punch early in the second.
He followed up and landed several punches before the referee stepped in to call it at 1:12 of the second round.
Overeem and Arlovski are training partners at Jackson-Winkeljohn MMA in Albuquerque, N.M. Both fighters downplayed the closeness of their relationship leading up to the fight, but Overeem did kneel next to a downed Arlovski to comfort him after the fight.
The other natives of Netherlands made even quicker work of their opponents.
Heavyweight Stefan Struve and women's bantamweight Germaine de Randamie each recorded first-round knockouts.
Struve needed just 16 seconds to knock out Antonio "Bigfoot" Silva in a heavyweight bout. As Silva charged across the cage, Struve hit him with two uppercuts and then dropped him with a knee to the midsection. Struve followed with a series of elbows to the side of Silva's head until the fight was stopped.
"I told everybody that I saw this coming, you know," he said after winning for just the second time in his last five games. "The crowd was absolutely amazing. It was more than I could ever have imagined – chanting, singing and going crazy, and then I finished him like that. Nine years ago I fought in this arena and I finished the guy in 15 seconds. Tonight I think it was 16 seconds. The UFC needs to come back here three times a year."
After the victory, Struve donned a black armband with the initials "JP" before delivering a tribute to his friend and teammate Jordan Parsons, who was killed this week in a hit-and-run accident in Florida.
De Randamie's return to her native Netherlands didn't last much longer. The women's bantamweight veteran knocked out Anna Elmose with a knee to the midsection from the clinch at 3:46 of the first round.
"I just wish I could do that walk out all over again," she said. "The crowd lifted me above earth, beyond anything I could ever have imagined. They made me feel like I was the UFC women's bantamweight champion of the world when I walked out. So now, there is nothing else for me to do than to bring the belt home to them."
She improved to 3-1 in the UFC with the win.
Welterweight Gunnar Nelson mounted Albert Tumenov in each of the first two rounds, finally finishing him off with a rear naked choke at 3:15 of the second round.
Nelson, a training partner of Conor McGregor, had dropped two of his last three fights.
""It's huge," Nelson said. "This win means everything to me. I take things one step at a time, like I always have. So now I'll go back and train and wait to see what happens. I want to work on some of the things I experienced in there and keep learning. This is what I love about this sport. That's who I am. I'm not too obsessed with rankings but we'll see what happens next."
Nikita Krylov won his fourth straight fight with a second-round submission of Francimar Barroso by rear naked choke. Each of his previous 19 victories had come in the first round.
"I am happy with the win," he said. "He gave me his back and there was the finish for me to take. Before the fight I didn't think about him as an opponent, but yes he was tough. His kicks were quite solid, his ground game was also quite good. When he punched me I could feel he was tough."
Women's strawweight contender Karolina Kowalkiewicz remained undefeated with a unanimous decision victory over Las Vegan Heather Jo Clark in the first bout on the main card.
Kowalkiewicz punished Clark for several failed attempts to turn clinches against the cage into takedowns with short elbows and punches. In the center of the cage, the striking of Kowalkiewicz proved to precise.
"I feel really good right now," said Kowalkiewicz, who improved to 9-0 overall and 2-0 in the UFC. "I knew Heather was a very tough girl and I expected her to give me a tough fight so that wasn't a surprise to me.
"Next I want to fight somebody from the top five in the division. I will be the champion one day, you will see."
On the preliminary card, Magnus Cedenblad and Reza Madadi picked up knockout victories.
Cedenblad stunned middleweight Garreth McLellan with a partially-blocked head kick and followed it up with a series of uppercuts until the bout was stopped.
Madadi pummeled lightweight Yan Cabral with punches against the cage until the referee decided to stop the fight with Cabral still on his feet.
Flyweight Ulka Sasaki submitted Willie Gates with a rear naked choke in the second round.
Josh Emmett, who signed a UFC contract less than a week ago to step in as a last-minute replacement, earned a split decision win over Jon Tuck in a lightweight bout.
Emmett made the trek from Sacramento, Calif., where he trains with Team Alpha Male. He suffered a gruesome finger injury in the third round and spent the last few minutes of the fight just trying to avoid Tuck and protect his left hand.
"I feel great besides the third round when he caught me on the hand with the kick," Emmett said. "I felt good in the first and second rounds. It was just that one moment in the third and from then I had to fight with one hand. I'm excited to be here though and I really enjoyed the fight. I took this fight on four days notice so just wait until I get a full camp. Then you will see what I can do."
Rustam Khabilov, Leon Edwards and Kyoji Horiguchi all earned unanimous decision victories.
Contact reporter Adam Hill at ahill@reviewjournal.com or 702-224-5509. Follow him on Twitter: @adamhilllvrj