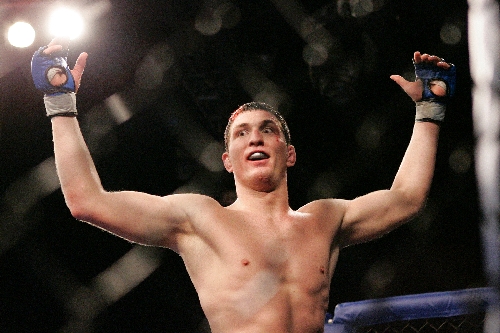 One of the most active users of social media in all of mixed martial arts, Jason "Mayhem" Miller was bound to hear the critics.
Message boards and Twitter lit up with negative reaction to the announcement the eccentric fighter, who's only previous Ultimate Fighting Championship bout was a 2005 loss to Georges St. Pierre, would be coaching opposite Michael Bisping on Season 14 of "The Ultimate Fighter," which began shooting in Las Vegas last week.
"A guy who's both entertaining on television and can really fight? I'm the perfect guy for this job," Miller said. "At 185 pounds, there's nobody better for it. As for the Twitter critics, or twitics as I like to call them, let's see how receptive they'll be after I beat their little buddy Bisping."
Miller, who in addition to a successful fighting career has hosted the MTV show "Bully Beatdown," is happy to be a part of the show and get another chance in the UFC.
"Stoked is actually the wrong word. I would say I'm highly enthusiastic about my new job. That might not capture it either. I would say ecstatic," he said, adding he looks forward to the fight at the end of the season against his British adversary. "I am going to beat the bangers and mash out of Michael Bisping."
The show will debut on Spike TV (Cable 29) on Sept. 14. The live finale, which will feature the bout between Bisping and Miller as well as the season title match, will air live from the Palms on Dec. 3.
n FLYWEIGHTS ADDED — The UFC will add an eighth weight class, possibly by the end of the year.
UFC president Dana White announced the long-awaited formation of a 125-pound flyweight division.
The UFC had only five divisions until adding a 145- and a 135-pound class with the merger of World Extreme Cagefighting in late 2010.
The organization will begin the process of assembling a roster of 125-pound fighters before determining the best course of action for crowning the first champion.
Several fighters currently competing at bantamweight, notably Joseph Benavidez and 5-foot-3-inch Demetrious Johnson, are also candidates to drop down to flyweight.
n FIVE-ROUND MAIN EVENTS — The days of the three-round main event in the UFC are numbered.
White announced all main events will soon be five round contests.
Currently, only title fights last five rounds; all other bouts are three rounds.
White said fights that already have been signed for three rounds, such as the UFC 133 main event between Rashad Evans and Phil Davis, will remain as three rounds.
Any main event that is signed from now on will be contracted at five rounds.
The change applies to pay-per-view cards as well as those televised on Spike TV and Versus.
Contact reporter Adam Hill at ahill@reviewjournal.com or 702-224-5509.