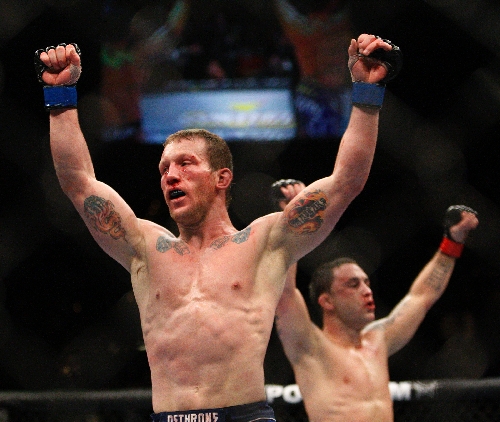 If familiarity truly breeds contempt, Frankie Edgar and Gray Maynard must absolutely despise each other.
When Edgar puts his Ultimate Fighting Championship lightweight title on the line against Maynard in the main event of UFC 136 tonight at Houston, one of two championship bouts on the card, it will be the third time the two have fought each other.
The top two lightweights in the UFC have already spent a combined 40 minutes fighting each other in two bouts that have gone the distance.
Edgar and Maynard also went through training camps preparing to fight each other in May before each was forced to pull out because of injury.
"I'm sick of thinking about this kid," Edgar said.
Maynard won the first meeting in 2008. Edgar, who won the title in 2010, retained it with a draw against Maynard in January.
Maynard dominated the first round and came close to stopping Edgar several times in the second fight, leaving him frustrated when he failed to take away the title.
"The draw hurt a little bit," Maynard said. "I'm pumped to have (another chance), and I can't wait for (Saturday)."
The 32-year-old Las Vegan remains unbeaten in his career, with the draw the lone blemish in 11 career fights. He had the belt in his grasp and saw it slip away, a feeling he knows all too well.
Maynard fell short of an NCAA wrestling title at Michigan State, finishing in the top 10 three times, and was disappointed when he wasn't selected to the 2004 Olympic team. Those missed opportunities have prepared Maynard to deal with adversity and also instilled in him the knowledge that winning a UFC title wouldn't complete his mission.
"I've come close to a lot of goals," he said. "I also have a lot of good things that I did accomplish and it feels really good at the time, but then the next day it's on to the next one. So there's always going to be more, and that's what keeps you going."
Edgar, 29, has been the champion since shocking BJ Penn in April 2010, but he is still fighting for respect. He had to get through an immediate rematch against Penn before getting a chance to avenge the lone loss of his career against Maynard.
"The respect is coming, and it's going to keep growing the better I do and the longer I keep this belt," he said. "I try to come into every fight with a chip on my shoulder just because I'm eager to win, and having that chip on your shoulder helps you do so."
Edgar can go a long way to silence any doubters by finally beating Maynard.
Jose Aldo didn't face the same questions about his legitimacy when he became featherweight champion. The 25-year-old Brazilian phenom was almost immediately recognized as one of the top pound-for-pound fighters in the world when he captured the World Extreme Cagefighting 145-pound belt in 2009, a title that carried over into the UFC.
With one UFC title defense already to his credit, Aldo will meet Kenny Florian in the second championship fight on tonight's card.
Florian is 0-2 in UFC championship fights, losing to Sean Sherk and Penn in lightweight title bouts.
He hopes those experiences help him deal with the younger, faster Aldo.
"I think every fight is always going to be different. You're always going to have a different mindset based on your training camp, based on your opponent," Florian said. "I have always learned from each previous camp, win or lose, and I've made a lot of mistakes. I'm thankful for those mistakes."
The card, which also features a matchup of top middleweight contenders Chael Sonnen and Brian Stann, airs live on pay per view at 6 p.m.
Featherweights Nam Phan and Leonard Garcia finally will fight again after a controversial split decision won by Garcia in December. Lightweight contenders Melvin Guillard and Joe Lauzon also square off.
Two fights air live on Spike TV (Cable 29) at 5 p.m., including flashy striker Anthony Pettis taking on Jeremy Stephens.
The remainder of the undercard will stream live on Facebook.
Contact reporter Adam Hill at ahill@reviewjournal.com or 702-224-5509.