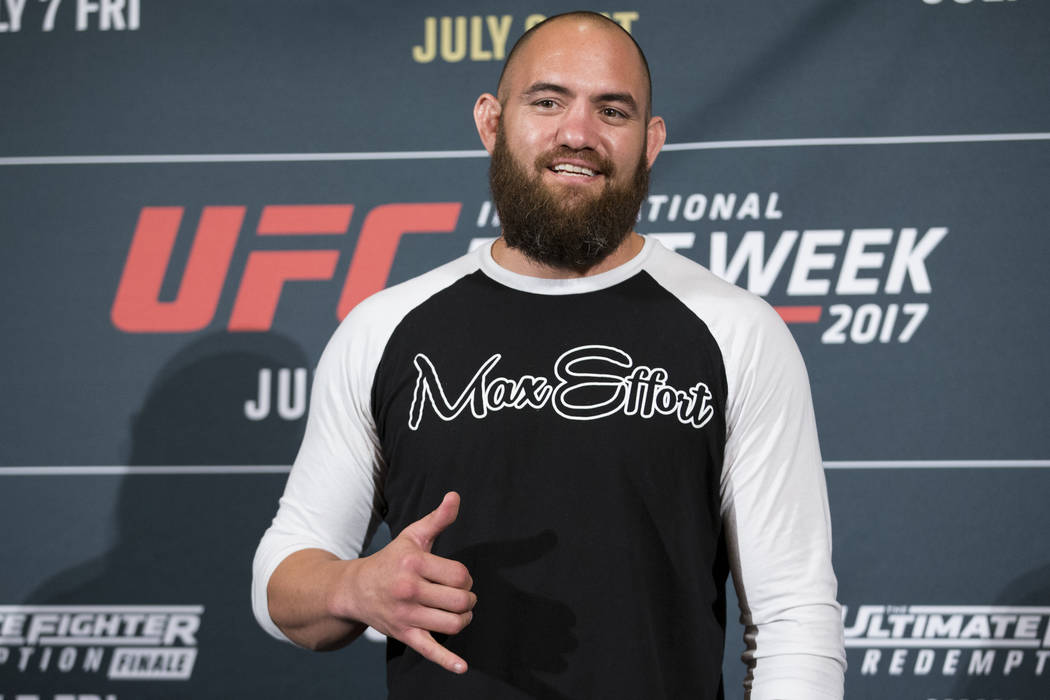 UFC heavyweight Travis Browne has discovered a consistency in his personal life that has resulted in a newfound contentment.
Now he hopes to have a similar revelation as a fighter that will help him evolve into a legitimate contender.
Browne, who will look to snap a three-fight losing streak when he fights Oleksiy Oliynyk on the UFC 213 card at T-Mobile Arena on Saturday, proposed to UFC superstar Ronda Rousey under a New Zealand waterfall in April.
The couple relocated from the beach to Riverside, California, where they tend a garden and feast on animals Browne kills on his various bowhunting trips.
It's a somewhat reclusive life, especially considering he's engaged to one of the most recognizable athletes in the world. Browne believes the stability of the relationship has come at a very important time in his life.
"My personal life is better than it's ever been," he said in Los Angeles last week. "Being with someone who understands the game and is there to support you in a way that you need in your career and someone who gives you the energy to keep going and is there to really, truly support you as a partner in life, instead of with a person that draws that energy out of you, has been amazing. I wouldn't be here today if it wasn't for that. I'm pretty low in my career right now, so having that personal backing has made all the difference in the world."
Browne's breakup with ex-wife and fitness model Jenna Renee Webb got nasty on social media and included accusations of domestic violence and infidelity. Browne was temporarily suspended by the UFC in 2015, but was cleared of wrongdoing by an internal investigation. He acknowledges the public perception that is still out there, though he insists he is comforted by his knowledge of the truth.
Undeterred by losing streak
His focus now is on stopping the first losing streak he has endured as a fighter. Browne, a former college basketball player, lost once in the first 18 fights of his career. He alternated wins and losses over his next four and has now dropped three in a row.
"When I started, I'd go out and depend just on athletic ability and willpower," Browne said. "Now it's like I've learned all these skills, but what I feel like I did is as I was learning, I stopped using my athleticism a bit. It's about finding that blend consistently. I do feel like I've found it, I just feel like I have to stop making the one big mistake and maybe that's the next progression in my evolution as a fighter is not only having the blend, but avoiding the big mistake."
He has spent much of this training camp in Las Vegas. Browne, 34, believes it's important to get out of Southern California for camp because he he knows that if an opportunity arises to skip practice to spend time with family or hang out with his sons from a previous relationship, he would do so.
One thing he hasn't allowed to affect his preparations is the losses.
"It hasn't deterred me from going out there and putting in work," he said. "It doesn't stop me from going out and competing. I feel like I haven't shown the best of me, but at this point I can only say that so much. I have to go out and prove it now. I don't like to talk about it. I know that I have to do it and that's where I feel like I'm at right now."
The bout will headline the preliminary card, which will air on Fox Sports 1 at 5 p.m. A women's bantamweight title rematch between Valentina Shevchenko and champion Amanda Nunes will serve as the main event on the pay-per-view card.
Contact Adam Hill at ahill@reviewjournal.com or 702-277-8028. Follow @adamhilllvrj on Twitter.
International Fight Week Schedule
Free and open to the public (unless otherwise noted)
Wednesday
Noon: Live taping of "UFC Tonight" — Park Theater
1 p.m.: UFC 213 and "TUF 25" Finale Open Workouts — Park Theater
3:30 p.m.: Women of the UFC panel discussion — Park Theater
7:30 p.m.: Live taping of "TUF Talk" — Park Theater
Thursday
3 p.m.: UFC Legends Panel — Park Theater
4 p.m.: "TUF 25" Finale Weigh-Ins — Park Theater
7:30 p.m.: UFC Hall of Fame Induction Ceremony — Park Theater
Friday
9 a.m.: UFC athlete autograph sessions — T-Mobile Arena lobby
11 a.m.: UFC Fan Experience — Toshiba Plaza
2 p.m.: UFC 213 Weigh-Ins — Park Theater
3 p.m.: "TUF 25" Finale live event (tickets required) — T-Mobile Arena
Saturday
9 a.m.: UFC athlete autograph sessions — T-Mobile Arena lobby
Noon: UFC Fan Experience — Toshiba Plaza
3:30 p.m.: UFC 213 (tickets required) — T-Mobile Arena