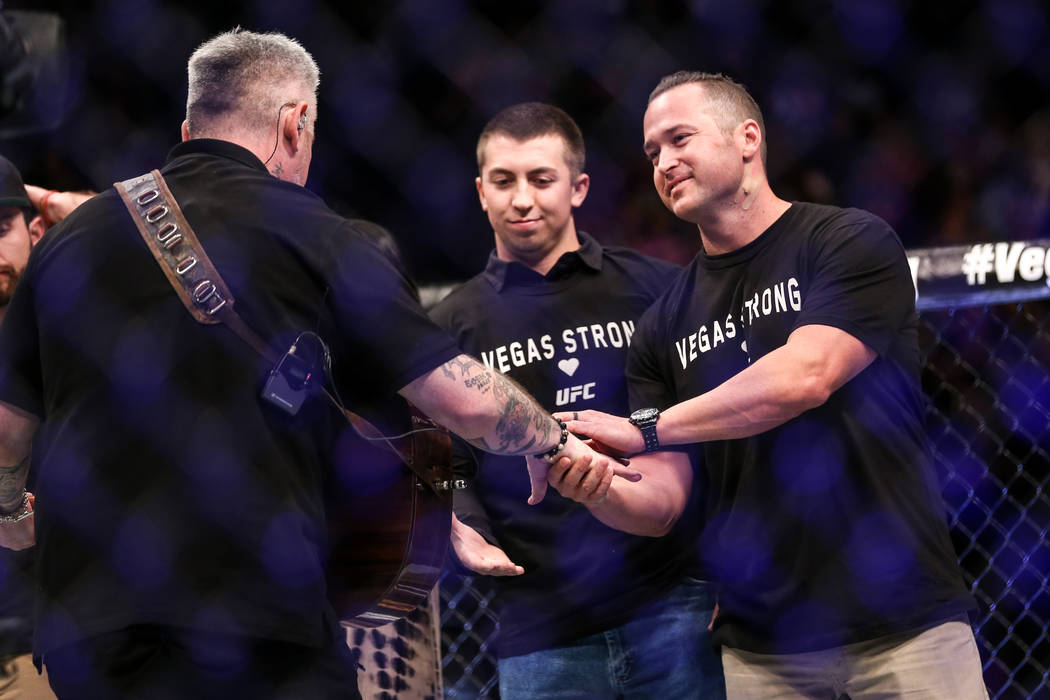 Grammy award-winning rapper-singer-songwriter Everlast was originally scheduled to perform "The Star-Spangled Banner" before UFC 216 on Saturday night at T-Mobile Arena.
But he didn't want to sing the words "bombs bursting in air" in Las Vegas. Not right now, because "it just felt wrong."
So he opted for "America the Beautiful" instead.
"I hope I made the right decision," he said. "I feel good about it."
Everlast opened the pay-per-view portion of UFC 216 — the first major sporting event in Las Vegas since the mass shooting last Sunday — with a rendition of the patriotic tune featuring some raspy, heartwarming vocals and an acoustic guitar.
UFC president Dana White has known Everlast for almost 20 years and contacted him during the week to invite him to perform.
Everlast said the decision to come to Las Vegas was a "no-brainer."
"I hope it did what I wanted," said Everlast, who has attended 60 to 70 UFC events. "If it didn't accomplish anything else, I hope a couple (people's) hearts were able to open up a little bit and let them start their healing process."
Everlast, whose real name is Erik Schrody, lives in a gated area about an hour south of Los Angeles and said one of the members of his community was shot and killed at the Route 91 Festival.
He also said he has struggled to convey the horror of the situation to his youngest daughter, who is elementary-age and was not aware of its magnitude.
"The hardest part of coming here was explaining to my daughter why I'm coming (to Las Vegas)," he said. "Having to break that little bit of innocence, like 'somebody did something really bad and it's over, but Daddy has been asked to come do something special,' she's here and we're all here."
Everlast said he rehearsed the song more than 300 times to prepare for the performance. He knew the words, but didn't initially know the chords on the guitar.
"I wanted it to feel personal. That's really all I was going for," he said. "The crowd didn't scare me. The song didn't scare me. The moment made me nervous. You don't want to mess that up."
Six survivors and first responders were honored in the octagon before Everlast's performance, and he said he had the opportunity to exchange pleasantries with the group.
"There's still a bewilderment in the air," he said. "You realize we're all connected, regardless. I know Vegas is going to be all right at the end of the day … To be here, it was heavy for me."
Contact reporter Sam Gordon at sgordon@reviewjournal.com. Follow @BySamGordon on Twitter.