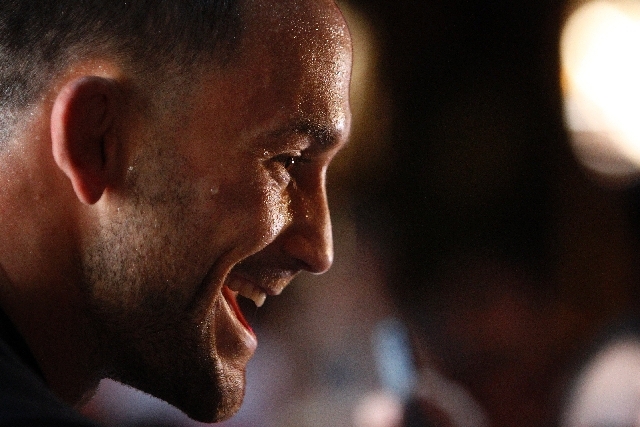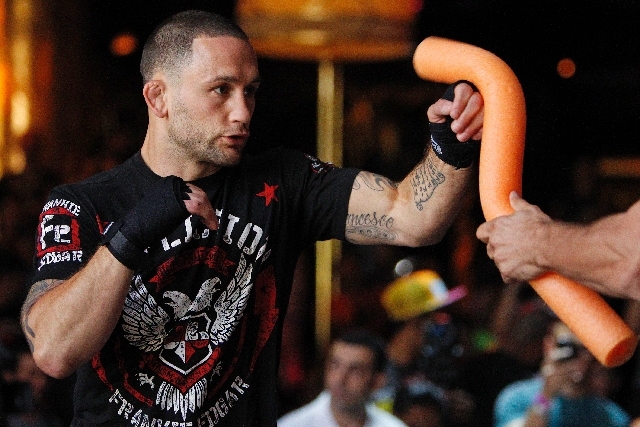 The past seven times Frankie Edgar stepped into an Ultimate Fighting Championship cage, a world title was on the line.
That streak will be broken Saturday when he meets fellow featherweight contender Charles Oliveira in UFC 162 at the MGM Grand Garden.
Edgar also hopes another streak becomes history. He has lost three straight fights after dropping just one of his first 17 professional bouts.
Despite no belt on the line and the pressure of halting his recent slide, the 31-year-old New Jersey native insists this fight feels like all the rest.
"I always think my next fight is my most important fight," Edgar said Wednesday. "That's how I've treated all of them. My next fight happens to be my most important now. I put a lot of pressure on myself just to win. My first fight I ever had, the pressure felt just the same, and it was just as important to me as this fight I have Saturday."
That mentality helped Edgar rise to lightweight champion when he stunned BJ Penn in April 2010. Edgar then won the rematch to cement his legitimacy as champ.
Challenger Gray Maynard fought him to a draw in January 2011, but Edgar knocked out Maynard in the rematch in summer 2011.
Then came the slide.
Edgar lost his belt in a somewhat controversial unanimous decision to Benson Henderson in February 2012. The rematch was even closer, as Henderson won a split decision.
The back-to-back losses prompted a long-rumored drop by Edgar to featherweight, where he was given an immediate title shot against Jose Aldo in February. That bout resulted in yet another highly debated decision loss for Edgar, whose losses in his career have all been by decision.
"It's tough to say (whether the losses would be tougher to deal with had he been knocked out or submitted). I hope to never get blown out in a fight," he said. "I think my coaches and my preparation keep me in all my fights, but it is frustrating to know you were so close in all of those fights.
"Close, but no cigar, I guess they say."
A fourth straight loss would dramatically set back Edgar's hopes of winning the title again anytime soon.
"Do I want to win more to break that streak? I don't know," he said. "Every fight there's something. My first title fight was like, 'Wow, I have to win the belt.' Then I defended it. That was important. Then, I lost it, and I had a fight to get it back. Then, I drop to 145 to fight for a title and I have to win that. Now, I have to win to avoid losing a fourth straight. That stuff is always there for me.
"I'm easily motivated. I still have that burning desire. I've got no problem getting up in the morning and going to the gym."
Oliveira, 23, is far from a pushover if Edgar is looking for an easy bounceback fight. He is one of the tallest 145 pounders in the UFC at 5 feet 10 inches (4 inches taller than Edgar) and possesses a dangerous submission game.
Oliveira cruised through his first two fights at featherweight and appeared on the fast track to a title shot before losing by first-round knockout to Cub Swanson in September.
Edgar is just the opponent he was hoping for to prove he's still a legitimate contender.
"I'm very, very happy with this matchup," Oliveira said Wednesday through a translator. "I asked for a tough fight, and I'm very excited to fight such a good fighter and a former champion like Frankie Edgar."
One edge that may not be as much of a factor as usual for Edgar is his cardio. He is known for his late-round advantages, as he seems to never tire. Unlike the past seven fights, which have all been for titles and thus five rounds, this one is scheduled for three.
"It may have been a little easier on my body preparing for the fight as far as sparring, but I welcome the five-round fights because it means you're fighting for a title," Edgar said.
He might get that chance again soon, but he'll have to win on Saturday.
Contact reporter Adam Hill at ahill@reviewjournal.com or 702-224-5509. Follow him on Twitter: @adamhilllvrj.