Ex-champ Jon Jones addresses Daniel Cormier's weighty concerns
December 3, 2015 - 8:18 pm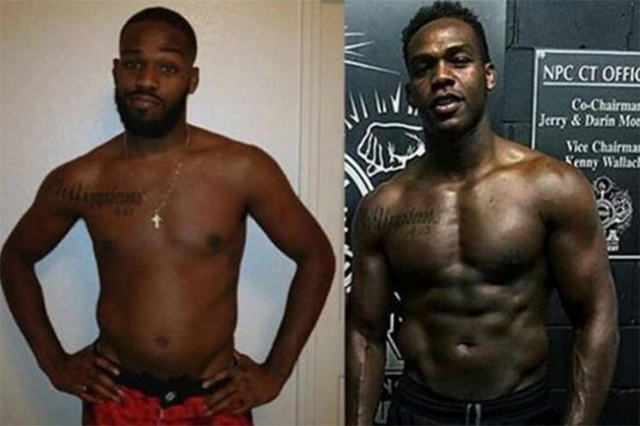 The rematch between Ultimate Fighting Championship light heavyweight champion Daniel Cormier and former champ Jon Jones has yet to be booked, but the war of words is already alive and well.
Cormier, who won the belt with a win over Anthony Johnson in May after it was stripped from Jones because of legal issues, appeared on "The MMA Hour" on Monday and questioned whether Jones is spending too much time bulking up.
Jones, who has been reinstated and is awaiting the announcement of a date for a fight against Cormier, doesn't seem interested in the advice.
"If you honestly think transforming 10lbs of fat into muscle will slow me down you're sadly mistaken. I appreciate your concerns DC. We are going to see how slow I am when I foot sweep you on your ass again," Jones posted on Twitter late Tuesday. "DC tries to get me double guessing my physical strength but fails to mention how he's going to deal with my mental."
In response to a fan who questioned whether the extra muscle may lead to stamina issues when he gets back in the cage, Jones assured his fans he knows what he is doing.
"Trust that I'm surrounded by professionals, we are not naive," Jones posted.
Cormier openly speculated on whether all the muscles will serve Jones well when they fight again.
"Maybe he feels that by getting stronger, it's going to make him a better fighter," Cormier said of photos and videos from the gym have been posted on social media that show a much more muscular Jones. "The reality is, when I saw him getting so bulky, as a competitor, I thought, 'Wow, this isn't bad for me.' This isn't bad for me as a competitor, because the Jon Jones that was kind of skinny and maybe wasn't the bulkiest guy, it all worked, Helwani. It all worked. His body, the way his body was, it worked.
"It allowed him for range; it allowed him for optimal speed. It allowed him for quickness and agility. Looking at all the extra bulk, to me I was like, 'Well, maybe this will slow him down. Maybe he won't be the fastest guy. Maybe this guy is messing with what was given to him.' In reality, what has been given to him is perfect."
The new champion even speculated that Jones may be almost addicted to lifting now, using the time in the gym as a replacement for drugs and alcohol now that Jones claims to be completely sober.
Though Cormier has the belt, he has conceded Jones is still the best fighter in the division for the time being. Jones won a unanimous decision when they fought in January 2015, but Cormier is confident he can turn the tables in the rematch.
"Now he's gotten bigger," Cormier said. "For me as a competitor, I thought, 'Wow. You start messing with the recipe — the recipe that's actually really, really good — maybe this opens up the door for some of his competitors.'"
Contact reporter Adam Hill at ahill@reviewjournal.com or 702-224-5509. Follow him on Twitter: @adamhilllvrj