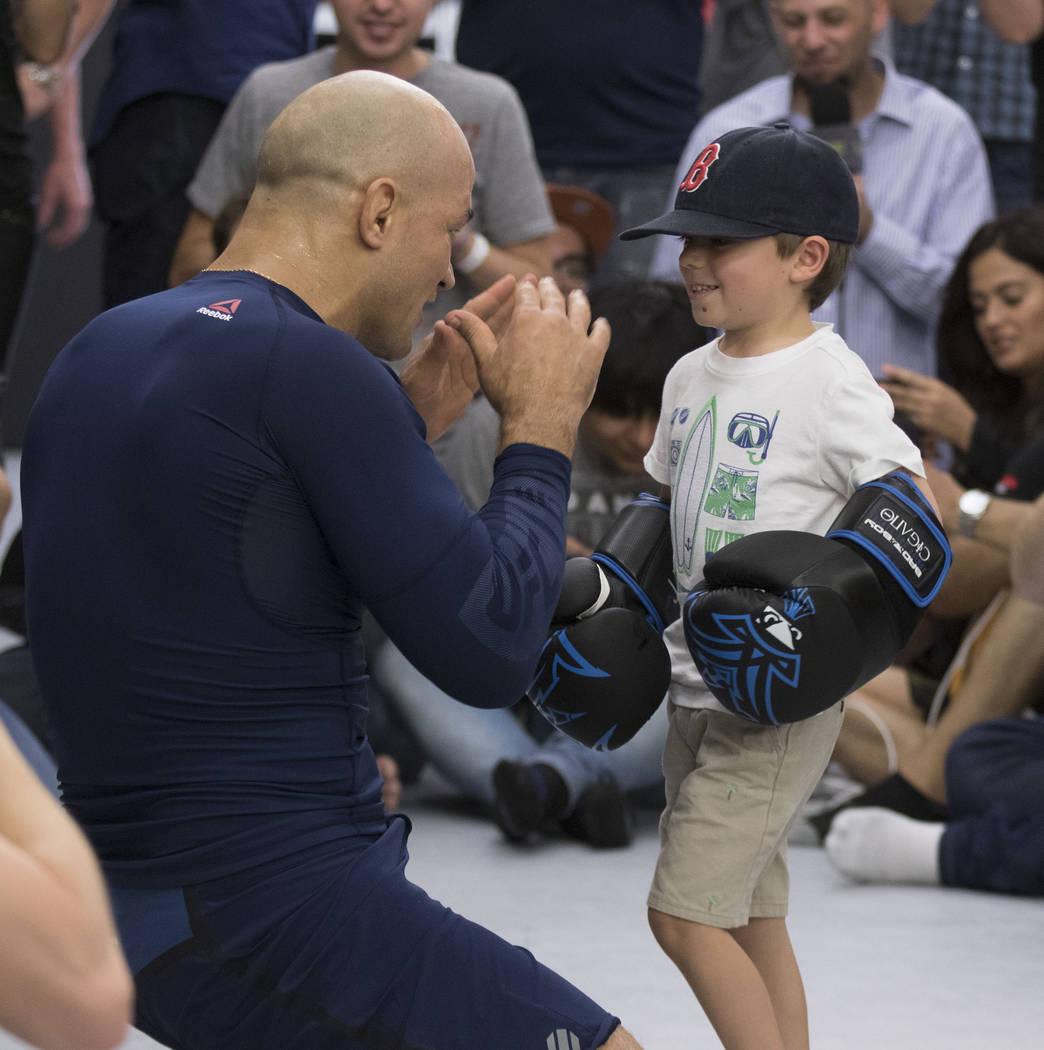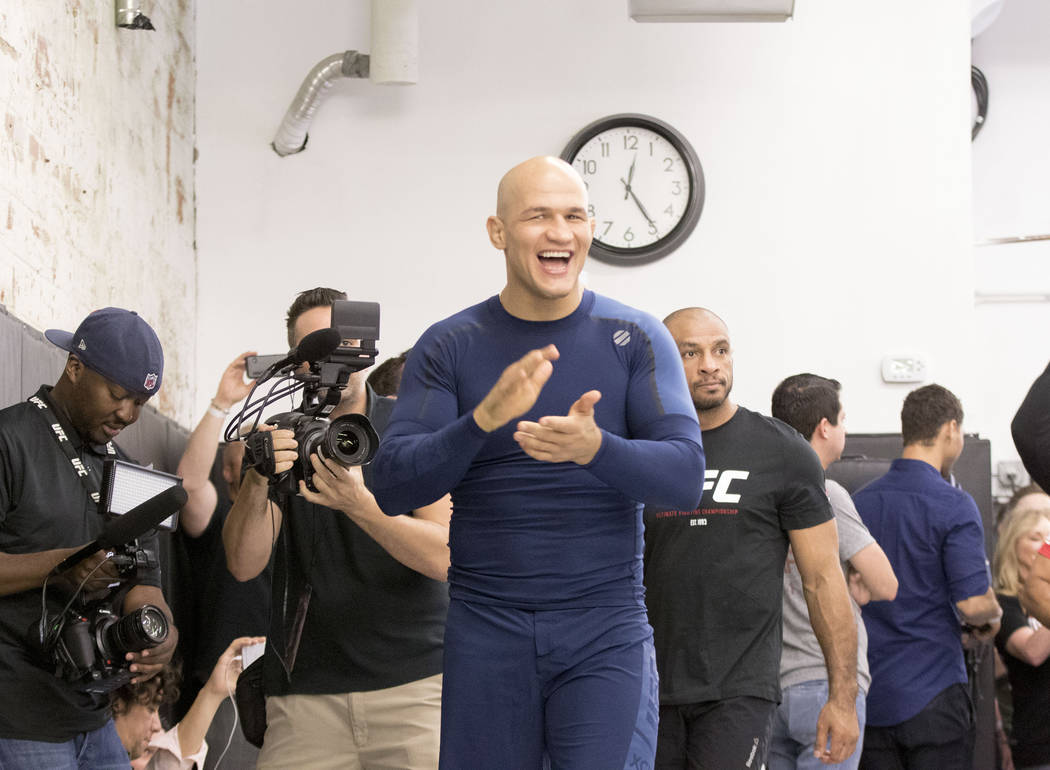 DALLAS — There was no doubting the ability of Junior dos Santos when he knocked out Cain Velasquez to win the UFC heavyweight belt in the organization's first fight on network TV in 2011.
Whether he was emotionally ready to be a champion at age 27 is a completely different question.
Dos Santos still questions whether he was prepared for such a lofty title.
"After I became champion, things were amazing and I had so many opportunities," he said. "I just think I was a little too innocent to be a champion. I was allowing myself to be worried about what people were saying about me. I was listening to everything, and it wasn't good for me. Now I'm so much more mature, and I understand myself better. I think I will be a better champion than I was before."
Dos Santos can reclaim the title Saturday when he challenges Stipe Miocic in the main event of UFC 211 at American Airlines Center.
The bout will headline the pay-per-view portion of the card that begins at 7 p.m. Joanna Jedrzejczyk will defend her women's strawweight title against Jessica Andrade in the co-main event.
Four fights from the preliminary card will air live on FX at 5 p.m.
Dos Santos has been eyeing another title shot since losing the belt to Cain Velasquez in 2012.
"I knew one day I would get it back and it would mean everything to me," he said. "I look at the heavyweight division, and I see all the contenders and feel like I can beat them. Now I'm here fighting for the belt again.
"It's a new time for Junior dos Santos and a better time."
That extends beyond his professional career. His wife, Isadora, gave birth to the couple's first child, a son named Bento, in March.
Fatherhood has been good for the 33-year-old Brazilian. Dos Santos can't mention his son without his face lighting up with joy.
"It changed everything," he said. "People always tried to explain to me what it would be like to be a father, but they couldn't get anywhere close. It's amazing. I'm living a dream. My son is everything for me now. Everything inside of me changed. I don't want the same things I used to want. Now I want new things all focused on him as my priority."
At least for one night, Miocic will have his undivided attention. Dos Santos insists he isn't overconfident despite defeating Miocic by unanimous decision in 2014.
Dos Santos said he has learned from his losses and thinks Miocic has, too.
Miocic credits the defeat for helping him win the title two years later.
"He's a big reason I'm the champ, because when I was right in there with him, it told me I could beat anyone in the division," Miocic said. "It let me know that I belong, that I can hang with anyone, that I went five rounds with a former champ, a guy that's been a knockout fighter, and I went five rounds with him. I knew that I wasn't going anywhere and there's no going back now."
Miocic has won five straight since that loss, taking the belt with a first-round knockout of Fabricio Werdum in May 2016 and retaining it with a first-round knockout of Alistair Overeem in December.
No UFC heavyweight champion has successfully defended the belt more than twice. Miocic, a Cleveland native and former college baseball player, can tie that record with a win.
He said holding the title serves as his motivation.
"Ever since I got my hands on that belt, it just drives me every day," he said.
Dos Santos knows the feeling and hopes to experience it again.
"Man, I miss the feeling of being the baddest man on the planet," he said. "I said at the beginning of the year that 2017 was going to be my year. My biggest victory already arrived when I had my son, and now I will have another great victory."
Follow all of our MMA and UFC coverage online at CoveringTheCage.com and @CoveringTheCage on Twitter.
Contact Adam Hill at ahill@reviewjournal.com or 702-277-8028. Follow @adamhilllvrj on Twitter.
UFC 211 main card
Saturday at American Airlines Center in Dallas. The pay per view begins at 7 p.m.
— Stipe Miocic (16-2) vs. Junior dos Santos (18-4), for Miocic's heavyweight title
— Joanna Jedrzejczyk (13-0) vs. Jessica Andrade (16-5), for Jedrzejczyk's women's strawweight title
— Demian Maia (24-6) vs. Jorge Masvidal (32-11), welterweights
— Frankie Edgar (20-5-1) vs. Yair Rodriguez (11-1), featherweights
— Krzysztof Jotko (19-1) vs. David Branch (20-3), middleweights
Gordon-Quinones bout canceled
A featherweight bout between Jared Gordon and Michel Quinones was removed from the card Friday morning after Gordon got sick and was administered an IV on Thursday night. The fight between the newcomers had been scheduled for the preliminary card.