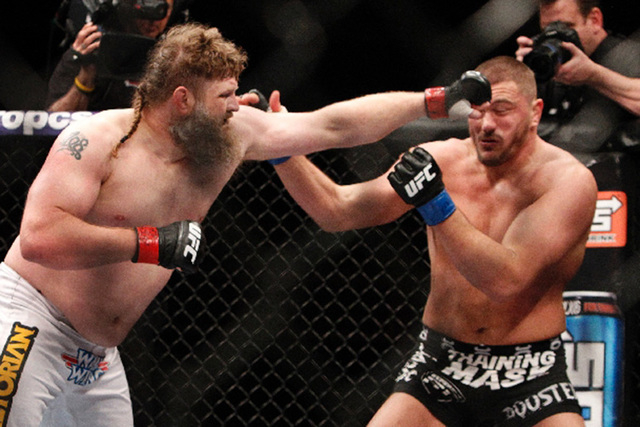 While Cat Zingano is part of the first generation of females breaking new ground in the Ultimate Fighting Championship, back home she leads a much more traditional life.
Zingano, 30, is a wife and mother whose career may have been slowed a bit by her desire to fill that role first.
She has fought just seven times since turning pro in 2008, winning all seven.
"I guess I could fight more as a favor to the fans, but when my family is good and everything at home is all right, that's when I perform my best," she said. "I have a husband and a child and responsibilities at home that are the most important to me."
Fortunately for Zingano, the formation of the UFC women's division coincided with her son Braden, 6, reaching an age where she feels a bit more comfortable more actively pursuing her career.
"Right now is a perfect time," she said. "My kid is a little bit older and he understands my work ethic and the need to put in the time I'm putting in, and I can really balance the time I'm putting in at the gym and at home.
"I think I'll be able to fight a little bit more. He's doing great in school, and I feel like everything is very settled and very calm in my family. I think everyone can expect to see a lot more fights this year and a much more consistent Cat Zingano."
Zingano, who now lives with her jiu-jitsu instructor husband Mauricio in Colorado, says her focus on family was formed growing up in rural Minnesota.
"Everyone up there has, like, 10 kids. There's the mom that stays at home and takes care of everything and definitely has her role in keeping the family together, and that's been passed down generation to generation to me," she said. "I really want to be there for everything for my kid. I'm excited to watch him learn to ride a bike and write his name for the first time and go to all his performances at school. I've only had to miss a couple, but it really broke my heart that he had to come home and show it to me on iPhone video instead of me being there to cheer for him and hug him afterwards. Those are the moments I cherish the most in life."
Zingano might be spending more time away from home if she is successful this week. She will fight Miesha Tate on The Ultimate Fighter 17 finale card at Mandalay Bay on Saturday night.
The winner will coach against Ronda Rousey on the next season of the UFC's reality show for six weeks in Las Vegas.
Zingano insists her sole focus is on beating Tate, but admits she has already thought about the opportunity that awaits should she emerge victorious.
"The best part as far as the timing is that it will be over summer, and I'd be able to have my son out there with me," she said.
The card, which also features the title match for this season of the show and a bantamweight main event between Urijah Faber and Scott Jorgensen, airs on FX at 9 p.m.
■ MITRIONE SUSPENDED — UFC heavyweight Matt Mitrione's contract with the organization has been suspended while comments he made about transgender fighter Fallon Fox are investigated, according to a statement issued by the UFC on Monday afternoon.
The debate on whether Fox, who was born a man but has been living and competing as a woman, should be allowed to continue fighting has raged for weeks. Mitrione didn't mince any words expressing his thoughts on the issue when he appeared on "The MMA Hour" radio show on Monday.
"He's a man," the former NFL player said. "That is a lying, sick, sociopathic, disgusting freak, and I mean that. Because you lied on your license to beat up women. That's disgusting. You should be embarrassed (by) yourself."
UFC officials implemented a code of conduct in January.
"The UFC was appalled by the transphobic comments made by heavyweight Matt Mitrione today," a statement from the organization read. "The (UFC) finds Mr. Mitrione's comments offensive and wholly unacceptable and — as a direct result of this significant breach of the UFC's code of conduct — Mr. Mitrione's UFC contract has been suspended and the incident is being investigated.
"The UFC is a friend and ally of the LGBT community, and expects and requires all 450 of its athletes to treat others with dignity and respect."
Mitrione earned a 19-second knockout victory over Philip De Fries on Saturday in Stockholm.
■ INVICTA RESULTS — Cristiane "Cyborg" Santos, who entered as almost a 25-1 favorite, knocked out Fiona Muxlow in the first round of a fight on a card in Kansas City, Mo., in the all-female Invicta Fights organization on Friday.
Michelle Waterson, the "Karate Hottie," submitted atomweight champion Jessica Penne to take the belt in the main event, and former Strikeforce bantamweight champion Sarah Kaufman won a split decision over Leslie Smith.
Contact reporter Adam Hill at ahill@reviewjournal.com or 702-224-5509. Follow him on Twitter: @adamhilllvrj.