Fear of 1st loss doesn't faze unbeaten featherweight Brian Ortega
Undefeated featherweight star Brian Ortega isn't concerned about a burden of carrying a zero in the loss column as he prepares for his first title shot.
It hasn't always been that way.
"Sometimes I felt like the pressure would be gone if I just got it out the way," he said at the UFC Performance Institute last week. "If I lost, and the fans talked whatever they had to talk, made the crazy memes, and I just went through that phase and know what that is like. But at the same time, I lost so many other things in my life. That's why I feel like I don't care about a loss."
Ortega secured his first title shot by becoming the first fighter to finish former lightweight champion Frankie Edgar with a first-round knockout in March. He will face Max Holloway for the featherweight belt in the main event of UFC 226 at T-Mobile Arena on July 7.
The 27-year-old Californian believes his difficult upbringing helped provide a perspective that has aided his rise.
"I think that's why I keep winning," he said. "It's because I don't care about it. You see me down two rounds and I just keep fighting because I love it. And I want to finish. I'm in your face. I lost a lot of friends, I lost a lot of things in life that, to me, are far much worse than a dent on the record. Just says dash-one, you know? It just means you lost a fight."
McGregor punishment on hold
UFC president Dana White said any discipline the organization doles out to Conor McGregor for the bus attack in Brooklyn will wait until the legal process plays out.
"We'll see what happens," White told TMZ. "He's gotta be punished by the law first. Let's see what happens in New York."
McGregor was arrested and charged with several crimes after throwing a dolly through the window of a bus containing several fighters.
The incident was retaliation for a confrontation between McGregor's friend Artem Lobov and lightweight champion Khabib Nurmagomedov.
White said there is a possibility McGregor's eventual return bout could be against Nurmagomedov and could take place in Las Vegas.
"If you do a fight that big, you gotta do it in Vegas," White said. "Khabib will fight in Russia at some point, but it won't be that fight."
Borg out of UFC Fight Night 129
Flyweight contender Ray Borg has withdrawn from a scheduled bout against Brandon Moreno on the UFC Fight Night 129 card in Santiago, Chile, on May 19 due to medical complications with his newborn son.
Borg's son Anthony is on a ventilator after undergoing two brain surgeries due to the hydrocephalus.
The fight against Moreno was supposed to happen at UFC 223, but Borg was forced to withdraw when his eye was injured by glass during the McGregor rampage.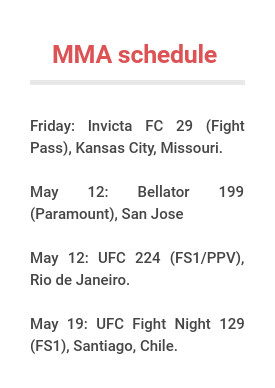 UFC Fight Night 129 also got a new main event as Demian Maia has agreed to fight Kamaru Usman in the headliner in place of an injured Santiago Ponzinibbio, who had surgery on his injured hand.
'TUF 27' main event
Breakout middleweight star Israel Adesanya will get his first UFC headlining spot in Las Vegas.
The kickboxing sensation will face Brad Tavares in a five-round main event on "The Ultimate Fighter" finale card at the Palms on July 6, sources close to the organization confirmed.
Adesanya is 13-0 as a pro and has won both fights since joining the UFC in February. He is coming off a split-decision win over Marvin Vettori in Glendale, Arizona, in April.
Tavares, a longtime Las Vegan, won his fourth consecutive fight with a knockout of Krzysztof Jotko on the same card.
The event also will include the Season 27 title bout, with the contestants to b determined throughout the episodes currently airing Wednesday nights on Fox Sports 1.
More MMA: Follow all of our MMA and UFC coverage online at CoveringTheCage.com and @CoveringTheCage on Twitter.
Contact Adam Hill at ahill@reviewjournal.com or 702-277-8028. Follow @AdamHillLVRJ on Twitter.