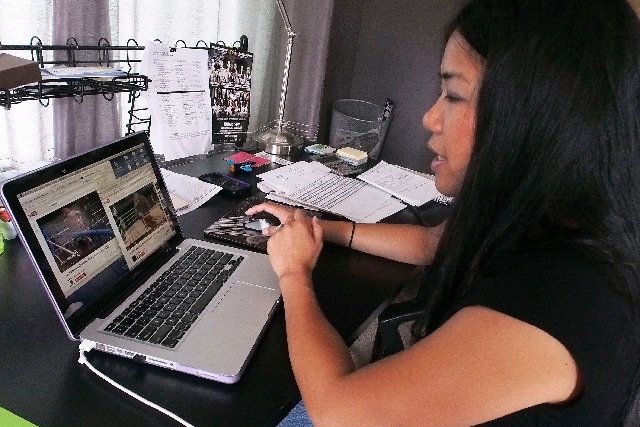 Meet Christine Toledo, who makes a living as a matchmaker. A matchmaker with a twist.
She doesn't bring partners together looking for love. She brings two Muay Thai stand-up fighters into a bout where powerful punches and lacerating leg strikes — not romance — are the goal.
Toledo, 35, a former Muay Thai fighter, is the matchmaker for Las Vegas-based Lion Fight Promotions, a 3-year-old fight company that markets Muay Thai fight shows. Muay Thai fights involve upright punching and kicking and do not include ground fighting, wrestling or grappling seen in mixed martial arts matches.
Toledo believes she is the only female fight matchmaker in the combat sport industry, which includes Las Vegas-based powerhouse Ultimate Fighting Championship and upstart World Series of Fighting, also based in Las Vegas. Toledo has appeared on television reality shows involving women in Muay Thai, including the Oxygen Network's Fight Girls.
In an industry dominated by men, Toledo is one of the few female fight organization top executives. Not only is she a Muay Thai matchmaker, she's vice president of Lion Fight.
Toledo works from her Southern Highlands neighborhood home scouting hundreds of Muay Thai fighters via video. The fighters are based around the world, from the United States and Canada to Holland and the United Kingdom to Thailand and Japan.
Lion Fight's tenth fight event is July 26 and will include a first-time feature.
Toledo is rolling out pro-qualifier bouts for amateur Muay Thai fighters to get a crack at the Lion Fight professional matches.
It's another way for Toledo to survey the fighter prospect landscape and draw combatants for pro fights.
"It's a lot of work for me to scout and get information from fight videos and to find these people," Toledo said.
UFC has a popular reality show to pick fighters and an unofficial feeder fighter league, Resurrection Fighting Alliance.
"We have to find fighters that have that talent and marketability, or potential to be marketable," Toledo said.
Muay Thai fighters making their pro debut make $1,000 for the fight while the maximum fight payout is $15,000, she said.
Toledo also has the challenge of matching fighters who would be willing to only fight under the Lion Fight banner.
"Lion Fight prefer fighters that fight exclusively for us," she said. "Some of the fighters have a problem with that.
"I tell them, look with us, with Lion Fight you have guaranteed fights. If you're going to freelance or not sign with us, you're taking a chance when your next fight will be," Toledo said.
Jen Wenk, whose MMA public relations clients include Lion Fight, credited Toledo with drawing Muay Thai's biggest star to Las Vegas for Friday's Lion Fight event at The Joint.
"She has put together fights that no one else in the world could make happen. She brought the biggest star in Muay Thai, Yodsanklai Fairtex, to America for the first time ever and has convinced him to fight for the Lion Fight belt July 26." Wenk said. "Male or female, Christine is the best matchmaker in stand up (fighting). Her work speaks for itself."
Toledo started Muay Thai fighting at age 23 in San Francisco. The mother of a 14-month-old son held marketing positions for different companies while she fought.
Contact reporter Alan Snel at asnel@reviewjournal.com or 702-387-5273.