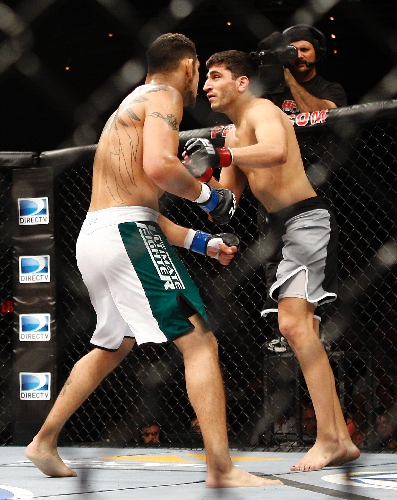 After winning "The Ultimate Fighter" Season 13 trophy, Tony Ferguson got emotional once again.
Unlike when he was living with 15 other aspiring fighters for six weeks on the UFC's reality TV show, his feelings Saturday night were channeled in a more positive direction.
Ferguson appeared on the verge of tears as he reflected about the show, on which he was vilified, particularly after a drunken outburst against a fellow fighter who had been going through a difficult custody battle.
The end result was a six-figure Ultimate Fighting Championship contract following his first-round knockout of Ramsey Nijem in the "TUF" finals at the Palms.
"All of the inner demons I ever had, I just left it all out there in that cage," Ferguson said. " I just hope that people know this is where I belong. People are going to have their opinions about me, but this is all I ever wanted. I just want to be able to provide for my family."
Ferguson indicated he has an interest in fighting former "TUF" champion Amir Sadollah, but also is considering dropping to lightweight, depending on where the UFC feels he is best suited.
"I'm a big 155-pounder, but I like 170 pounds. I wrestled in college at 165. I bumped up to 184 for my team," he said. "I like food. I like eating and I like lifting. My girl likes me a lot better at 170 pounds. I'm kind of crabby at 155 pounds. I can definitely see myself going (to) lightweight, but I love welterweight."
■ STORY IN FOR JOHNSON — After shocking Thiago Alves at UFC 130 on May 28, Rick Story insisted he was ready for a fight with top welterweight contender Jon Fitch.
He'll have to settle for a main event slot against Nate Marquardt.
Story agreed to turn around on less than a month's notice and face Marquardt on June 26 at the UFC on Versus 4 card in Pittsburgh.
Marquardt, who will make his welterweight debut, was scheduled to face Anthony Johnson, who had to pull out of the bout last week. Story was more than willing to jump at the chance.
■ CHALLENGERS FINDS HOME — The Strikeforce Challengers series will permanently move to the Palms, beginning with a July 22 card.
Challengers is the organization's series on Showtime designed to highlight up-and-coming talent. Strikeforce produced seven Challengers cards last year and, the July 22 event, dubbed Challengers 17, will be the fifth of 2011.
Strikeforce CEO Scott Coker said the organization has been looking for a permanent host venue, but has moved the events around until now. The final show before the move to the Palms will be June 24 in Kent, Wash.
Strikeforce, the longtime biggest rival of the UFC, had been hesitant to encroach on the UFC's turf and has never promoted a card in Nevada. Zuffa, the parent company of the UFC, purchased Strikeforce this year, opening the door to this announcement.
Contact reporter Adam Hill at ahill@reviewjournal.com or 702-224-5509.