Fighters get in spirit of season
December 25, 2008 - 10:00 pm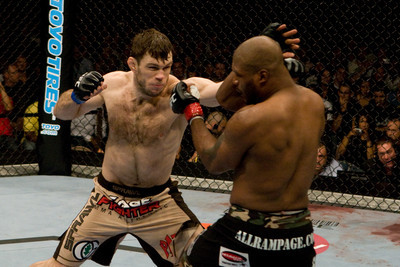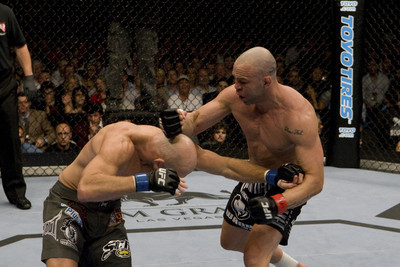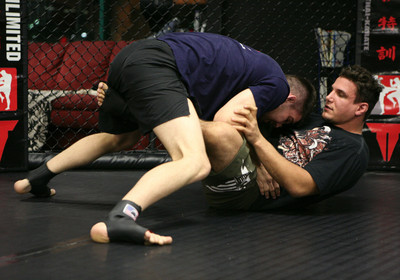 Any of them could have the spotlight to themselves. That's how good they are.
But the Ultimate Fighting Championship figured its year-end card couldn't have enough star power, so president Dana White decided to have Forrest Griffin and Rashad Evans — who will meet in the Octagon on Saturday at the MGM Grand Garden for Griffin's light heavyweight belt in the main event — share the limelight.
On the same card, Quinton "Rampage" Jackson, who lost the title to Griffin, returns to action against Wanderlei Silva, who beat Jackson twice when they fought in PRIDE. Las Vegan Frank Mir, the only man to defeat Brock Lesnar, meets Antonio Nogueira in what is being billed as an interim heavyweight title bout.
"Consider it a late Christmas present to our fans," White said of the star-laden card, which will be televised on pay per view.
Keeping with the Christmas theme, three of the fighters on Saturday's card — Griffin, Mir and Silva — shared some of their holiday memories and feelings:
KEEPING THE PEACE
Before he made a living by beating up people, Griffin tried to prevent people from beating up each other.
He was a police officer in Athens, Ga., for three years. Two of those years, he worked on Christmas Day.
"It wasn't that big a deal," he said. "It was my job, and that was fine."
Griffin, who began his mixed martial arts career in 2005 when he won the inaugural season of "The Ultimate Fighter" and has a professional MMA record of 16-4, said he got into law enforcement for two "primary" reasons.
"One, you would get free doughnuts," he said. "Two, you got to carry a gun and drive real fast. I thought that was petty cool.
"Seriously, the reason I became a cop was to help people."
For cops, Christmas can be a tough day. Domestic violence tends to rise and emotions run high. Things are more volatile than usual.
"I made one arrest on Christmas," Griffin said. "A guy hit his wife, and she pushed him through a plate-glass window. When we got there, the guy's all cut up all over his back and bleeding. We had to take him in. I felt kinda sad for him because he got the worst of it. But I had to do my job."
Today, Griffin could really enjoy the holidays given his newfound celebrity and financial largesse as a UFC champion. But in spite of his success, he remains low-key.
"Money changes everything and I don't like change," he said. "When you lose your anonymity, it's not fun.
"I don't think winning the belt has changed my life. I still think of myself as a lovable loser."
SANTA'S HELPER
Growing up in Las Vegas, Mir doesn't recall anything special at Christmastime. The 1998 Bonanza High School graduate did what kids everywhere did, get up early, open presents and enjoy the day with family and friends. To Mir, "White Christmas" was simply a song played in his house with the rest of the Christmas carols.
"I never spent a Christmas outside of Vegas, so I never knew anything else," he said.
But his three children have their own unique Christmas experience thanks to Mir's wife, Jennifer, and his younger brother, Robert.
Three years ago, Jennifer thought it would be fun for Santa Claus to actually visit the house. Since their kids were too familiar with Mir, he couldn't play the role of Santa.
But Uncle Robert volunteered. While Frank and Jennifer were getting children Marcus, Isabella and Kage settled into bed on Christmas Eve, Robert was in the garage putting on his Santa suit. A few minutes later, the sound of bells could be heard jingling downstairs and Frank said to the kids, "What's that noise?"
On cue, the three hopped out of bed and ran down the stairs to be greeted by Santa.
"It's become a fun tradition," said Mir (11-3), who has wound down his training for Saturday's bout with Nogueira. "We're expecting a girl in June and it'll be fun when she's old enough to experience Christmas like that."
But not all of Mir's Christmases have been fun. He was working at the front desk at Texas Station one year and got a call from an irate guest who wasn't happy with his accommodations.
"The guy's reaming me out on the phone and telling me how he's going to come down and kick my butt," said Mir, who stands 6 feet 3 inches tall and weighs 240 pounds. "So I call security because that's how we're told how to handle those sorts of things.
"The guy comes down and he's in a wheelchair. So the security guys are waiting and when they see the guy in the wheelchair, they're laughing and one of them runs to get a wheelchair for me.
"Of course, we didn't fight and we were able to get everything worked out for the guest."
PRESENTS? WHAT PRESENTS?
When you're a professional athlete constantly traveling the world, the holidays tend to be somewhat lonesome.
In Silva's case, he is usually thousands of miles away from his home in Curitiba, Brazil. At one time, he was living in Japan, where he was one of PRIDE's biggest attractions. Then he moved to Las Vegas to train for the UFC.
"I haven't spent Christmas with my family in five years," Silva said. "I've always been fighting."
That means no Christmas tree and no Christmas presents.
"It's like another day," he said with a tone of resignation in his voice. "Where I lived in Japan, there was no room for a tree. Too small."
This Christmas is no exception. His fight with Jackson figures to be one of the most anticipated on the entire card, and Silva said he'd like to give himself a late Christmas present by beating Jackson again.
"He talks too much," Silva (32-8-1) said. "He talks bad about me on the Internet, yet he won't talk bad to my face.
"I don't like him and I can't wait to beat him down."
While Silva said he misses being with his family at Christmas, he won't be alone. Silva will spend today with friends in Las Vegas.
"We'll go out for dinner," he said. "It'll be a nice day."
As for presents, Silva said that can wait.
"I don't have time to shop," he said. "I'll celebrate after the fight."
Contact reporter Steve Carp at scarp@reviewjournal.com or 702-387-2913.