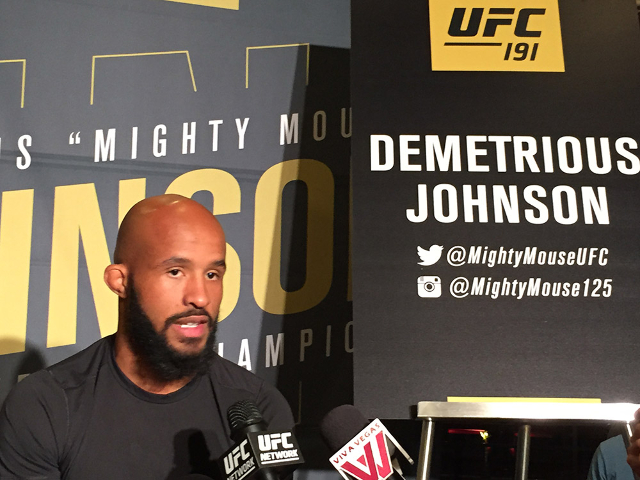 The festivities for UFC 191 officially kicked off Thursday with some of the world's top fighters trading verbal jabs in preparation for Saturday's card at the MGM Grand.
Main event headliners Demetrious "Mighty Mouse" Johnson (22-2-1) and John "The Magician" Dodson (17-6-0) took the stage first, speaking to media members from across the world.
Dodson, who's challenging Johnson for the UFC flyweight title, spoke of his first fight with the current flyweight champion in Jan. 2013.
Though he lost in a unanimous decision, the 30-year-old challenger knocked Johnson on the ground that night with a early-round punch to the face. He harped on that moment Thursday.
"Any man that has been dropped before is going to be scared to be hit again," Dodson said. "That man has been hit one too many times and he's going to obviously be scared of me."
"He has more on the line than I do," Dodson added. "…I know I'm the best fighter in the world."
For Johnson, Saturday will be a "spotlight" fight, he said. The two fighters' English-speaking, American backgrounds have helped Dodson and UFC 191 generate more hype than Johnson's previous title fights, he said.
"When I fought (Ali) Bagautinov, he didn't speak English, when I fought (Kyoji) Horiguchi, he didn't speak English," Johnson said. "But when you look at their records, it's way better than John Dodson's."
"Dodson has lost six times in his career," he added. "I've only lost once."
Another Johnson on the main card, 31-year-old light heavyweight Anthony "Rumble" Johnson (19-5-0), spent Thursday answering more questions about a hostile Facebook post than his Saturday opponent Jimi "Poster Boy" Manuwa (15-1-0).
After posting on Aug. 18 that he threw a woman's yoga mat across a gym during a confrontation, Johnson, the light heavyweight division's top contender, threatened to do it again if a similar situation arose. Johnson has since apologized, made a donation and entered counseling.
"She apologized to me, I apologized to her, we're cool," he said.
Manuwa, the light heavyweight division's seventh-ranked contender, kept his comments on Johnson inside the octagon.
"It's just a matter of being aggressive and implementing my will with him," Manuwa said. "He's a good fighter, but I'm ready to win."
On the women's side, 21-year-old strawweight contender Paige VanZant (5-1-0) dismissed any notion that her 36-year-old opponent, Alex Chambers (5-2-0), had an experience advantage over her.
"It doesn't concern me because I'm prepared for what she brings," said VanZant, the division's seventh-ranked contender, who is 3-0 since making her UFC debut in November.
"This is what I was made for, this is the easy part," she added when asked about her early career success. "You're only going to see me continue to evolve."
Chambers, a 13-to-1 underdog, acknowledged the odds were against her, but warned the media against counting her out.
"Mentally, physically, I'm ready to go," she said, "and I don't think I've shown what I'm capable of yet."
"It's an MMA fight and anything can happen," she added.
Saturday's undercard will start at 4 p.m. at the MGM Garden Arena. The five-fight UFC 191 main card is scheduled to start with VanZant and Chambers at 7 p.m, followed by Jan Blachowicz (18-4-0) and Corey Anderson (6-1-0), Johnson and Manuwa, Andrei Arlovski (24-10-1) and Las Vegan Frank Mir (18-9-0), and Johnson vs. Dodson.
Contact Chris Kudialis at ckudialis@reviewjournal.com or 702-383-0283. Find him on Twitter: @kudialisrj.