Las Vegan Frank Mir has accomplished just about everything he could have dreamed over nearly two decades as one of the biggest heavyweight stars in mixed martial arts.
He hasn't slowed down long enough to think of an exit strategy.
"You know those guys who go out gracefully?" the 38-year-old Bonanza High School alum asked with a laugh. "I'm probably not going to be one of them.
"I'm going to continue to fight until they drag me out kicking and screaming."
Mir has a chance to add to his already impressive resume by not only beating legendary fighter Fedor Emelianenko on Saturday outside Chicago in the main event of Bellator 198, but advancing in the organization's Heavyweight World Grand Prix. The heavyweight showdown headlines the Bellator 198 card on Paramount Network at 6 p.m.
The matchup with Emelianenko, long considered the greatest heavyweight in the world during his prime as a champion in Japan's Pride organization, is one Mir has wanted for a long time.
"Fedor is still a very good athlete," Mir said. "Very savvy, very smart fighter. He's still extremely entertaining. I worry more about fights where I fight point-oriented guys because it's not the kind of fight people want to see whether you win or lose. You go out in a blaze of glory, it's a better performance.
"I think he's the one that showed heavyweights can be exciting. He was one of the first well-rounded big guys. Before that, heavyweight fights were very wrestling heavy and much slower."
The winner will advance to face Chael Sonnen in the semifinals of the year-long tournament.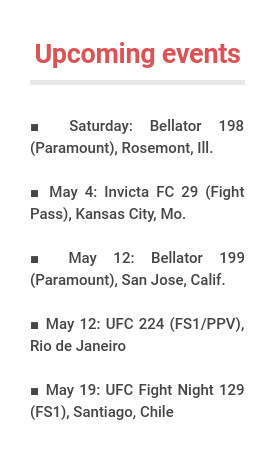 "To win another championship in another organization would be a huge accomplishment for my career," said Mir, a former UFC champion.
Still, it's not what has driven Mir to stay in the game despite a lengthy suspension for a violation of the UFC's anti-doping policy and a battle to get out of his contract in order to compete in Bellator.
"It's about the competition and proving something to yourself," he said. "It's the same reason I started doing it in the first place. People compete every weekend and they're not getting paid to do it. In fact, they're spending their own money to do it
"Trophies get dusty, man. Money gets spent. If that's why you're doing this, it's short-lived."
Hardy gets UFC audition
Troubled former NFL star Greg Hardy will make his professional MMA debut June 12 with a chance to earn a UFC contract.
Hardy has been booked to fight Brandon Sayles on the first episode of Season 2 of "Dana White's Tuesday Night Contender Series." The show features a card of competitors seeking their big break, followed by UFC officials offering a long-term contract to those fighters who stand out on each episode.
The 29-year-old former Pro Bowler with the Panthers last played in the NFL with the Dallas Cowboys in 2015. He is 3-0 as an amateur fighter.
Hardy was infamously arrested for an assault on his ex-girlfriend in 2014, though the case was eventually dropped. He also pled guilty to a drug charge in 2016.
Serra gets Hall nod
Former UFC welterweight champion Matt Serra will be inducted into the organization's Hall of Fame in July. He was named to the 2018 class during Saturday night's broadcast of UFC Fight Night 128 from Atlantic City, New Jersey.
Despite a 7-7 career record in the UFC, Serra made history with a stunning knockout of Georges St. Pierre to become champion in one of the biggest upsets in UFC history.
"This is an honor to say the least," Serra, now one of the top coaches in the sport, stated in a news release. "I turned professional in 1999, during the dark ages when MMA was almost finished in the US. I didn't become a mixed martial artist because there was a ton of money and fame to be had — there was none back then. … I began competing in MMA because I love the sport, and that took me all the way to the UFC championship, and, now the UFC Hall of Fame. I love the sport as much as I ever did, and I couldn't be happier or more honored right now."
This year's induction ceremony will be held at the Palms on July 5.
UFC 226 gets even bigger
Two massive fights have been added to the UFC 226 card on July 7 at T-Mobile Arena.
Featherweight champ Max Holloway will defend the belt against interim champ Brian Ortega, a title bout that joins the heavyweight title fight between champion Stipe Miocic and light heavyweight champ Daniel Cormier on the marquee.
The two title bouts have company in terms of fan interest on the card as heavyweight sluggers Francis Ngannou and Derrick Lewis have also been booked to duke it out at the event.
More MMA: Follow all of our MMA and UFC coverage online at CoveringTheCage.com and @CoveringTheCage on Twitter.
Contact Adam Hill at ahill@reviewjournal.com or 702-277-8028. Follow @AdamHillLVRJ on Twitter.