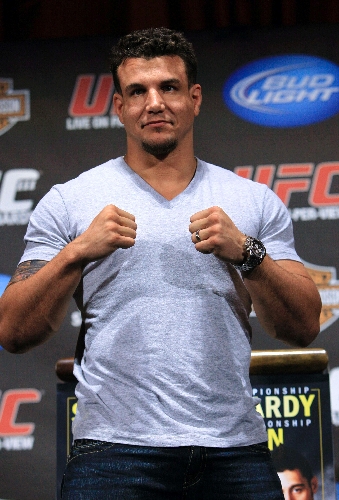 When Frank Mir entered the Ultimate Fighting Championship, the wrestling skills that helped him to a Nevada state title in high school were good enough to allow him to win the UFC heavyweight crown.
Times have changed at the elite level of mixed martial arts. Bigger, stronger athletes, including several with national college wrestling titles, now fill much of the organization's roster.
A pair of losses to two such fighters, Brock Lesnar and Shane Carwin, have made the jiu-jitsu black belt realize his shortcomings in the wrestling game. Mir feels confident that he has diagnosed his problems.
"It's like, if someone says to you, 'You have cancer, but we have the cure for it. It sucks that you have cancer, but at least there's a cure. If they say, 'Hey, you're sick and I don't know what's wrong with you. It's like, 'Wow, really, you don't know what's wrong with me?' That's a worst-case scenario. That's much harder to deal with," he said.
While the losses to Lesnar and Carwin — which were sandwiched around a quick submission victory over Cheick Kongo — came against fighters with similar styles, Mir said they were different.
"In the Brock fight, honestly at that time with the techniques I knew I probably couldn't have changed the outcome regardless of what I wanted to do. My wrestling at that time was too poor," Mir said. "In the Carwin fight, maybe the reason I wasn't so devastated was that I possessed the tools to win the fight, I just did the wrong things. I was like a mechanic that showed up with a screwdriver when I needed a wrench. I had the tool, I just didn't use it. That's easier to deal with mentally."
Mir, a 31-year-old Las Vegan who faces a different type of fighter in Mirko "Cro Cop" Filipovic in the main event of UFC 119 tonight in Indianapolis, said he rededicated himself to wrestling in the gym, particularly sharpening his ability to hold an opponent down once he secures top position.
Mir might find himself in just such a spot against Filipovic, a kickboxer who is 15 pounds lighter than Mir.
"If we both enter the cage at 100 percent, he can't beat me. He doesn't possess the tools. He doesn't have enough of them. He has a head kick and a left hand," Mir said. "I can kick, I can punch, I can choke, I can knee, I can elbow. I have countless submissions that I can throw on him that I could tell him I'm about to do to him and he couldn't stop it."
Still, Mir must get the job done tonight. A loss would be his third in four fights and would put him well back in the pecking order of a UFC heavyweight division that is as deep as it's ever been.
Ryan Bader and Antonio Rogerio Nogueira might be even closer to a title shot. The two will meet in a pivotal light heavyweight bout tonight.
Bader, a two-time Nevada state champion wrestler at McQueen High in Reno, is 11-0 in his MMA career. He steps up in competition against Nogueira, a longtime star in Japan who is riding a seven-fight winning streak, including a 2-0 mark since signing with the UFC.
Chris Lytle will try to extend his three-fight winning streak and avenge a 2006 loss when he meets former welterweight champion Matt Serra. Lytle is expected to have a significant home-crowd advantage. He is a firefighter in Indianapolis.
A pair of lightweight bouts round out the pay-per-view portion of the card.
Former lightweight champion Sean Sherk returns to the cage for the first time in 16 months to take on unbeaten Las Vegan Evan Dunham. Melvin Guillard meets Jeremy Stephens in the early favorite for most exciting fight of the night.
The pay-per-view broadcast begins at 7 p.m., but two fights will be featured live on Spike (Cable 29) at 6. C.B. Dollaway meets Joe Doerksen in a welterweight bout, and heavyweight Matt Mitrione fights Joey Beltran.
Contact reporter Adam Hill at ahill@reviewjournal.com or 702-224-5509.