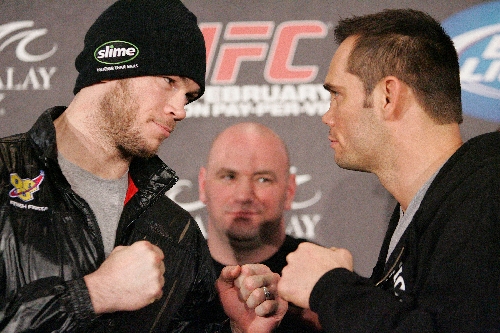 When Rich Franklin says he competes at everything he does, he isn't kidding.
"If we're going to the bathroom out in the woods, I'm going to pee further than you," he said in all seriousness. "It's crazy. I'm just a competitor, and I love to compete. That's what I do."
That competitive drive led the Cincinnati native with a master's degree in education to give up his job as a high school math teacher in 2003 to concentrate full time on his burgeoning mixed martial arts career.
He captured the Ultimate Fighting Championship middleweight title two years later and defended the belt twice.
Despite the success and popularity he has enjoyed since losing the title in 2006, Franklin has yet to regain the belt, largely because of two losses to longtime middleweight champ Anderson Silva.
Franklin has bounced around from middleweight to light heavyweight for a few years but appears set for now in the 205-pound division.
The 36-year-old will try to take the next step toward a potential light heavyweight title shot when he meets Las Vegan Forrest Griffin, another former champion, in UFC 126 on Saturday at Mandalay Bay.
Franklin said he would love to become champion again but insisted he is more concerned with winning this fight. He likened trying to beat a fighter of Griffin's caliber while thinking about what a victory could mean to your career to trying to hit a baseball after taking your eye off it to look where it's going to travel.
Franklin does concede that reaching the pinnacle of the sport again at this stage of his career would be special.
"When I won the title the first time, I was at a much different spot in my career," Franklin said. "The title came a lot easier to me then, and I don't think I quite had the appreciation for it that I would now. Whether the drive is more or the same, I'm not sure. But I know one thing: I appreciate the journey so much now."
The matchup with Griffin has the makings of an exciting fight. Both are fan favorites who prefer to stand in the center of the cage and trade blows.
As Griffin said, "All the ingredients are there; we just have to see how the cake turns out."
Griffin, 31, sees the bout as an opportunity to beat a fighter after whom he once tried to model his career and scoffs at the notion Franklin might be past his prime.
"He just beat Chuck Liddell, and if you grew up when I grew up, Chuck Liddell is the man. He knocked Chuck Liddell out," Griffin said. "I remember when Rich Franklin was beating up everybody. He was dominating. Some people forget, but people in the sport don't forget. I didn't forget."
Franklin knocked out Liddell in the first round of a June bout despite breaking his left arm blocking a kick.
Liddell retired after the loss, which marked the third straight time he had been knocked out. Franklin said seeing the way it ended for Liddell didn't necessarily make him think about retirement, but he has had conversations with his camp.
"I wouldn't let that happen to myself. I've had talks with my coaches and said, 'Hey, if you see me losing a step, let me know if I'm not intelligent enough to pull the trigger myself,' " Franklin said. "I do know that I'm not going to fight deep into my 40s like Randy (Couture). I don't know how he's doing that. I think just one day will come where I'll flip the switch and say, 'You know what, I've done what I needed to do.'
"But for now, I love what I'm doing, and I enjoy doing it, so I'm going to keep doing it."
n NOTES — The UFC announced Saturday's undercard bout between Demetrious Johnson and newcomer Kid Yamamoto will stream live on the organization's Facebook page at 5:25 p.m.
Contact reporter Adam Hill at ahill@reviewjournal.com or 702-224-5509.