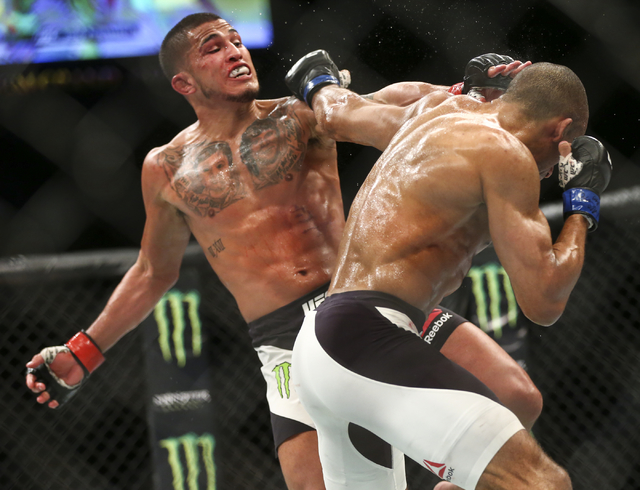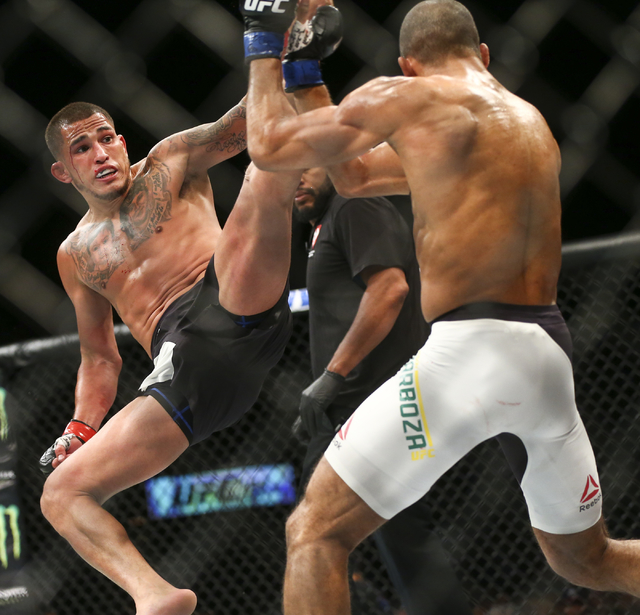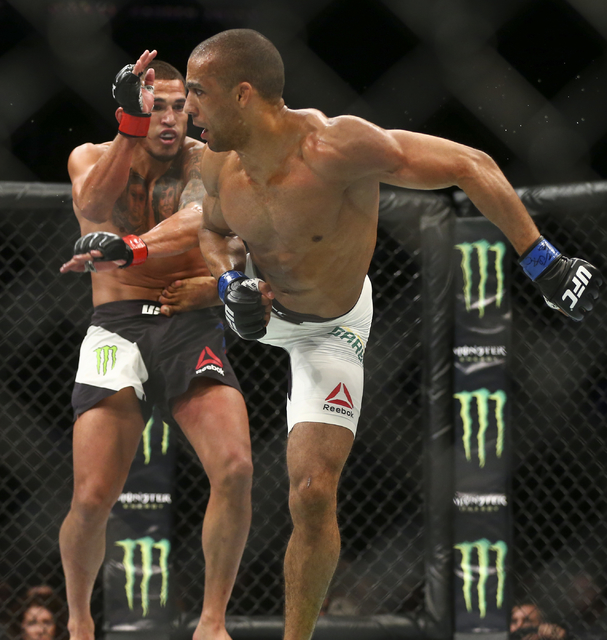 Former lightweight champion Anthony Pettis has been in a good mood this week for a fighter who has lost four of his past five bouts.
There's a good chance that has something to do with the fact he has been able to eat.
Pettis competed at featherweight in his past two fights and endured brutal weight cuts that left him drained of energy and miserable.
He returns to lightweight and will fight Jim Miller on the main card of UFC 213 on Saturday at T-Mobile Arena.
"I feel amazing," Pettis said of not having to lose an extra 10 pounds. "I'm back to normal. I'm smiling and enjoying the process. Honestly, at (145), it's miserable cutting that weight. It's not a fun life. You have to watch everything you do. I want to enjoy my life."
That might have been easier when Pettis was on top of the MMA world. He won the lightweight belt at age 26 and was featured on a Wheaties box.
Then came a three-fight losing streak.
"After (I lost the belt), I went through depression," he said. "My next two fights didn't go my way, and I dropped down in weight and went 1-1, but I knew it wasn't for me.
"There's nothing that can prepare you (for losing). I won so many times that I was just used to it. You train, get your hand raised and go on vacation. When I lost, it was like, 'Whoa, that wasn't supposed to happen. What do I do now?' Then you start questioning everything. Was it my personal life? Was it my focus in the gym? Going through that led me to the positive place I'm at now."
His longtime coach, Duke Roufus, can see the improvement, particularly in Pettis' mood.
"Those weight cuts really made fighting a job for him. It was hard work," Roufus said. "It should be something you love, and it's good to see the passion back in him instead."
Werdum seeks redemption
Former UFC heavyweight champion Fabricio Werdum wants to defeat Alistair Overeem at UFC 213 to ensure he's next in line to fight for the belt. But he's also motivated to erase the memory of what he calls a "terrible fight" when they met on a Showtime card in 2011.
"I kept pulling guard," Werdum said. "I didn't want to, but my jiujitsu saved me because I had overtrained. The fight had been canceled twice. I didn't believe it was ever going to happen, and I wasn't ready."
The fight will go a long way toward determining the top contender in the division and serves as a rubber match. Werdum won their first fight by second-round submission in 2006.
Werdum says his ideal 2017 would be to defeat Overeem, then fight Stipe Miocic for the title in December in a rematch.
"I have two belts in my home, one in my room and one in my living room," he said. "I have a spot for one more."
Follow all of our MMA and UFC coverage online at CoveringTheCage.com and @CoveringTheCage on Twitter.
Contact Adam Hill at ahill@reviewjournal.com or 702-277-8028. Follow @adamhilllvrj on Twitter.
International Fight Week schedule
Free and open to the public (unless otherwise noted)
Friday
9 a.m.: UFC athlete autograph sessions, T-Mobile Arena lobby
11 a.m.: UFC Fan Experience, Toshiba Plaza
2 p.m.: UFC 213 weigh-ins, Park Theater
3 p.m.: "TUF 25" Finale live event (tickets required), T-Mobile Arena
Saturday
9 a.m.: UFC athlete autograph sessions, T-Mobile Arena lobby
Noon: UFC Fan Experience, Toshiba Plaza
3:30 p.m.: UFC 213 (tickets required), T-Mobile Arena