Frank Mir uses MMA career as springboard to Southern Nevada Sports HOF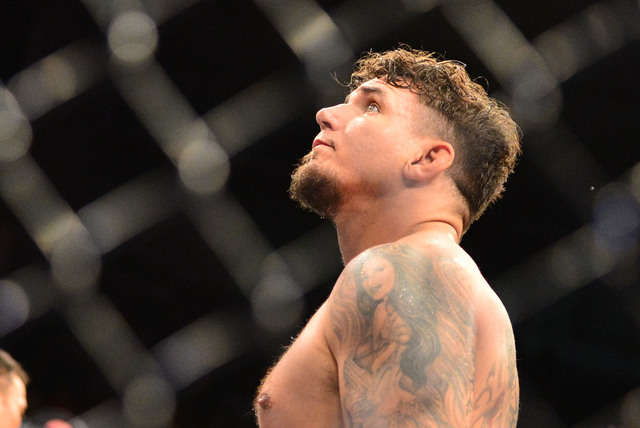 When the Southern Nevada Sports Hall of Fame launched in 1997 with David Humm as its first inductee, Frank Mir was a junior at Bonanza High School.
He became a state wrestling champion and trained in the martial arts with his father, Frank Sr., who ran a studio in Las Vegas. The UFC was in its fourth year and trying to increase its fan base.
Mir became a heavyweight champion in the organization. And on Friday, the 36-year-old will be inducted into the Hall as its first MMA athlete. UFC president Dana White was inducted in 2013.
"Growing up here in Las Vegas, seeing the sports landscape firsthand, knowing about the Hall of Fame, I've always known it was something special to get in," Mir said. "For me to go in as the first MMA athlete, that's incredible. It's something I can leave to my children and grandchildren."
Mir's career growth parallels that of the UFC. He made his debut at age 22, and in 2004 won the heavyweight title by defeating Tim Sylvia. With his good looks, ability to communicate and sell the sport, Mir appeared to be on his way to a superstar career.
But Mir was involved in a traffic accident three months after he won the title. He was riding his motorcycle when he got blindsided by a car. He broke his leg in two places and shredded the ligaments in his knee, sidelining him for almost two years.
"I always believed I could come back," Mir said. "I wasn't going to quit. I had worked too hard to leave the sport."
"One thing martial arts teaches you is discipline. It also made me appreciate what I had and what I had accomplished. I likened it to a book; the injury closed one chapter of my life. And when I returned to the UFC, it began a new chapter."
Mir came back to claim the UFC interim heavyweight title in December 2008 with a victory over Antonio Rodrigo Nogueira at UFC 92. Mir defeated him again three years later at UFC 140.
Mir had two memorable fights against Brock Lesnar, with Mir winning at UFC 81 and losing at UFC 100.
Mir, 18-11 in the UFC, is dealing with controversy following his March 20 fight in Australia, where he tested positive for the banned substance turinabol after a loss to Mark Hunt. He could face a two-year ban.
"As of now, I'm on hold," he said. "It's crazy. I've been tested dozens of times and never had a positive test. I don't do performance-enhancing drugs. I have no idea how this got into my system. I don't believe in cheating. I've tried to be a good role model, not just for my kids but for all kids."
But Mir is not going to let this latest setback spoil his evening.
"Mixed martial arts represents betterment of yourself," he said. "Through dedication and hard work, you can work your way up and become a world champion."
Contact Steve Carp at scarp@reviewjournal.com or 702-387-2913. Follow on Twitter: @stevecarprj
SOUTHERN NEVADA SPORTS HALL OF FAME
What: 2016 Induction Ceremony
Who:
— Marty Cordova (presenter: Matt Lawton)
— Frank Mir (presenter: T.J. Lavin)
— Sig Rogich (presenter: Marc Ratner)
— 1997-98 UNLV National Championship Golf Team
(presenter: Dwaine Knight)
When: 6 p.m. Friday
Where: Orleans Arena