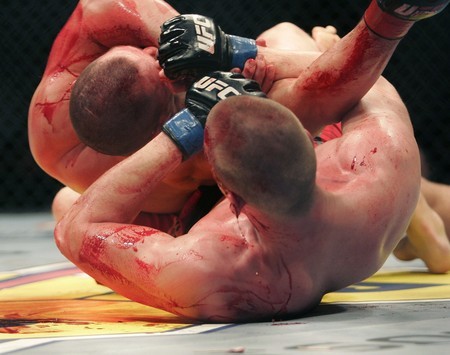 Rich Franklin was not happy with the decision he lost to Dan Henderson the last time he fought in Europe.
The outcome was much more to Franklin's liking Saturday in the main event of UFC 99 in Cologne, Germany, as he scored a unanimous decision over Wanderlei Silva in a 195-pound catch-weight bout.
Franklin thought he had beaten Henderson in Dublin, Ireland, in January and visibly was upset when Henderson's name was announced as the winner.
He didn't want the judges to have a say in who won Saturday's fight, but Franklin was unable to finish Silva.
"After my last fight in Dublin, it was a disappointment going to a decision," Franklin said. "I didn't want to go to a decision again, but Wanderlei's way too strong of a fighter."
The victory came at the end of a slugfest that only briefly went to the ground.
Franklin was accurate with his jab throughout the fight, landing more shots than Silva.
But Silva showed flashes of his trademark power. The Las Vegan appeared to badly hurt Franklin in the second round.
"I got hit and saw black for a second but quickly came to," said Franklin, the former Ultimate Fighting Championship middleweight champion.
Franklin recovered and finished the round by landing a few shots. He again appeared to be rattled in the third round, but an exhausted Silva could not capitalize.
Silva was happy with his performance despite the loss.
"This is my victory. I fight for my fans," he said. "I wanted to give a show for them. They're the reason why I'm here today."
In a heavyweight clash, Cain Velasquez was tested for the first time in his young career, but the unbeaten heavyweight prospect gained a convincing unanimous decision by securing top position early in each round and pounding on Cheick Kongo.
Kongo landed huge right hands that rocked Velasquez in the opening seconds of the first and second rounds, but Velasquez shook them off and took the battle to the mat.
Velasquez was dominant on the ground but was disappointed in his inability to finish the fight.
"It is a good win over a fighter who a lot of fans respect, but I am pretty unhappy with the way things went," Velasquez said. "I did OK, but I know I can do so much better than I showed tonight.
"It wasn't good enough for me or my coaches. I need to get a lot better."
It was only the second time in six fights an opponent got out of the first round against Velasquez and the first time he has been taken the distance.
Mirko "Cro Cop" Filipovic did not have to go the distance to gain his victory.
The heavyweight returned to the UFC and claimed he was ready to fulfill the promise that he failed to live up to in his first stint in the organization.
He scored a quick knockout of Mostapha Al-Turk, but the win was clouded a bit by an eye poke suffered by Al-Turk.
Cro Cop already had knocked his opponent down but accidentally poked Al-Turk in the eye after he got back to his feet.
Al-Turk turned and covered up, but the referee did not see the poke, and Cro Cop proceeded to deliver several strong strikes to Al-Turk and finish him off at 3:06 of the first round.
"I did not feel it," Cro Cop said of the poke. "I'm sorry. I did not want it that way, but that's not the thing that made the difference in the fight."
Cro Cop's return to the UFC was short-lived. He informed the organization after the fight that he signed a contract with the Dream organization in Japan.
Mike Swick improved to 9-1 in the UFC with a second-round knockout of Ben Saunders in a welterweight bout.
Swick controlled the match on the mat from top position in the first round, then landed several punches when Saunders tried to throw a kick late in the second round to finish the fight.
Dan Hardy and Spencer Fisher claimed decision wins.
On the undercard, Terry Etim, Denis Siver and Stefan Struve picked up submission victories. Paul Taylor, Paul Kelly and John Hathaway each won by decision.
Contact reporter Adam Hill at ahill@reviewjournal.com or 702-383-0353.