Free agent heavyweight Matt Mitrione decides to sign with Bellator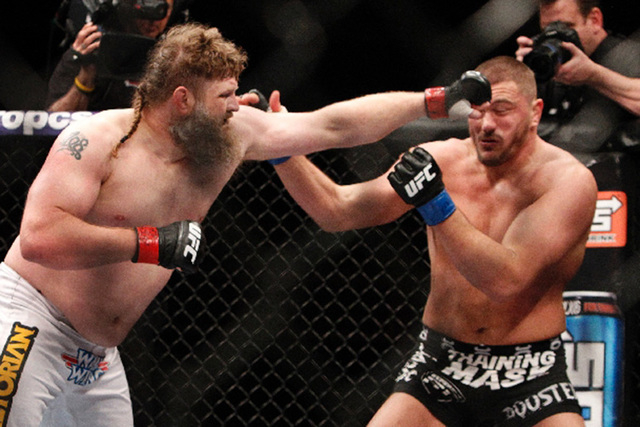 Another high-profile free agent has elected to leave the Ultimate Fighting Championship behind to sign with Bellator MMA.
Heavyweight Matt Mitrione, a former NFL player who entered the UFC through "The Ultimate Fighter" reality show, announced his decision on Monday.
"There comes a time in every athlete's life, where the scenarios change and the landscape has eroded from what made you fall in love with it initially," Mitrione said in a statement. "It has become that time for me. After a mutually beneficial free agency period, I've decided to move my career to Bellator."
Mitrione went 9-5 during his stint in the UFC and is coming off back-to-back losses to Ben Rothwell and Travis Browne. He is one of the rare fighters who made his professional mixed martial arts debut in the UFC.
Mitrione was a standout defensive lineman at Purdue before signing a free-agent contract with the New York Giants. He spent parts of several seasons with the San Francisco 49ers and Minnesota Vikings before a series of injuries derailed his career.
After turning to MMA, Mitrione was invited to compete on Season 10 of "TUF," which featured Kevin "Kimbo Slice" Ferguson and Roy Nelson.
He knocked out fellow former NFL player Marcus Jones on the season-finale card and then knocked out Ferguson in his next fight at UFC 113 in 2010. Mitrione started his career 5-0.
The 37-year-old decided to test the market after his UFC contract expired following the controversial loss to Browne in January. Mitrione has appealed the loss to the Massachusetts athletic commission on grounds that he claims the referee failed to follow protocol after Browne committed several fouls ruled to be accidental, including an eye poke that badly damaged Mitrione's eye before Browne knocked him out in the final minute.
The UFC had matching rights on the Bellator offer and Mitrione had stated recently he hoped to get another opportunity to fight Browne, but the organization decided not to exercise its option and allowed Mitrione to go to Bellator.
"I've enjoyed almost every second of my career and unlike most that switch organizations due to being cut or no longer being able to perform at the sport's highest levels, I am bringing a body and skill set that are only getting better and I cannot wait to test my abilities against the best Bellator has to offer," Mitrione stated.
Several UFC fighters have tested the market in recent months. Former lightweight champion Benson Henderson left for Bellator, while unbeaten bantamweight contender Aljamain Sterling and heavyweight contender Alistair Overeem each returned to the UFC.
No date or opponent has been announced for Mitrione's debut in Bellator. Terms of the deal were not disclosed, but Mitrione indicated it may include commentary opportunities.
GAETHJE ON ROLL
World Series of Fighting lightweight champion Justin Gaethje improved to 15-0 with a first-round stoppage of Brian Foster in the main event of WSOF 29 in Greeley, Colo., on Saturday.
It was his fourth successful title defense.
Foster could not withstand a barrage of leg kicks and succumbed to Gaethje at 1:43 of the first round. Gaethje immediately set his sights on his next bout.
"All I want to know is, 'Who's next?' " Gaethje said in the cage during the postfight interview. "That's all I want to know right now."
BRISBANE CARD ALTERED
Abel Trujillo has been pulled from a scheduled lightweight showdown against Ross Pearson due to visa issues and will be unable to compete on the UFC card in Brisbane, Australia, on Saturday.
Pearson will instead match up with Chad Laprise.
It was one of several changes to the card, which will take place on Sunday in Australia in order to air live on Fox Sports 1 at 5 p.m. Alan Patrick, who had been scheduled to fight Laprise, will now take on newcomer Damien Brown.
Also, flyweight Justin Scroggins was forced to pull out of his bout with Ben Nguyen due to injury.
SLICE, SHAMROCK FAIL TESTS
One competitor from each of the two main events on the Bellator 149 card last month in Houston were flagged for positive drug tests by the athletic commission in Texas.
Ferguson, who fights under the name Kimbo Slice, and Ken Shamrock have both been administratively suspended pending hearings in front of the Texas Department of Licensing and Regulation.
The substances for which the fighters tested positive have not been revealed. Shamrock previously tested positive for three steroids following a 2009 bout in California.
Shamrock, 52, lost to Royce Gracie on the card. Ferguson, 42, knocked out Dhafir "Dada 5000" Harris, but the result of that bout will be changed to a no-contest.
Contact reporter Adam Hill at ahill@reviewjournal.com or 702-224-5509. Follow him on Twitter: @adamhilllvrj
Matt Mitrione went 9-5 during his stint in the UFC and is coming off back-to-back losses to Ben Rothwell and Travis Browne. He is one of the rare fighters who made his professional mixed martial arts debut in the UFC.