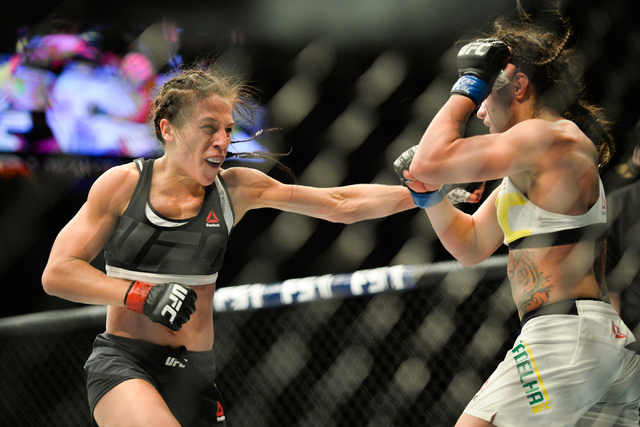 After defeating her chief competitor in the strawweight division by decision for a second time, UFC champion Joanna Jedrzejczyk was ready to close the book on what has been an ugly rivalry.
Claudia Gadelha was having none of it.
"No, it's not done," Gadelha said after coming up short in the main event of "The Ultimate Fighter" 23 finale card at the MGM Grand on Saturday. "Never."
The animosity dates back to December 2014 when Jedrzejczyk earned a disputed decision over Gadelha in a bout to determine the next challenger for the strawweight title. Jedrzejczyk went on to capture the belt and the two have consistently traded barbs in the press and on social media about whether she truly deserved her place atop the division.
The heat between them reached a point where the UFC decided to place them as opposing coaches on the reality show. Heated words often led to pushing and shoving throughout the season before a fracas broke out between the two after filming completed and cameras were shut off.
Gadelha vowed her revenge and appeared on her way to getting it on Friday night, dominating the first two rounds. Jedrzejczyk proved her mettle as she endured the early barrage and seized control late to earn the decision once again.
Jedrzejczyk used her post-fight interview to apologize for her role in the tense relationship.
Gadelha wasn't moved.
"I'll move on," she said. "But the things that she did during the show and the things she said were very disrespectful. Like I said, I grew up in the BJJ (Brazilian jiu-jitsu) philosophy. I learned to respect my opponents and their coaches.
"She disrespected me, she disrespected my team and my coaches. I can't accept that."
At the post-fight news conference, Gadelha sarcastically laughed and shook her head during several of Jedrzejczyk's answers.
The champion was unfazed.
Jedrzejczyk feels she has done her part and is ready to distance herself from the challenger she acknowledges is clearly the second best in the division.
"I closed everything that was between me and her," the champion said. If she doesn't get it, I don't mind," Jedrzejczyk said. "I did what I felt I must do and said so. I'm humble, I'm working hard everyday, I respect everyone, but everyone has someone in their life that you don't like.
"I had those feelings for Claudia but not anymore."
Jedrzejczyk is still the champion largely due to her superior stamina. Gadelha stormed out from the opening bell, but couldn't maintain her pace.
"Yes, I got tired," she conceded. "I think i'm better than her technically. If it wasn't for the conditioning, I felt I would have beat her."
That probably would have triggered an immediate rematch and made the rivalry grow even stronger. A potential third matchup may be down the road now that the champion has two wins, but there's a better chance than not it will happen at some point.
Don't expect them to touch gloves that night, either.
Contact reporter Adam Hill at ahill@reviewjournal.com or 702-224-5509. Follow @adamhilllvrj on Twitter.