Garbrandt loses 2nd time to bitter rival Dillashaw
Updated August 5, 2018 - 12:35 am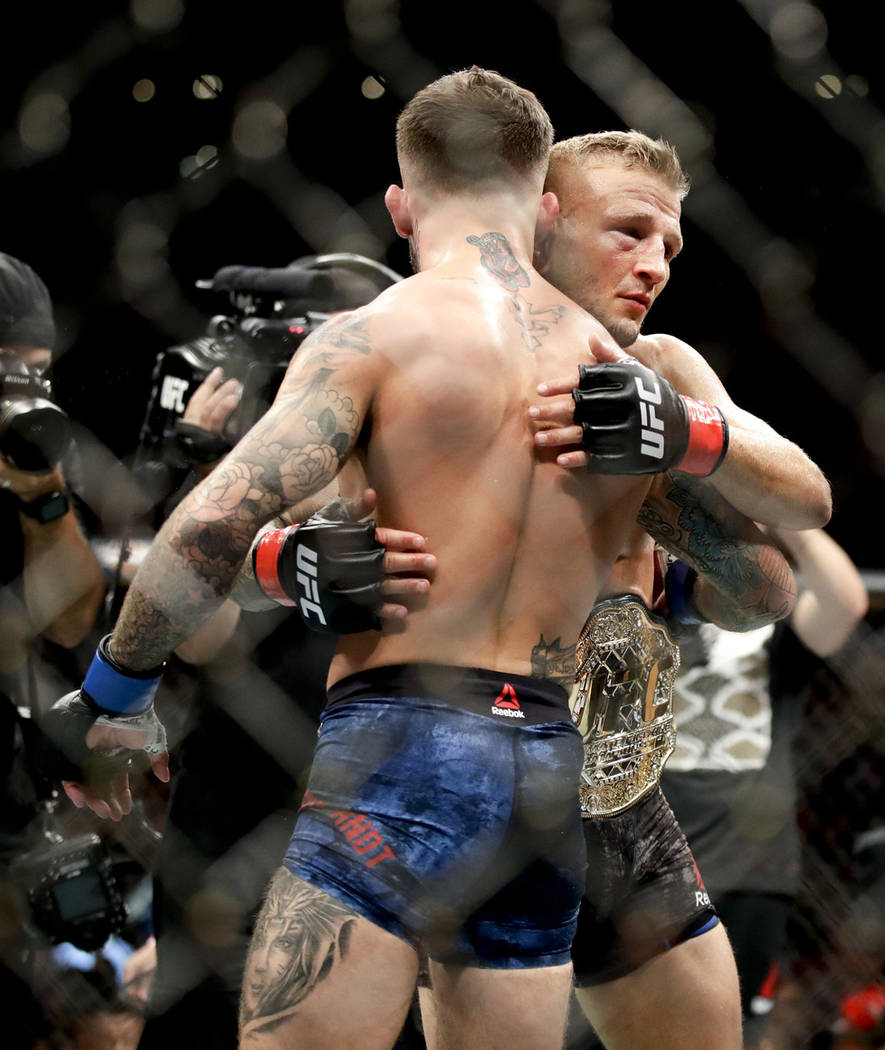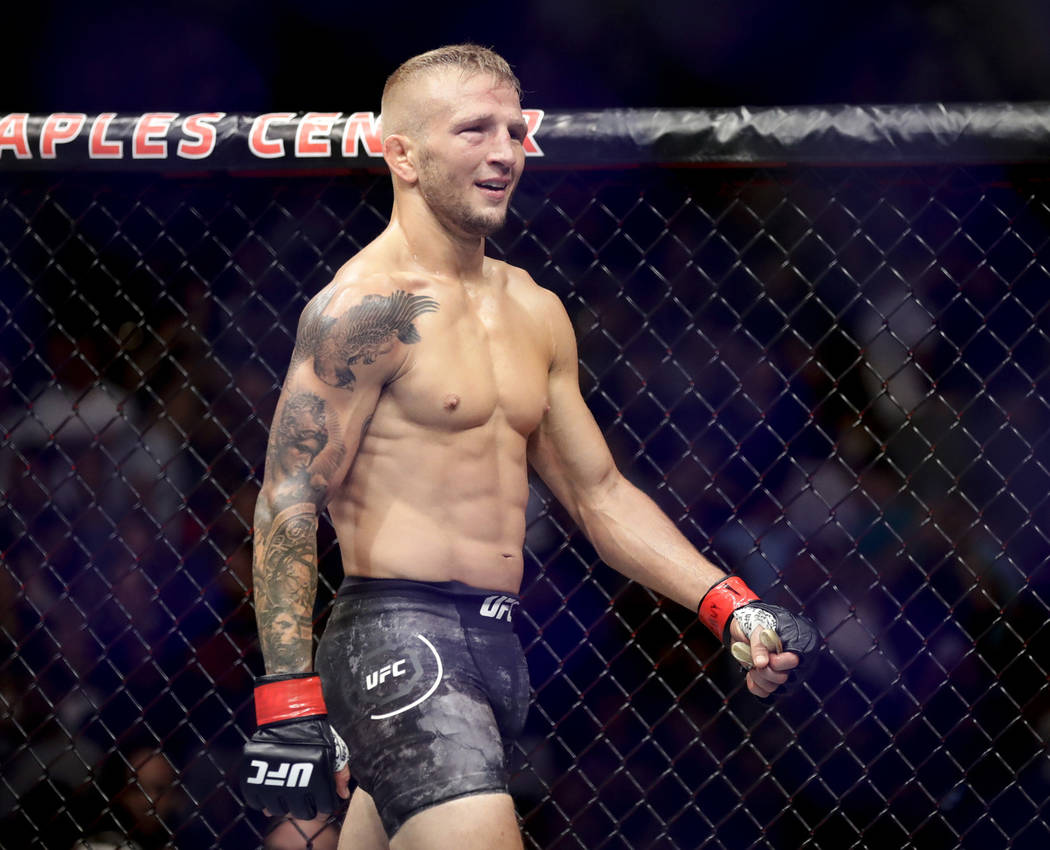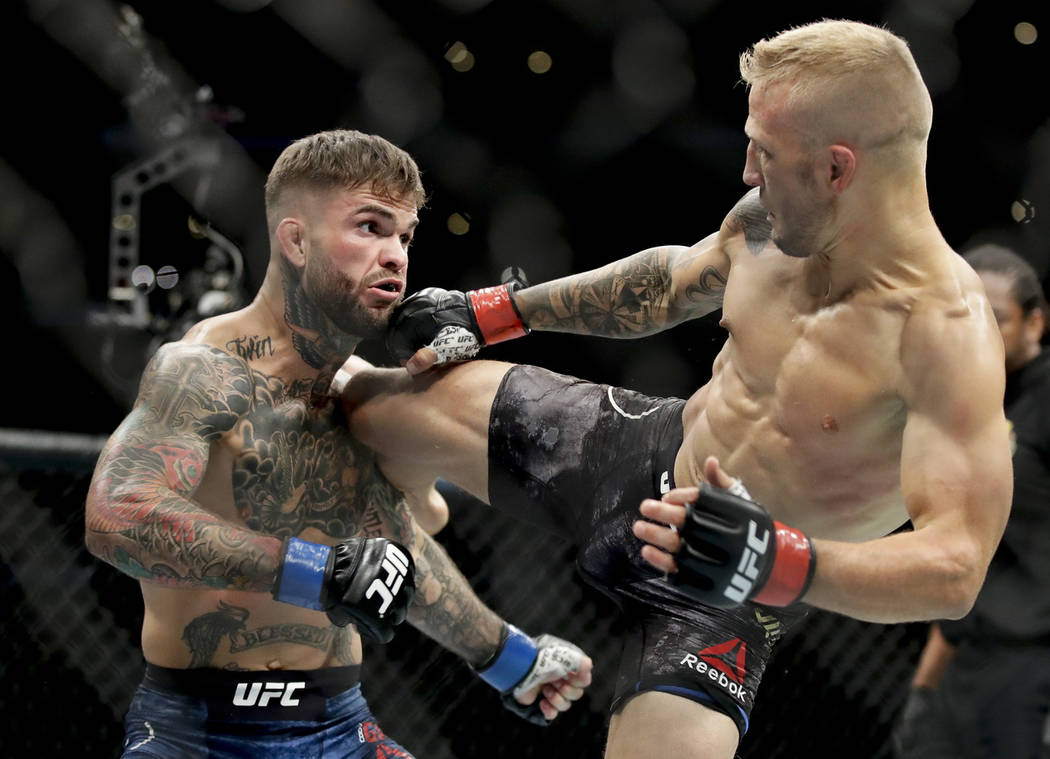 LOS ANGELES — It wasn't too long ago when Cody Garbrandt moon walked his way to the bantamweight championship after turning in a dominant performance over the once-masterful Dominick Cruz at UFC 207.
Garbrandt mocked Cruz with dance moves and pummeled him with vicious punches for five rounds before being awarded a unanimous decision.
To go along with the cockiness and destruction, Garbrandt showed kindness by strapping the belt on then-10-year-old Maddux Maple, who was fighting cancer at the time.
If there ever was a perfect performance, one that could turn a fighter into a superstar, that was probably it on the night of Dec. 30, 2016 at T-Mobile Arena.
Flash forward to Saturday night, Garbrandt left the octagon at Staples Center dejected after being technically knocked out a second time by bitter rival T.J. Dillashaw in front of an announced crowd of 17,800.
Garbrandt, 27, slowly walked out of the cage alone, with his hands on his hips and looking up at the rafters with lost eyes.
The fighter known as "No Love" has lost his direction after once having a paved road to being the UFC's next household star.
"Dillashaw is on his way now," UFC president Dana White said. "We're already discussing if he's the best ever."
That was supposed to be Garbrandt, on his way to big things.
Maybe he can recover from this setback, but shaking off the losses to Dillashaw won't be easy.
What makes it worse, is that Dillashaw, a fighter of many crafts, beat Garbrandt twice at his own game. Garbrandt was considered to be the better striker.
"He doesn't have a chin," Dillashaw said. "(The victory is) a little extra and closed that chapter."
Garbrandt was overconfident in the first bout and threw numerous oral jabs at Dillashaw leading up to the fight at UFC 217.
The second time around, Garbrandt didn't talk much. Taking massive right hands to the mouth from Dillashaw probably caused that massive decline in trash talk.
But arrogance is what made Garbrandt special inside the octagon. He didn't appear to be his usual self leading up to the rematch.
"Cody is still very good but needs to win more fights," White said. "Everyone believed Cody was going to beat T.J. (the first time), especially Cody."
It didn't turn out that way. Garbrandt needs to find his way again.
More MMA: Follow online at CoveringTheCage.com and @CoveringTheCage on Twitter.
Contact Gilbert Manzano at gmanzano@reviewjournal.com. Follow @GManzano24 on Twitter.