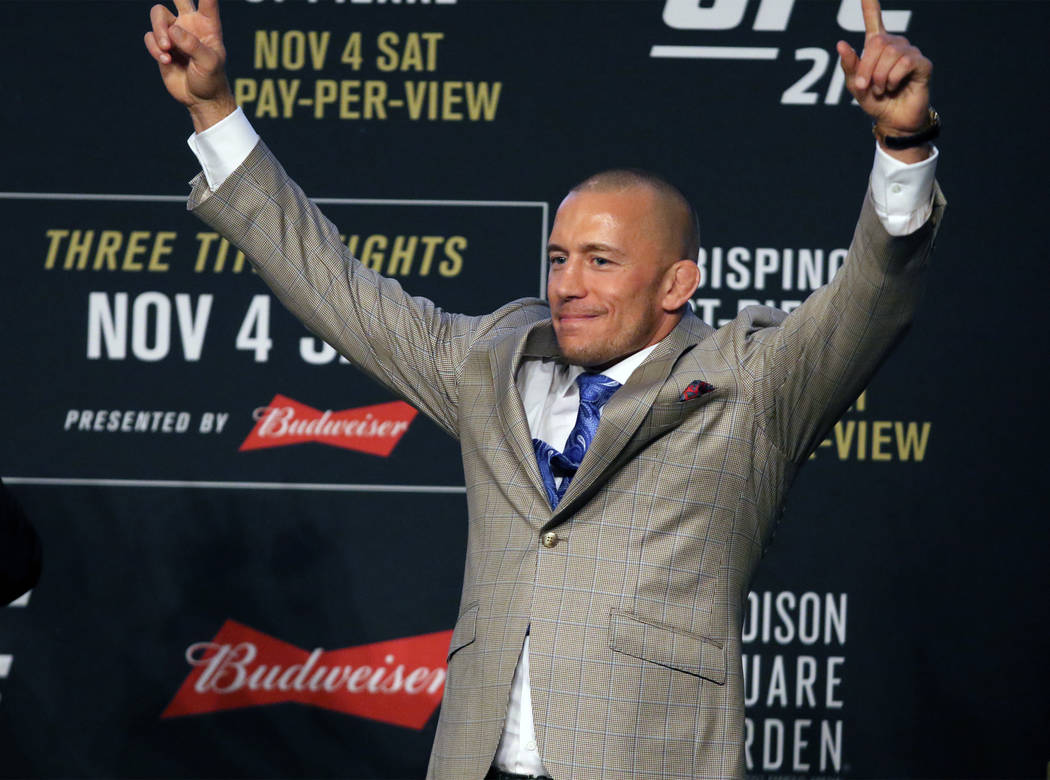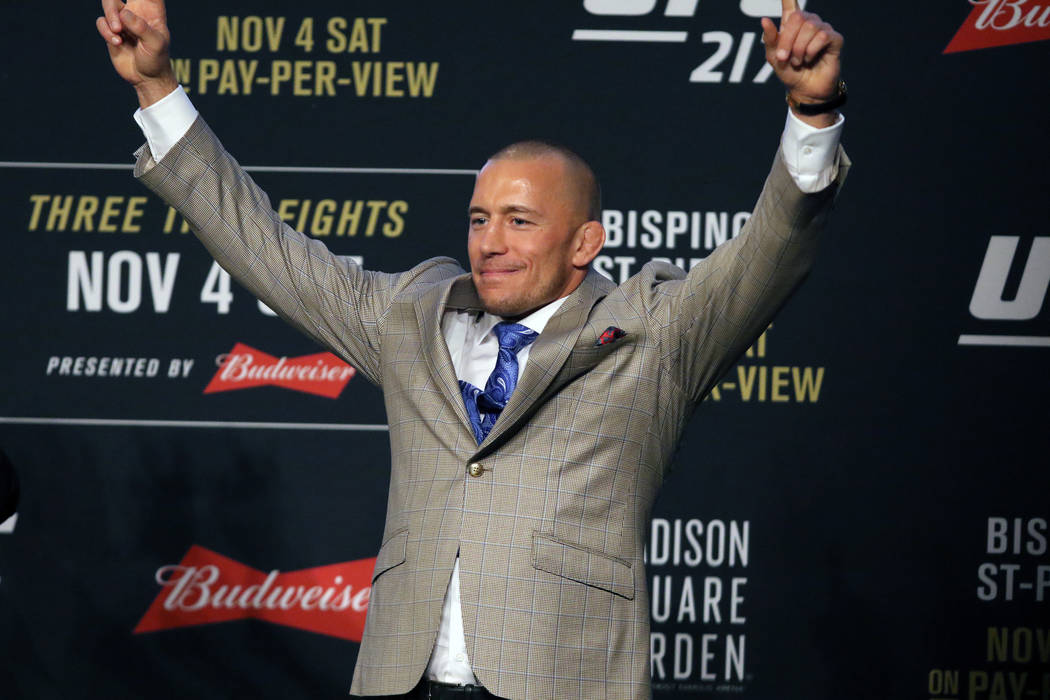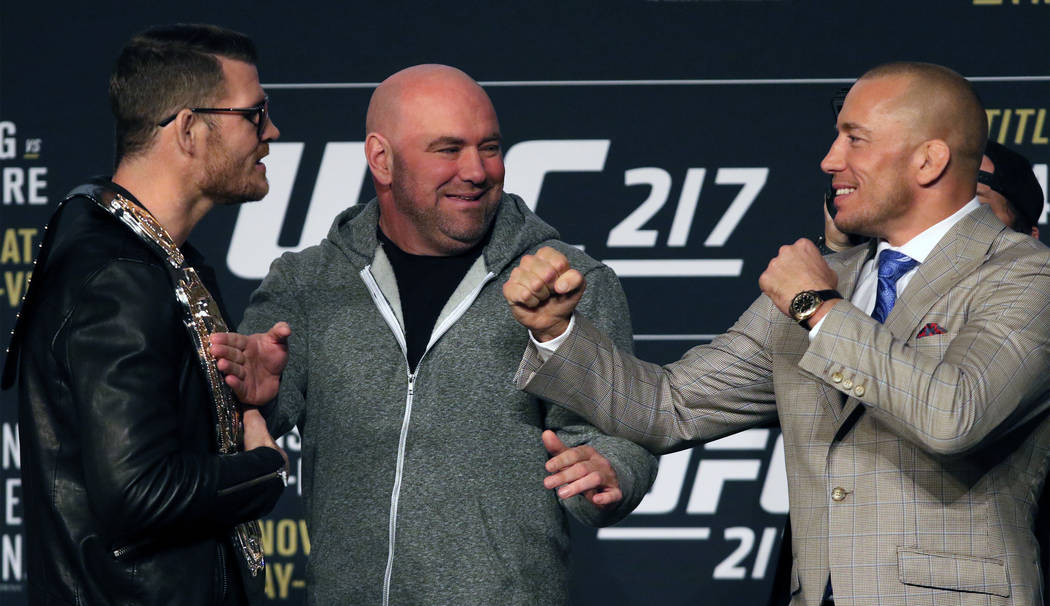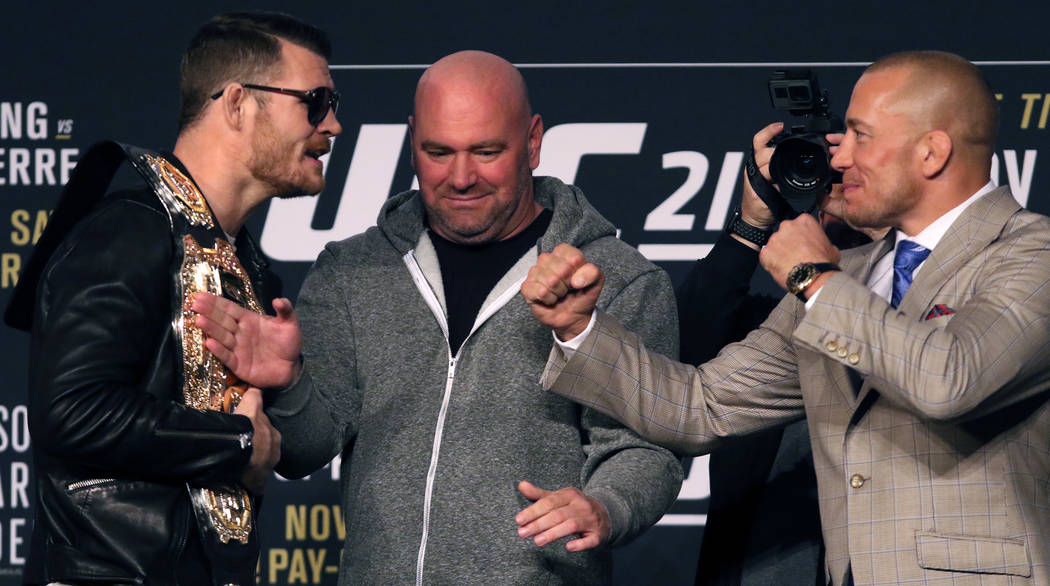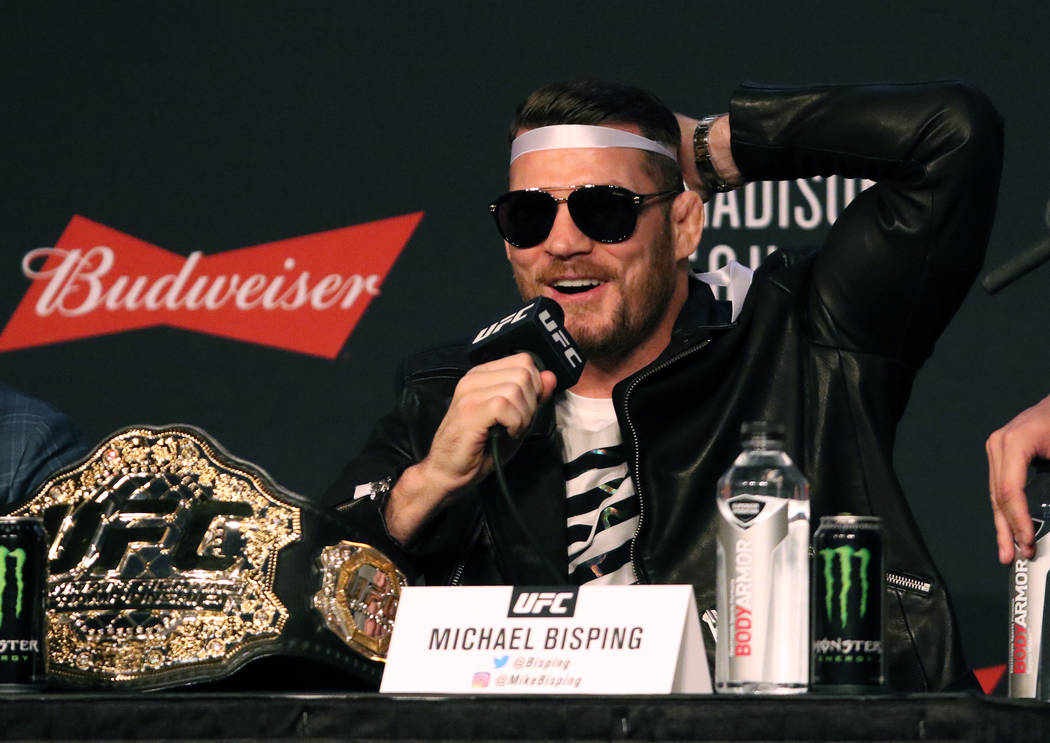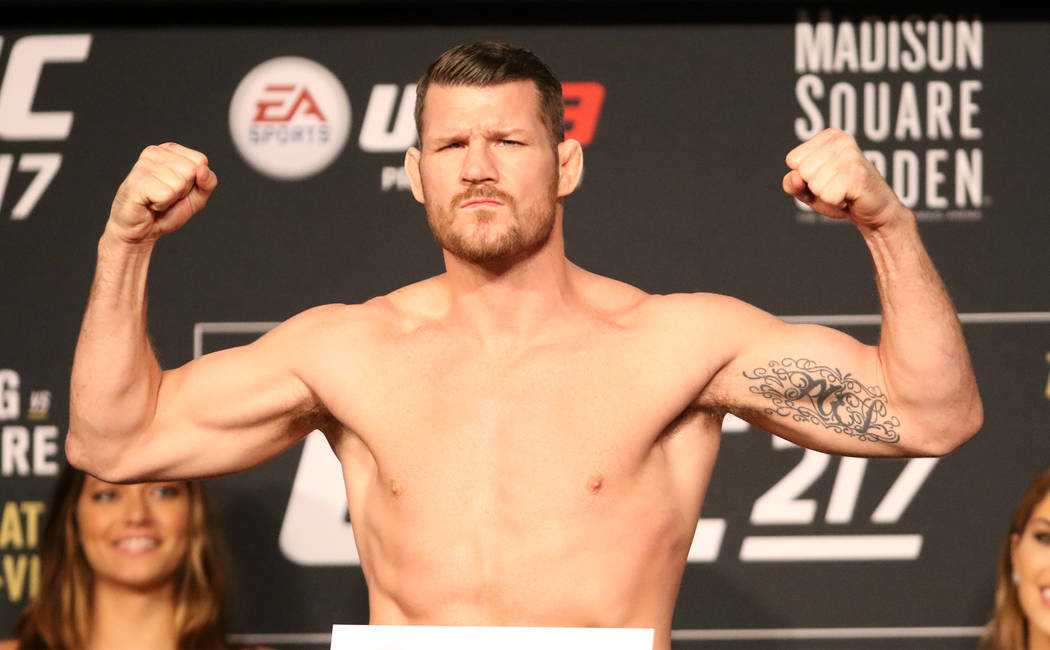 NEW YORK — Georges St. Pierre remains one of the most successful and popular fighters in UFC history despite sitting out the past four years after abandoning his welterweight belt and leaving the sport on a 12-fight winning streak.
Now, he said he thinks a victory Saturday in his comeback bout at age 36 against middleweight champion Michael Bisping would eclipse anything he's done. The fight headlines UFC 217 at Madison Square Garden.
"It would be the best accomplishment of my life, for sure," St. Pierre said. "Nothing will come first over this. That's the best ever, after four years coming back like this, I think it will be the No. 1 on my list, 100 percent without a doubt."
The challenge is part of what brought him back.
St. Pierre, a two-time welterweight champion with nine consecutive title defenses and 18 wins in his past 19 fights, became burned out on the pressure of being champion and frustrated over the lack of a legitimate performance-enhancing drug program in the UFC.
His disillusionment reached a level in late 2013 that he didn't want to fight anymore. Since he has been gone, the U.S. Anti-Doping Agency has established a year-round testing program for the organization and the passion for competition has returned to the Canadian superstar.
"I can't wait for Saturday," he said. "There's no other place I'd rather be than right here and right now."
St. Pierre has continued training, though he found more enjoyment doing it than when he was trying to condition his body and mind to compete at the highest level.
That mentality enabled him to rediscover what made him strive to be a champion when he first started competing instead of the pressure and repetition of defending the title and battling to stay on top.
"It's a lot more fun now," he said. "Of course, it's stressful. It's hard on my nerves, but when I close my eyes at night, I give myself the choice would I want to be there or not. Yes, I want to. So, I don't do it because I have to do it but because I really want to. I've never been forced to do anything I don't want to in life, but I felt like I had that pressure from outside and I was stuck into a pattern. Now, I am doing it and I'm happier than ever."
Whether he will perform at the elite level he's accustomed to is a question that won't be answered until he steps into the cage.
"If anybody can do it, it's him, right?" Daniel Cormier, UFC light heavyweight champion and Fox commentator, said Friday at a Manhattan restaurant. "It seemed like when he left he had room to spare but the gap was starting to close. I do believe he still trained during that time and he's so committed to the sport that he's probably getting better with the time off."
Kenny Florian, a former UFC contender and current Fox analyst, said he thinks the new approach at the gym was needed for St. Pierre.
"He kept a schedule that was just amazing," Florian said. "He's the hardest working professional athlete I've ever seen. I think he's learned a lot. My understanding is he's training smarter, and that will serve him well."
So will his wrestling ability.
Cormier, an elite amateur wrestler before entering MMA, marvels at what St. Pierre has accomplished with his wrestling inside the cage despite the lack of an amateur background.
"He's got such great timing, and he does such a good job incorporating the takedowns into his game," Cormier said. "He sets these traps where it's just jab, jab, jab, and it frustrates you. Then you get frustrated and make a mistake, and he's all over it and takes you down. He's very smart in the octagon."
All of that has led to St. Pierre's immense success as a fighter.
His return marks a new chapter and offers St. Pierre an opportunity to add to his legacy by becoming the fourth fighter in UFC history to win a belt in a second weight class.
While St. Pierre says the comeback isn't limited to one fight, he's not making plans beyond Saturday.
"I don't really have anything to prove," he said. "I'm doing it because I want to live my life to the fullest. Why would I not want to come back, fighting Michael Bisping for the title in the Madison Square Garden, this mythical place? I would be foolish to not take this opportunity. I'm going to have the memory that I'm going to cherish for the rest of my life. That's why I do it. And I'm going to make it history."
The bout headlines a pay-per-view card that features two other title bouts.
More MMA: Follow all of our MMA and UFC coverage online at CoveringTheCage.com and @CoveringTheCage on Twitter.
Contact Adam Hill at ahill@reviewjournal.com or 702-277-8028. Follow @adamhilllvrj on Twitter.
UFC 217
Saturday's main card bouts at Madison Square Garden:
— Michael Bisping (31-7) vs. Georges St. Pierre (25-2), for Bisping's middleweight title
— Cody Garbrandt (11-0) vs. T.J. Dillashaw (15-3), for Garbrandt's bantamweight title
— Joanna Jedrzejczyk (14-0) vs. Rose Namajunas (7-3), for Jedrzejczyk's women's strawweight title
— Stephen Thompson (13-2-1) vs. Jorge Masvidal (32-12), welterweights
— Johny Hendricks (18-7) vs. Paulo Borrachinha (10-0), middleweights