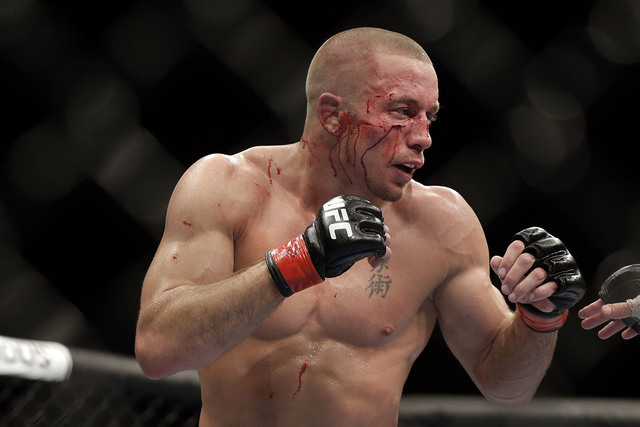 UFC president Dana White appears to have moved on from plans to have Michael Bisping defend the middleweight title against returning superstar Georges St. Pierre.
The organization had announced the matchup in March and held a news conference with the two fighters at T-Mobile Arena even though no date had been agreed to for the title bout.
St. Pierre publicly indicated last week he was hoping to book the bout for November. White believes that's too far down the road to be holding up the middleweight division, especially considering Bisping hasn't defended the belt since a win over Dan Henderson in October.
"The thing was supposed to happen in July," White said during an appearance on Fox Sports Australia. "Michael Bisping is going to have to defend his title now. We're not waiting for GSP."
St. Pierre's loss would be Yoel Romero's gain.
Romero has been the unquestioned top contender in the division for some time, but has not received a title shot.
The 40-year-old Olympic silver medalist in wrestling for Cuba is 8-0 since entering the UFC in 2013. He hasn't fought since knocking out former champion Chris Weidman in November as the top of the division has been in a holding pattern since St. Pierre announced his intention to come out of retirement and challenge for the middleweight belt.
White said the waiting game is over.
"(Yoel) doesn't need to voice his opinion on why he needs a title shot. He definitely deserves a title shot. He's next in line, he's the No. 1 ranked guy in the world," White said. "Georges St. Pierre was coming back. Bisping and St. Pierre both wanted that fight. We asked Yoel to step aside, he did. It doesn't look like that fight is gonna happen now. Georges St. Pierre is saying he will not be ready to compete now until November. Who knows if that's even the case. It could be next year.
"So we're not waiting for Georges St. Pierre anymore. We're moving on with the division and Yoel Romero will get the next shot."
If that decision is final, it hasn't been communicated to St. Pierre.
The longtime welterweight champion, who vacated the belt and left the sport in 2013 at the peak of his stardom, told MMAFighting.com he learned of White's announcement through media reports.
"I want to fight Bisping and I think Bisping wants to fight me," St. Pierre told the website. "I just learned the news. I don't know what to say. It might be an emotional response by Dana or maybe it's to put pressure on me."
He does sympathize with the rest of the contenders in the middleweight division who are waiting on his decision.
"In this sport, among fighters, when one fighter gets an opportunity, it always leaves more fighters unhappy than happy," he said. "It's the nature of a one-man sport. I've been there."
St. Pierre was on a 12-fight winning streak when he retired. It's unclear who he would face or even at what weight class should he miss out on the Bisping fight.
No date has been confirmed for a potential bout between Bisping and Romero.
Contact Adam Hill at ahill@reviewjournal.com or 702-277-8028. Follow @adamhilllvrj on Twitter.