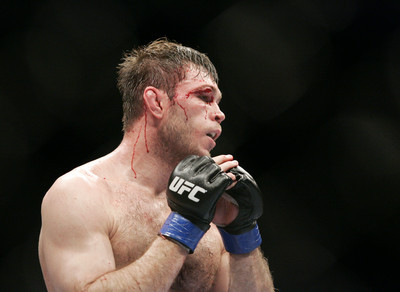 Either Forrest Griffin was confused, or he doesn't think he deserved to be the new Ultimate Fighting Championship light heavyweight king.
The Las Vegan won the belt with a controversial unanimous decision over Quinton "Rampage" Jackson on Saturday night at Mandalay Bay.
Much of the focus on the scoring centered on the third round. Griffin won the round on each judge's scorecard, but Jackson appeared to land the more damaging blows.
When Griffin finally appeared at the postfight news conference after receiving "a lot" of stitches, he essentially conceded the third round to Jackson.
"The one thing I have is I'm going to fight to the end, other than the third round, where I decided to hang around and lay on my back" he said.
If Griffin had indeed lost the third round, he wouldn't have won the belt. Jackson would have retained it by majority draw.
It's possible, and perhaps likely, Griffin was referring to the fourth round, during which he spent more time on the ground.
Griffin also won the first round on two of the three cards, apparently for being more active. In that round, Jackson clearly landed the more damaging punches and even knocked Griffin down with a big right uppercut.
Expect a rematch sooner rather than later, though both fighters have other intriguing fights on the horizon.
• MORE GRIFFIN — The new light heavyweight champion tried to ride his wave of success into Sunday, but he was knocked out on his first day of competition in the World Series of Poker main event.
The new champion ran into a fellow world champion, former WSOP main event and 10-time bracelet winner Johnny Chan, who knocked Griffin out of the $10,000 buy-in Texas Hold 'em event.
Former light heavyweight champion Chuck Liddell also entered the event Sunday and busted out on his first day.
• COUNTER-PROGRAMMING — The UFC has scheduled a July 19 card at the Palms that will air live on Spike TV (Cable 29).
The card was put together on short notice to compete with the first Affliction promotion that night in Anaheim, Calif. The apparel company has assembled an impressive roster of fighters, mostly heavyweights, and almost all will be in action on Affliction's debut pay-per-view event.
The UFC event will feature middleweight champion Anderson Silva moving up to light heavyweight for a meeting with James Irvin.
Silva has discussed his desire to hold both the middleweight and light heavyweight titles, and this will be an opportunity to test himself at the higher weight.
For now, it appears to be a one-fight move to the 205-pound class, however, as Silva will not relinquish his middleweight belt. He is tentatively scheduled to defend his 185-pound title against Yushin Okami later this year.
The Affliction card features top heavyweight Fedor Emelianenko against former UFC champion Tim Sylvia. Another former UFC heavyweight champion, Andrei Arlovski, will face Ben Rothwell.
• UPCOMING SCHEDULE — After the July 19 card, it might be awhile until the UFC returns to its home city.
The next three pay-per-view events in the United States will be in Minneapolis, Atlanta and Chicago. A return to Great Britain is also scheduled for October in Birmingham, England.
The organization also will host a Fight Night card in Omaha, Neb., on Sept. 17, and is eyeing a card in the Pacific Northwest, likely Portland, Ore., in November.
In fact, it might be late December before the UFC returns to Las Vegas. Traditionally, the Las Vegas card just before New Year's weekend is the most stacked event of the year.
Contact reporter Adam Hill at ahill@ reviewjournal.com or 702-224-5509.