Hall of Fame induction, retirement bout on tap for UFC legend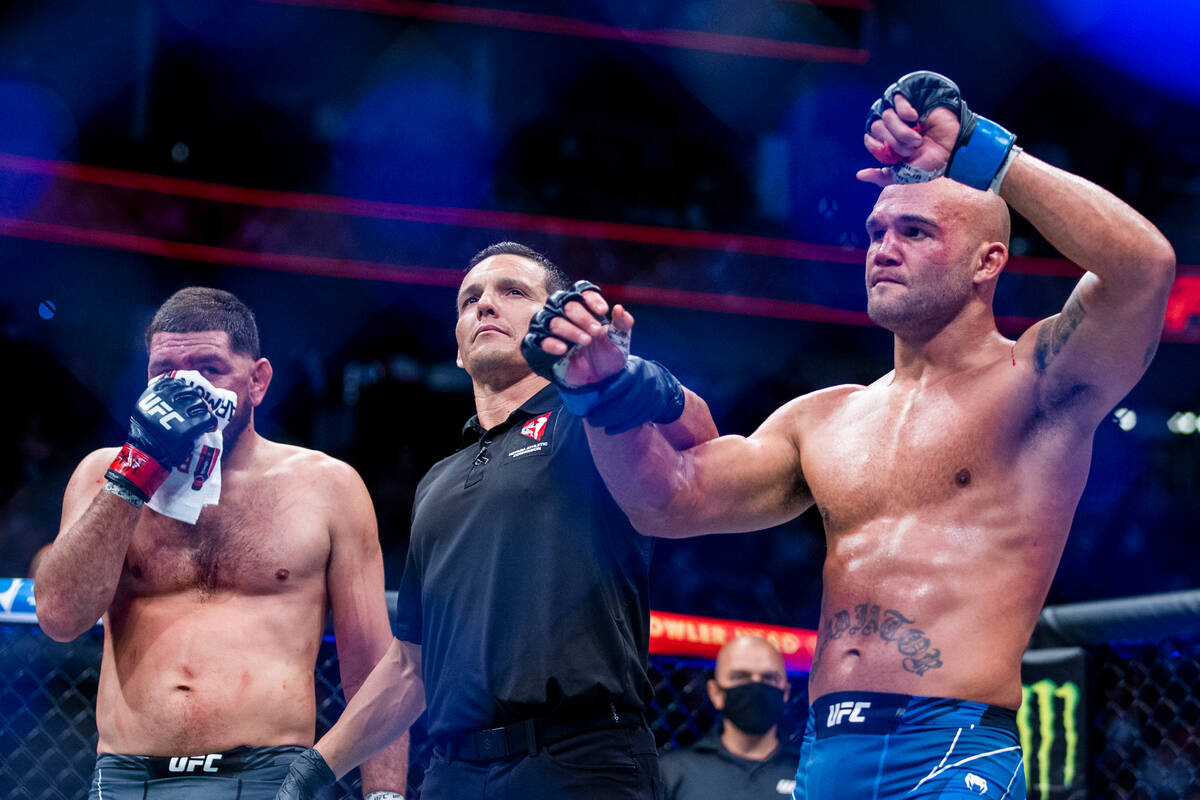 Robbie Lawler isn't the type who's going to head to the golf course or become a beach bum in retirement.
The former UFC welterweight champion is instead looking forward to training even harder after he competes inside the octagon for the final time against Niko Price on the UFC 290 card Saturday at T-Mobile Arena.
It's just who he is.
"One thing I feel I'm going to get out of this is being able to train for fun again, which is huge," the 41-year-old said Wednesday. "When I'm training for a fight, it doesn't feel as good as it used to. And I don't have to recover now to stay healthy for a fight, so I can actually torture myself in the gym."
Lawler has inflicted plenty of pain on others inside the cage over the course of his 22 years as a professional fighter, racking up 21 knockouts among his 29 victories.
But he has also left quite a mark on the sport.
"He's an absolute legend," said former middleweight champion Robert Whittaker, who will fight Dricus du Plessis on the card. "I remember watching him early in my career and saying, 'Screw fighting that guy.' He's just so vicious.
"He becomes, like, soulless when he's fighting. You can tell he'd bite you if he could. That's an intimidating dude. He's had an outstanding career, and it's an absolute privilege to be competing on his last fight card."
Lawler, however, is a polite, soft-spoken family man when he's not inside a steel cage. He's also humble despite all the success and isn't ready to collect all the flowers that have been thrown his way since he announced this would be his final fight.
"I'm not quite there yet to where I'm absorbing other people excited about what I've accomplished," he said. "I'm just out there competing and giving it my all. That's what I do. I guess it's nice, but it's just weird for me. I don't know how to accept that because I didn't get into this for praise and hype. I'm just trying to be the best I can be. Maybe I need to figure out a way to let people appreciate me."
An example might come Thursday night. Two days before Lawler competes for the final time, his epic 2015 victory against Rory MacDonald will be enshrined in the fight wing of the UFC Hall of Fame.
Lawler said he wasn't sure if he would attend the ceremony at T-Mobile Arena. There will be plenty of people around the sport more than willing to celebrate Lawler's career for him
"It's one of those things where I've created this gap between other people giving me accolades and praise," he said. "Being able to accept it is something I never really allowed myself to get involved with because maybe one of the reasons I've been able to do this for so long is because of not getting caught up in that stuff. But it's nice."
He has been through some major changes in the sport and the organization.
Lawler recalls walking into the UFC offices to sign his first deal in 2002 when there were just four employees, including Dana White, in a small building across from Palace Station on Sahara Avenue. The organization moved into a bigger space in the same plaza soon after and now has its international headquarters in southwest Las Vegas and hundreds of employees around the world.
"I still remember when the UFC champions were driving around in (inexpensive) cars," Lawler said. "I didn't go into it for money necessarily because there really wasn't any. I loved competing and fighting and sharpening my skills. Where the sport has come since then is just ridiculous.
"This sport is huge and the UFC is huge and it's nice to be a part of it and see the growth."
Lawler has been there through it all, but he's not going anywhere.
"I'm going to be around," he said. "This sport has given so much to me. The reason I've been able to stay around so long is because of all the people who have helped me, so I'm going to be around to give back. That's what I think the sport is all about."
Lawler's bout against Price headlines the preliminary card at 5 p.m. on ESPN and ABC (KTNV-13). The pay-per-view portion of the card, featuring a featherweight title bout between champion Alex Volkanovski and interim champ Yair Rodriguez, begins at 7.
Contact Adam Hill at ahill@reviewjournal.com. Follow @AdamHillLVRJ on Twitter.