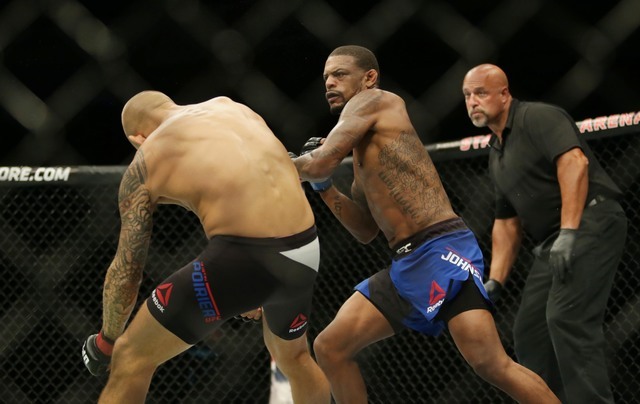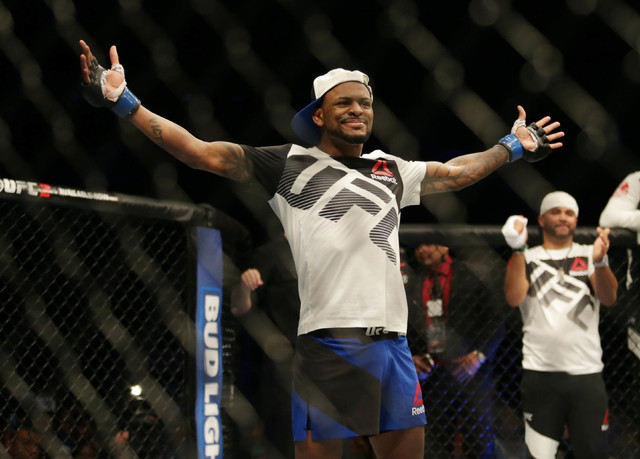 UFC veteran Michael Johnson said he was finally healthy after shoulder surgery and ready to put his two consecutive losses behind him in pursuit of the lightweight title.
His performance in the main event of UFC Fight Night 94 in Hidalgo, Texas, on Saturday night certainly supported that claim.
Johnson landed a vicious combo to drop Dustin Poirier in the first round and landed a diving right hand to finish him as referee Dan Miragliotta stepped in to call a stop to the action at 1:35 of the opening round.
"I say over and over again I have the fastest hands in this division," Johnson said. "I'm just coming in here and showing people I'm serious in the division. I come in here to finish and go for the kill."
Poirier entered the bout on a four-fight winning streak since moving back up to lightweight, but got cracked by a right hand followed by a left as he fell to the mat.
Johnson had been on a great run in the division, winning four straight fights before losing a controversial decision to Beneil Dariush in August 2015. He then lost a decision to Nate Diaz in December before missing time to undergo surgery on a shoulder that had been troublesome over his last few fights.
Johnson said before the fight he felt healthier than he had in years and backed it up once the bell rang. He believes he has put the losses behind him with the win over Poirier.
"I'm ready for anybody," Johnson said. "Give me my next victim. I'm coming for the belt. It feels really good. After my two losses in a row, I'm ready. I'm ready for anyone the UFC gives me. I wanted to get in there and get a dominant victory and I'm ready.
Johnson taunted Poirier as he was attended to by medical personnel, potentially adding to the bad blood not only between the fighters, but their training camps in south Florida.
He expressed regret for his actions during the post-fight interview.
"I had to apologize to Dustin afterwards for what I did," Johnson said. "It was an emotional week."
Derek Brunson continued his surge up the middleweight rankings by stopping Uriah Hall in the first round, his fourth consecutive first-round knockout victory.
Brunson has now won five straight fights and seven of his eight fights since entering the UFC.
" I come in here and work hard," Brunson said. "I keep coming out here and stopping these guys. The only guy I lost to (Yoel Romero) was busted for PEDs. I think it's time I got a title shot."
Brunson dropped the Las Vegan with a left hand and followed it up with a series of shots on the ground until Herb Dean called a stop to the attack.
Hall protested the stoppage and several of the follow-up punches appeared to miss their mark, but Hall wasn't moving much as Brunson pursued the finish.
Las Vegan Evan Dunham won his fourth straight bout with a unanimous decision victory over late-replacement Rick Glenn.
Dunham controlled nearly entire fight against the former World Series of Fighting champion, who was making his UFC debut.
Glenn proved resilient, however, fighting off Dunham's attempts to finish and landing some big shots as the fight became a brawl late in the third round.
Dunham said the late drama was not part of his script.
"I had a game plan to fight really smart. Got thrown for a loophole though," Dunham said. "Big shout out to Glenn, he brought it. It felt great. I'm looking forward to getting back out here and fighting again. I don't care who comes next. You know me, I just want to fight."
Roan Carneiro came out on the right side of a split decision after a sloppy fight against welterweight Kenny Robertson.
It was the return to the 170-pound division for Carneiro, who acknowledged the cut may have affected his performance.
"It's been a long time since I've made 170, like three years ago pretty much," he said. "This was like a tryout to see how I feel. My opponent was tough too. He only lost to big names in this sport, so overall I feel good. I'm back on track again as a welterweight and now I want to test myself."
Lightweight Islam Makhachev bounced back from his first career loss with a unanimous decision victory over Chris Wade in a back-and-forth bout that essentially became a 15-minute grappling match.
Makhachev was successful on all four of his takedown attempts and took advantage of several failed guillotine attempts by Wade to gain advantageous positions on his way to the win.
"That was a very tough fight," Makhachev said. "I fought very safe because I needed a win. My next fight I will put on a performance. By the end of the year I would like to fight again. I just want to take it step by step."
Chas Skelly made quick work of featherweight Maximo Blanco in the opening fight of the main card.
After charging across the cage and knocking Blanco to the ground with a jump kick, Skelly locked in a D'Arce choke in a scramble and the fight was stopped when Blanco lost consciousness just 19 seconds into the fight.
"I'm trying to win a bonus," he said after recording the fastest submission in UFC featherweight history. "I watched a lot of his video and I'm in great shape. My plan was to dropkick him, but I guess I'm not that athletic. I was going to go with the one-arm guillotine, but I took what he gave me. I'm looking to fight someone in the top 15."
Featherweight Gabriel Benitez highlighted the preliminary card with a technical submission of Sam Sicilia when he choked him out with a standing guillotine in the second round.
Belal Muhammad knocked out Augusto Montano in the final minute of a welterweight bout and middleweight Antonio Carlos Junior submitted Leonardo Augusto Guimaraes with just 14 seconds remaining in the third round.
Bantamweight Jose Alberto Quinonez earned a unanimous decision over Joey Gomez and welterweight Randy Brown submitted Erick Montano just 18 seconds into the third round.
Bantamweights Alejandro Perez and Albert Morales fought to a majority draw in the opening fight on the preliminary card.
Contact reporter Adam Hill at ahill@reviewjournal.com or 702-224-5509. Follow @adamhilllvrj on Twitter.
RELATED
UFC Fight Night: Poirier vs. Johnson — LIVE BLOG
Las Vegan Evan Dunham focused on winning one fight at a time
UFC lightweight Michael Johnson trying to look forward despite missed opportunity
UFC Fight Night 94 main card analysis: capsules and betting preview