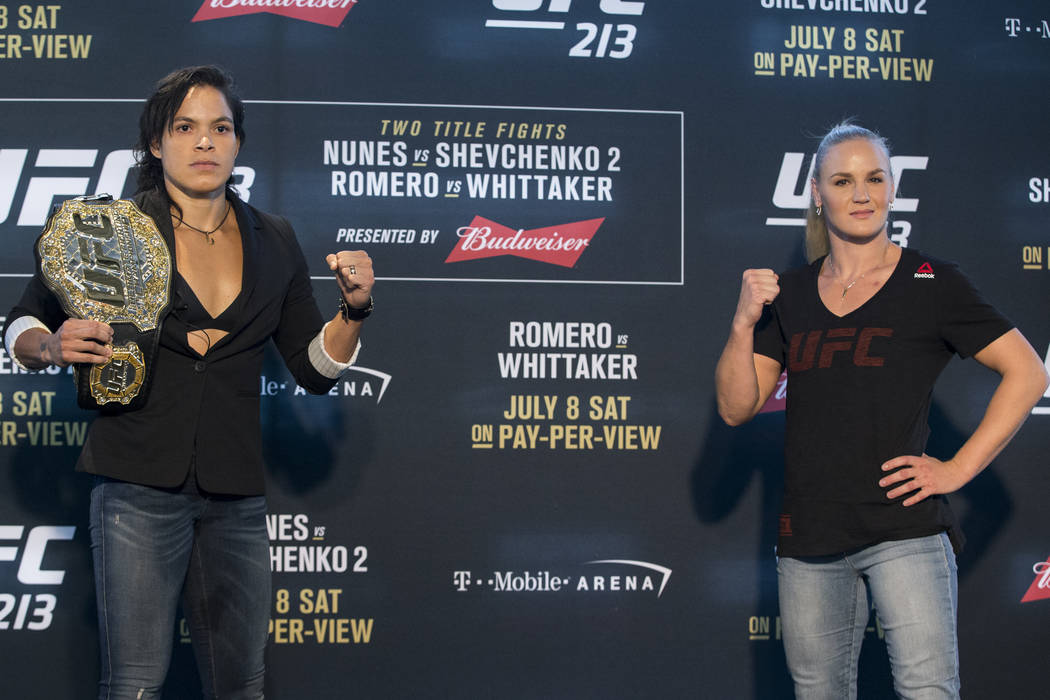 A breakdown of the fights on the main card of UFC 215 Saturday at Rogers Place in Edmonton, Alberta, with picks from the Review-Journal's Adam Hill and Heidi Fang:
Amanda Nunes (14-4) vs. Valentina Shevchenko (14-2)
Class: For Nunes's women's bantamweight title
Line: Shevchenko minus-120
Storyline: The rematch of an intriguing 2016 bout will finally happen two months after it was scheduled to take place in Las Vegas. Nunes had to pull out of her scheduled title defense against Shevchenko just hours before the bout was set to take place at UFC 213 due to illness. Now Shevchenko finally gets the chance to avenge her loss last year and take the belt. Nunes controlled the first two rounds in the first meeting before fatiguing and nearly losing in the third. She got the decision and went on to win the belt. Nunes has gained a great deal of confidence since then by finishing Miesha Tate and Ronda Rousey in the first round to win and defend the title. Shevchenko regrets pacing herself so much early in the first meeting and running out of time while suffering her only loss in the UFC. Not much should change this time. Nunes will come out and hunt for an early finish with Shevchenko likely looking to pace herself and wear down the champion. The challenger will have two extra rounds to work with a belt on the line this time.
Hill's pick: Nunes by second-round knockout
Fang's pick: Shevchenko by decision
Neil Magny (19-6) vs. Rafael dos Anjos (26-9)
Class: Welterweight
Line: Dos Anjos minus-125
Storyline: Magny is 11-2 over his last 13 fights in the UFC and gets a big opportunity against the former lightweight champion who will step in the cage at 170 pounds for the second time since losing the title and moving up in weight. Dos Anjos is a pressure fighter who likes to keep opponents on their heels by constantly coming forward. He will likely seek to negate the height and reach advantages of Magny by utilizing leg kicks and chopping down his taller opponent. Magny is incredibly resilient and should find a way to weather the storm. Dos Anjos moved up because he was having more and more trouble making weight at 155, but he might not be ready to deal with some of the bigger fighters at 170 pounds. Magny may force him to rethink the decision.
Hill's pick: Magny by decision
Fang's pick: Dos Anjos by decision
Henry Cejudo (10-2) vs. Wilson Reis (22-7)
Class: Flyweight
Line: Cejudo minus-340
Storyline: Two former challengers to Demetrious Johnson's flyweight title face off with a possibility of the winner jumping right back into contention. This fight was promoted to the main card when Johnson's opponent, Ray Borg, had to pull out of the main event on Thursday night. It's a big opportunity for two of the top 125-pounders in the world. Cejudo, an Olympic gold medalist in wrestling, has lost two straight fights. The setbacks, however, have come against Johnson and longtime top contender Joseph Benavidez. Reis had his three-fight winning streak snapped by Johnson in April. The jiu-jitsu specialist has submitted 10 opponents in his career, but has never recorded a knockout victory. That's not likely to change, but his ground skills present an intriguing stylistic matchup and could give Cejudo pause in shooting for takedowns. Cejudo has greatly improved his boxing and could look to win the fight on his feet.
Hill's pick: Cejudo by second-round knockout
Fang's pick: Cejudo by decision
Ilir Latifi (13-5, 1 No Contest) vs. Tyson Pedro (6-0)
Class: Light heavyweight
Line: Pedro minus-140
Storyline: This fight could very well come down to which rising prospect is able to control the distance. Latifi is incredibly strong, but absolutely needs to work inside. His wrestling and striking are both far more effective at close range. Pedro is taller and will have a noticeable reach advantage. If he can stay on the outside, this could be a blowout. Pedro has finished all six of his professional opponents inside the first round and would likely add to that total if Latifi can't work his way inside. Latifi's best chance may be to stretch out the fight and see how well Pedro can hold up if the fight does make it to the end of the first round. Pedro's conditioning is really an unknown since he has never even had to go back to his corner in a professional bout.
Hill's pick: Pedro by first-round knockout
Fang's pick: Pedro by third-round knockout
Jeremy Stephens (25-13) vs. Gilbert Melendez (22-6)
Class: Featherweight
Line: Melendez minus-120
Storyline: Despite a long and solid career, Stephens may be forever best known for the guy who Conor McGregor dismissively mocked on for being a virtual unknown during a news conference last year when Stephens tried to interject during one of McGregor's rants. Stephens has a chance to let McGregor and the rest of the MMA world know exactly who he is should he put on a good performance in welcoming Melendez to the featherweight division. Melendez, a former Strikeforce lightweight champion, hopes to rejuvenate his career with the drop in weight class. This should be a fun fight. Stephens is a brawler and Melendez has never been one to shy away from such a challenge. The big edge Melendez should have is with his wrestling. If he gets in too much trouble in an exchange or senses an opportunity at some point, he is more than capable to taking Stephens down. That could be the difference in what is a pretty evenly matched striking battle.
Hill's pick: Melendez by decision
Fang's pick: Melendez by decision
More MMA: Follow all of our MMA and UFC coverage online at CoveringTheCage.com and @CoveringTheCage on Twitter.