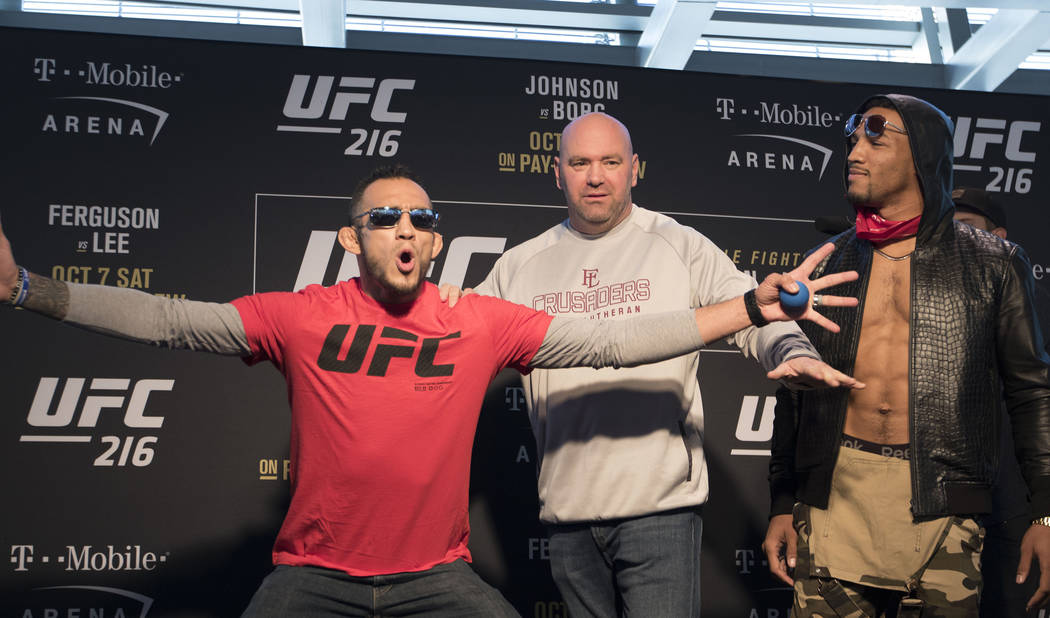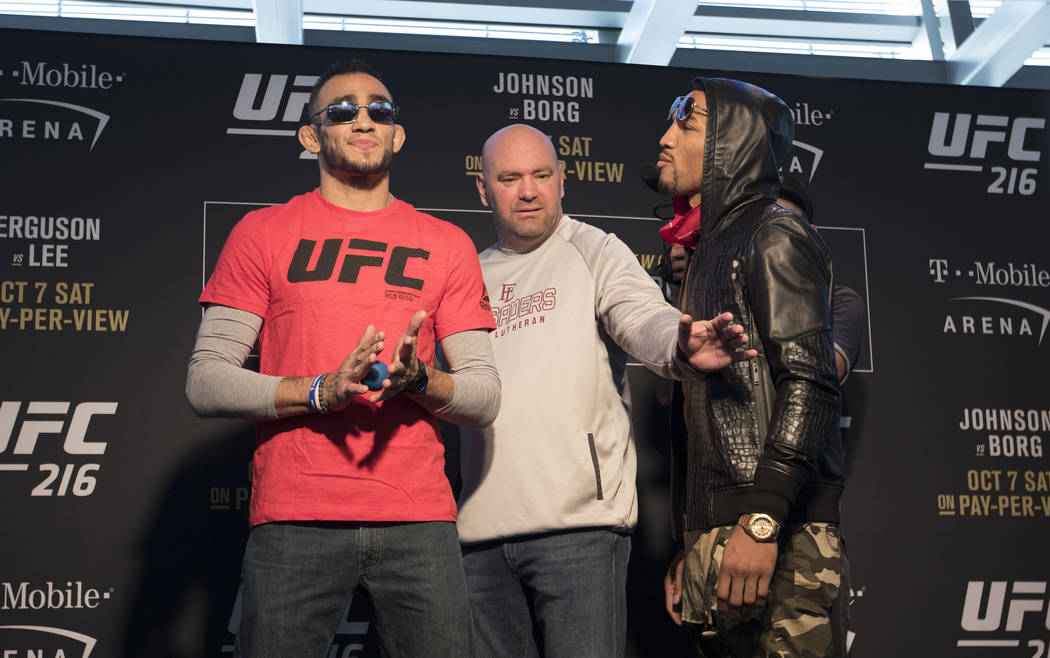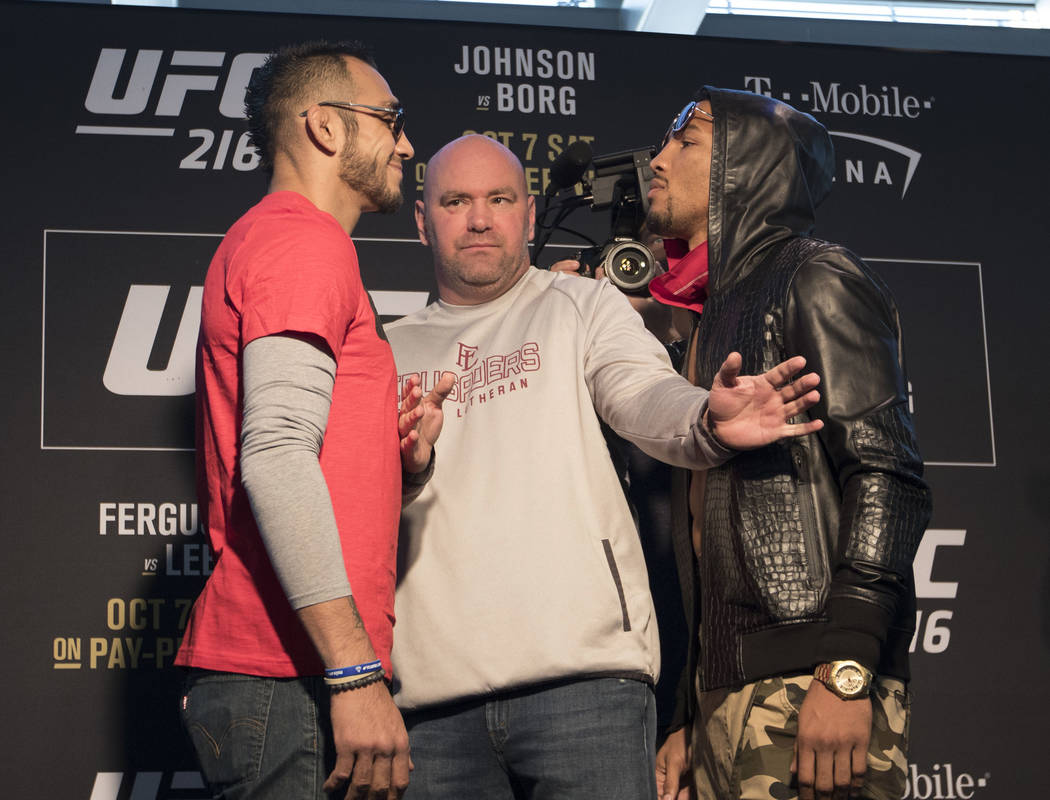 A breakdown of the fights on the main card of UFC 216 on Saturday at T-Mobile Arena, with picks from the Review-Journal's Adam Hill and Heidi Fang:
Tony Ferguson (23-3) vs. Kevin Lee (16-2)
Class: For the interim lightweight title
Line: Ferguson minus-215
Storyline: Ferguson, who is on a nine-fight winning streak, has been one of the top contenders for two years only to just now get a shot to win a belt through a variety of circumstances. He thought he was fighting Khabib Nurmagomedov for the interim title in March only to have the fight canceled when Nurmagomedov ran into difficulties while cutting weight and was pulled from the card. Ferguson had to be having flashbacks Friday when Lee missed weight on the first attempt. But he took advantage of his second attempt and came in half a pound under the limit. Lee leapfrogged several other contenders to get this shot. Ferguson might be the toughest test in the division, and Lee's difficult weight cut won't do him any favors if the fight lasts into the later rounds.
Hill's pick: Lee by third-round knockout.
Fang's pick: Ferguson by decision.
Demetrious Johnson (26-2-1) vs. Ray Borg (11-2)
Class: For Johnson's flyweight title
Line: Johnson minus-1,200
Storyline: Johnson is an elite all-around fighter. His ability to control pace, distance and everything else has led to a run of dominance rarely seen in the fickle world of MMA. Johnson can break Anderson Silva's record for most consecutive title defenses in UFC history with a win over Borg. Borg continues to improve, but might not be ready for such a massive challenge. He's good in scrambles and has a strong submission game. That's where his chances lie in this matchup. He will probably want to get it done early, as Johnson never seems to tire.
Hill's pick: Johnson by decision.
Fang's pick: Johnson by third-round submission.
Fabricio Werdum (21-7-1) vs. Derrick Lewis (18-5, 1 No Contest)
Class: Heavyweight
Line: Werdum minus-250
Storyline: If the fight goes to the mat, Werdum could end it quickly. But will he go that route? He has fallen in love with his improved striking game and tends to stand and trade too much. That's a bad idea against Lewis, who essentially just launches power punches for as long as he can stand. It was an effective strategy for a while, as he won six straight fights before running into iron-chinned Mark Hunt in June and losing when he got exhausted and knocked out. If Werdum stands in front of Lewis, the underdog has a great shot at cashing.
Hill's pick: Lewis by first-round knockout.
Fang's pick: Lewis by second-round knockout.
Mara Romero Borella (11-4, 1 No Contest) vs. Kalindra Faria (18-5-1)
Class: Women's flyweight
Line: Faria minus-200
Storyline: Faria will finally make her debut now that the organization has added her most natural weight class at 125 pounds. She draws Borella, who is making her debut on less than two weeks' notice, a judo specialist with a solid jiu-jitsu game. The game plans aren't much of a mystery. Faria will use her aggressive kickboxing to hunt for a knockout, while Borella hopes to find opportunities to force the fight to the ground. Faria has recorded five submission victories, and her only losses since 2011 have come against UFC standouts Karolina Kowalkiewicz and Jessica Aguilar.
Hill's pick: Faria by second-round knockout.
Fang's pick: Faria by third-round submission.
Beneil Dariush (14-3) vs. Evan Dunham (17-6)
Class: Lightweight
Line: Dariush minus-250
Storyline: Dunham and Dariush are jiu-jitsu experts at their core, and both have added dynamic striking to their games to become fringe contenders. Dariush had won seven of eight fights before suffering a brutal knockout loss to Edson Barboza in March. Dunham has won four straight since a run of three consecutive losses that had some questioning his UFC future.
Hill's pick: Dariush by second-round knockout.
Fang's pick: Dunham by decision.
More MMA: Follow all of our MMA and UFC coverage online at CoveringTheCage.com and @CoveringTheCage on Twitter.