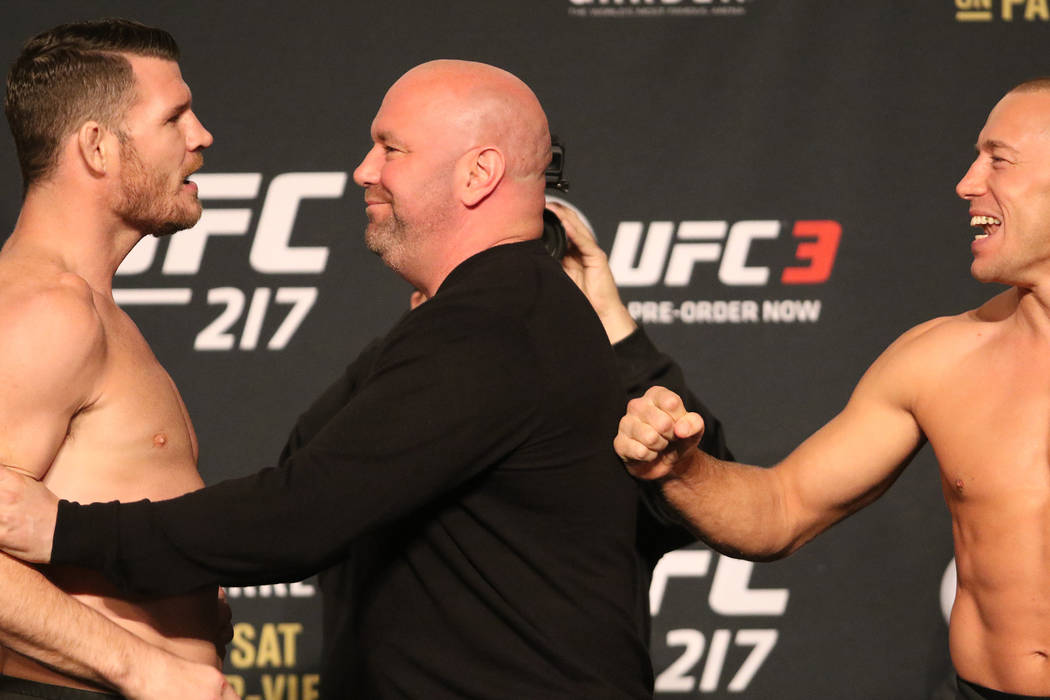 A breakdown of the fights on the main card of Saturday's UFC 217 card at Madison Square Garden in New York, with picks from the Review-Journal's Adam Hill and Heidi Fang:
Michael Bisping (31-7) vs. Georges St. Pierre (25-2)
Class: For Bisping's middleweight title
Line: Pick 'em
Storyline: One of the greatest fighters in UFC history is back as St. Pierre makes his return to the organization after four years out of competition. The challenge is compounded by the fact St. Pierre is coming up in weight from 170 pounds to 185. St. Pierre wasn't even one of the biggest welterweights when he abandoned his title and announced a hiatus in 2013. The size difference could be an issue, especially since St. Pierre's game is predicated on takedowns set up by his jab. Bisping's takedown defense has improved greatly in recent years, but he is still susceptible against strong wrestlers. St. Pierre has proven time and time again he can take just about anyone to the mat. His shots are largely based on timing, however, and the break from competition could potentially throw him off. Bisping is loving life as a champion. It won't be easy to take the belt. This one will largely be determined by how much ring rust St. Pierre experiences. If he's on his game, he could win a very boring fight. If not, Bisping could solidify his legacy with a huge win.
Hill's Pick: St. Pierre by decision
Fang's Pick: Bisping by decision
Cody Garbrandt (11-0) vs. T.J. Dillashaw (15-3)
Class: For Garbrandt's bantamweight title
Line: Garbrandt -185
Storyline: There is no love lost in this matchup of former friends and training partners. There won't be a whole lot of mystery, either. Garbrandt and Dillashaw spent countless hours in the gym sparring against each other when Dillashaw was the champion and Garbrandt was a rising star. Now, Garbrandt has the belt and Dillashaw desperately wants it back. The fight was delayed because of a back injury suffered by Garbrandt and that was on the heels of the two serving as opposing coaches on a season of "The Ultimate Fighter," so they have been antagonizing each other for nearly a year and now finally get a chance to settle the feud in the cage. Perhaps just as interestingly, the fight will serve as a grudge match between the coaching staffs. Dillashaw's trainer Duane Ludwig is the former head coach at Team Alpha Male, where Garbrandt still trains. It may be a challenge to control emotions on both sides, but Garbrandt has experience in that area after maintaining his cool and delivering a spectacular performance after a vitriolic buildup against Dominick Cruz last year to win the belt. This is a very even matchup except for the power edge in Garbrandt's favor.
Hill's Pick: Garbrandt by second-round knockout
Fang's Pick: Dillashaw by decision
Joanna Jedrzejczyk (14-0) vs. Rose Namajunas (7-3)
Class: For women's strawweight title
Line: Jedrzejczyk -600
Storyline: Namajunas is very athletic and creative in her attacks, which present an interesting challenge for the dominant champion. It may not matter. Jedrzejczyk's jab may be the most unstoppable weapon in the division. It's why she has remained undefeated and can tie Ronda Rousey's record for most consecutive title defenses by a female champion in UFC history with a win in this fight. Namajunas has appeared unfazed by the mental warfare of Jedrzejczyk that typically has opponent's shaken before they even step in the cage. That's only half the battle, however. She has to prove she can get through the jab. Other challengers have been able to have brief flashes of success, but none have been able to sustain it. The best hope for Namajunas is to find a way to either land one big shot or pull off one of the high-risk, flashy submissions that marked the early part of her career.
Hill's Pick: Jedrzejczyk by decision
Fang's Pick: Jedrzejczyk by fourth-round knockout
Stephen Thompson (13-2-1) vs. Jorge Masvidal (32-12)
Class: Welterweight
Line: Thompson -180
Storyline: Thompson's past year has been marked by a draw and a loss to welterweight champion Tyron Woodley. While he's disappointed to not be wearing the belt, Thompson said he's excited about the opportunity to fight a new opponent. The second fight against Woodley turned into a chess match with neither fighter wanting to press the action as they both looked for counters. That shouldn't happen here. Masvidal, who is also coming off an interesting stylistic fight against jiu-jitsu ace Demian Maia, will try to pressure Thompson. That's exactly what he wants. Thompson likely will be able to showcase more of the flashy striking that made him a fan-favorite and earned him a title shot.
Hill's Pick: Thompson by third-round knockout
Fang's Pick: Masvidal by decision
Johny Hendricks (18-7) vs. Paulo Borrachinha (10-0)
Class: Middleweight
Line: Borrachinha -265
Storyline: This is some old-school matchmaking. Hendricks is a former champion who has struggled in recent fights and is on the last fight of his contract. Borrachinha is a rising prospect with superstar potential who could take a big leap by adding a name like Hendricks to his list of knockout victims. Hendricks won't go out easily, however. He has moved to the famed Jackson-Wink MMA gym in Albuquerque, New Mexico, in an effort to reinvent himself. He still has good boxing instincts and an elite wrestling background even if he has slowed down and lost some of the power that carried him to the welterweight title. He could derail the Borrachinha hype train if his time working with Greg Jackson leads to a rejuvenation. There's not much that can be done about a declining chin, however, and Hendricks has showed some vulnerability there. After not being finished in any of his first 20 fights, the former Oklahoma State star has been knocked out twice in losing four of his last five. That's a troubling trend entering a bout against Borrachinha, who has nine knockouts on his resume and has only allowed one opponent out of the first round. Borrachinha will swing for the fences from the opening bell and see if Hendricks can withstand the onslaught.
Hill's Pick: Borrachinha by first-round knockout
Fang's Pick: Borrachinha by third-round knockout
More MMA: Follow all of our MMA and UFC coverage online at CoveringTheCage.com and @CoveringTheCage on Twitter.