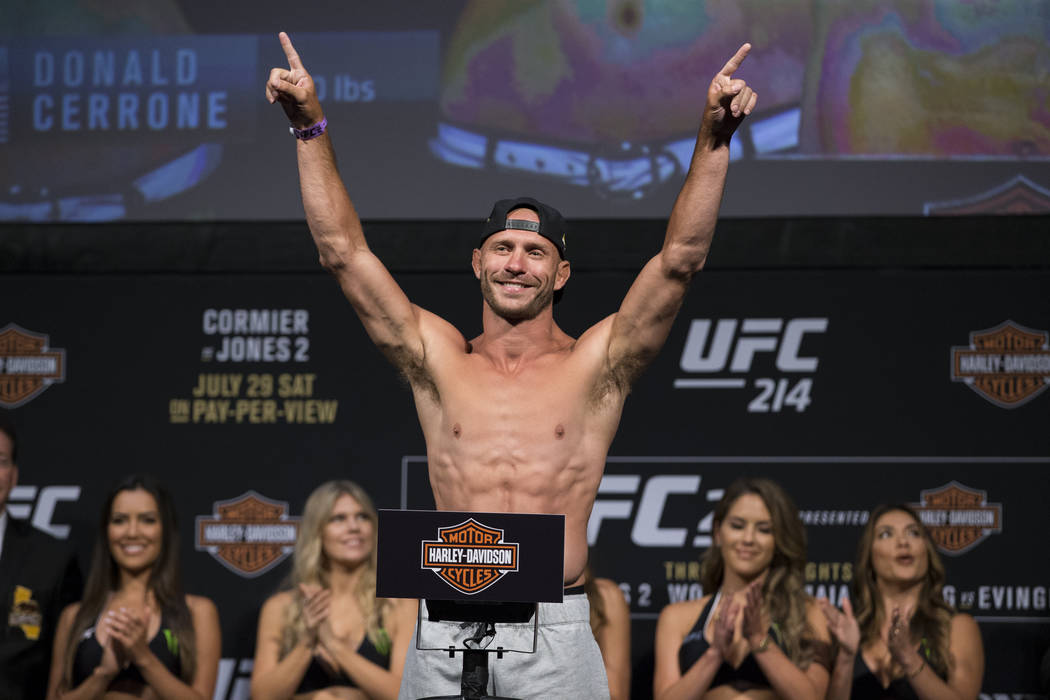 A breakdown of the fights on the main card of Saturday's UFC Fight Night 118 card at Ergo Arena in Gdansk, Poland, with picks from the Review-Journal's Adam Hill and Heidi Fang:
Donald Cerrone (32-9, 1 No Contest) vs. Darren Till (15-0-1)
Class: Welterweight
Line: Cerrone -155
Storyline: Cerrone has remained one of the most popular fighters in the world for the better part of a decade because despite the ups and downs of his results, he has consistently been in entertaining fights. This should be no exception. Cerrone has never heard of a game plan and often resorts to standing in the pocket and trusting his chin to hold up in big exchanges. That won't scare Till at all. He has nine knockouts among his 15 career wins, though both of his wins since an 18-month layoff due to a shoulder injury have gone the distance. Till would like nothing better than to make quick work of Cerrone in what will be the biggest fight of his career to date. He knows the opportunity in front of him, which is why he agreed to take the fight shortly after recording a win over Bojan Velickovic last month. The two have engaged in some epic trash talk leading up to the fight. If the action after the bell can be half as entertaining, this should be fun.
Hill's Pick: Till by second-round knockout
Fang's Pick: Cerrone by decision
Karolina Kowalkiewicz (10-2) vs. Jodie Esquibel (6-2)
Class: Women's strawweight
Line: Kowalkiewicz -465
Storyline: Kowalkiewicz has suffered the first two losses of her career in her last two fights, though there is no shame in losing to either Claudia Gadelha or longtime strawweight champ Joanna Jedrzejczyk. She will look to get back in the win column with a return to her home country where she has not competed since before she signed with the UFC in 2015. Kowalkiewicz is in a very talented group of fighters battling it out for the top contender spot behind Jedrzejczyk. She hasn't been the greatest finisher and there were some red flags raised by her effort against Gadelha as Kowalkiewicz appeared to have a tough time bouncing back from the loss to Jedrzejczyk. This fight should go a long way in showing where she is mentally. Esquibel is tough and durable, but is taking a big step up in competition here to make her official UFC debut following a very brief stint on "The Ultimate Fighter."
Hill's Pick: Kowalkiewicz by second-round knockout
Fang's Pick: Kowalkiewicz by third-round knockout
Jan Blachowicz (19-7) vs. Devin Clark (8-1)
Class: Light heavyweight
Line: Clark -165
Storyline: This is an intriguing clash of styles. Clark, who has spent some time training in Las Vegas, is a solid wrestler with a track record of relentlessly pursuing takedowns. Blachowicz is a legitimate striker whose progress in the UFC has been hampered by his struggles in staying on his feet against wrestlers. The one who dictates where the bout is contested will have a massive advantage. Clark is a justifiable favorite because the wrestler usually has an advantage in this type of matchup. He also has very strong cardio, which is at least partly due to the fact he is fairly undersized in the division and doesn't have to go through a brutal weight cut. Blachowicz may not have much respect for Clark's striking, which should allow him more leeway protecting against his shots. Blachowicz probably won't need too many exchanges to land something big. He will also have a massive edge in fan support as he returns to his native country badly in need of a win after dropping four of his last five fights.
Hill's Pick: Blachowicz by first-round knockout
Fang's Pick: Clark by decision
Oskar Piechota (9-0) vs. Jonathan Wilson (7-2)
Class: Middleweight
Line: Piechota -195
Storyline: Wilson capitalized on his overwhelming physical advantage to run through a series of lesser opponents on the regional scene and appeared to be on the verge of breaking out when he won his UFC debut by knocking out Chris Dempsey in just 50 seconds in 2015. Reality set in when he ran into UFC veterans Henrique da Silva and Ion Cutelaba in 2016 and didn't appear ready to compete on their level. The setbacks prompted a drop to middleweight where Wilson will debut after a year out of action. He draws local star Piechota, a grappling specialist with developing striking skills. Piechota will have a decided edge in fundamentals and should have a huge advantage if the fight hits the mat.
Hill's Pick: Piechota by second-round submission
Fang's Pick: Piechota by second-round submission
More MMA: Follow all of our MMA and UFC coverage online at CoveringTheCage.com and @CoveringTheCage on Twitter.