Here's a preview of the UFC Fight Night 120 main card bouts
November 11, 2017 - 2:25 pm
Updated November 11, 2017 - 3:36 pm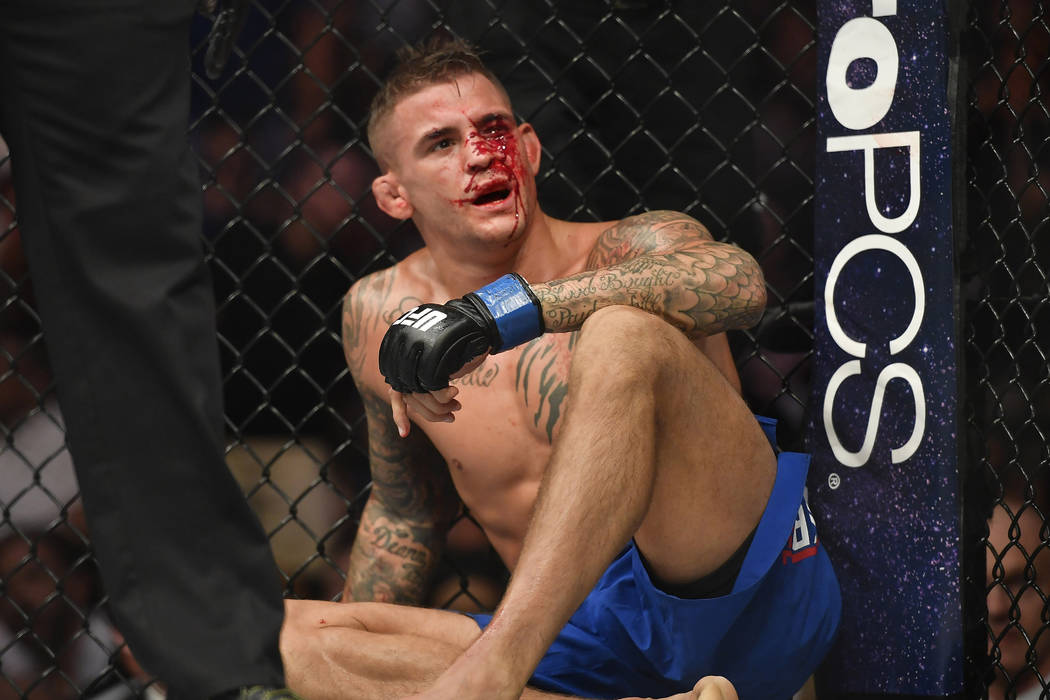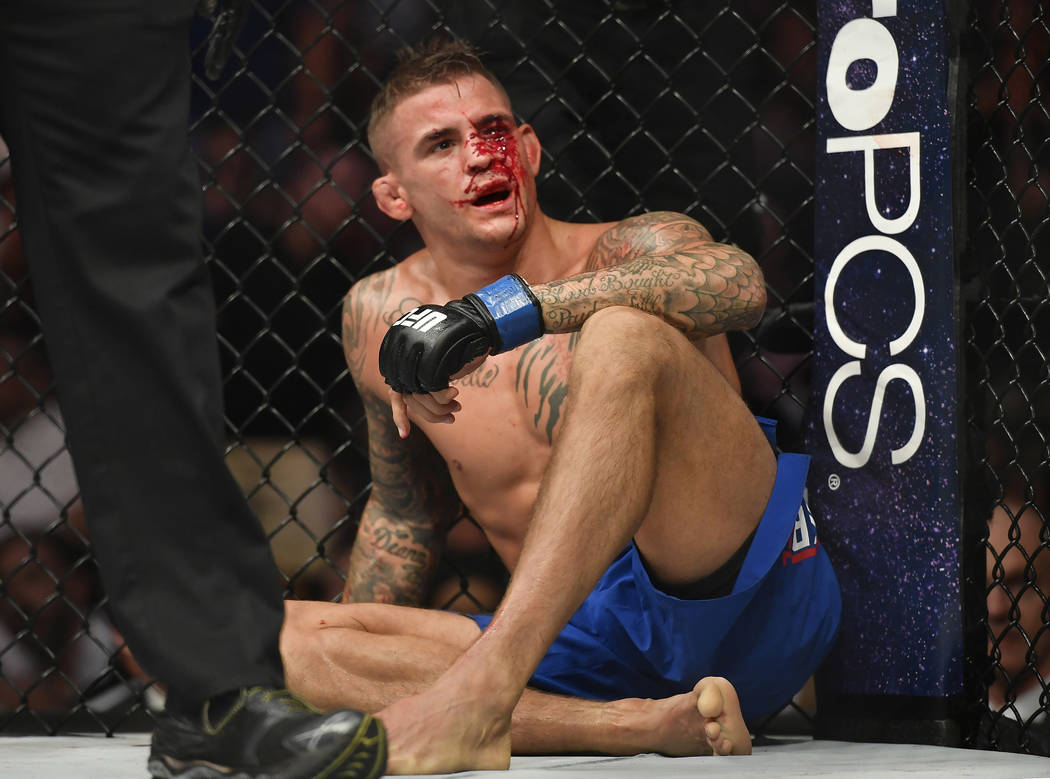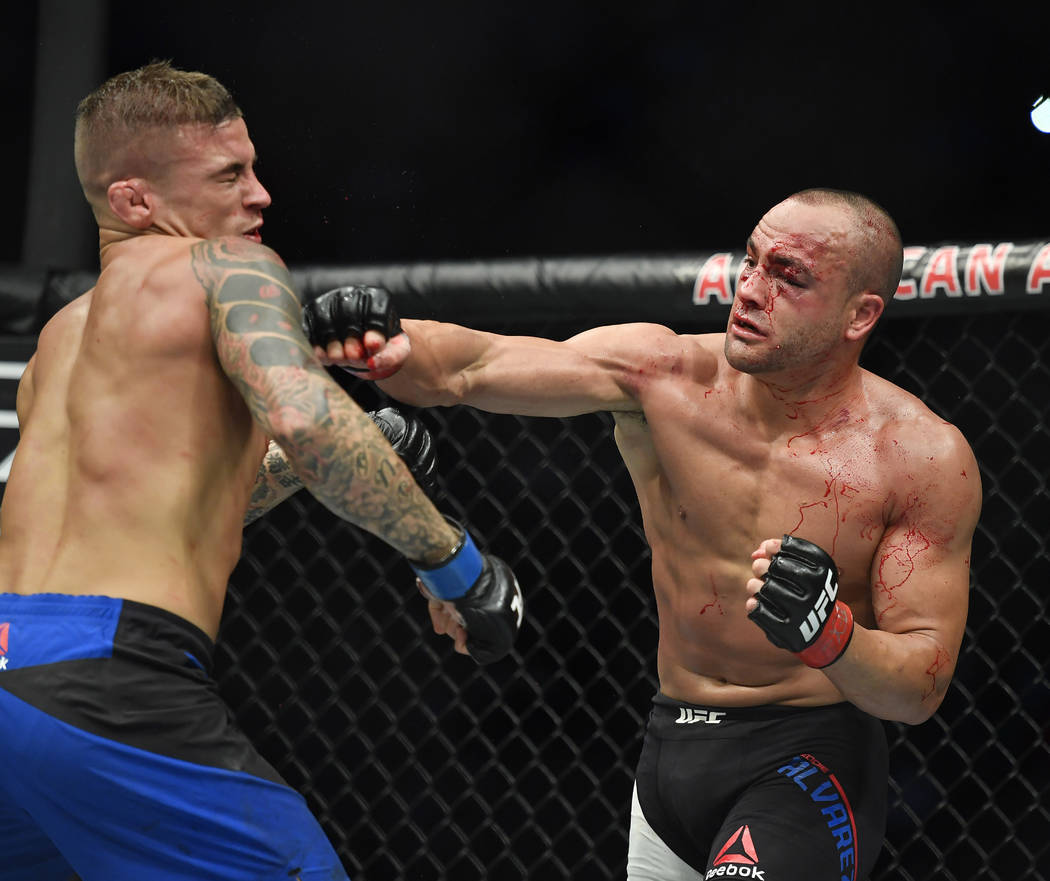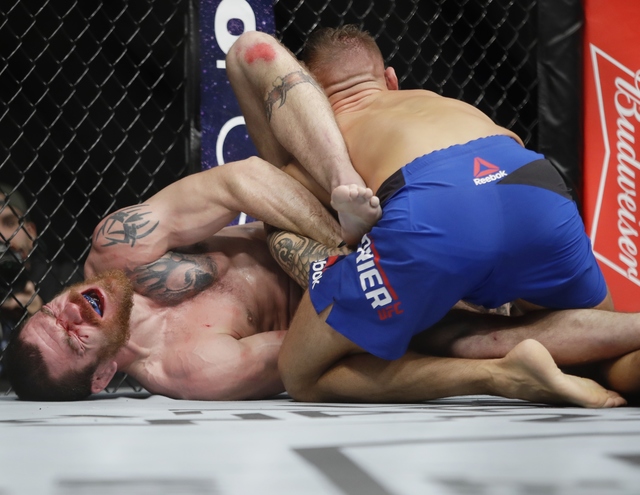 A breakdown of the fights on the main card of Saturday's UFC Fight Night 120 card at Ted Constant Convocation Center in Norfolk, Virginia, with picks from the Review-Journal's Adam Hill and Heidi Fang:
Dustin Poirier (21-5, 1 No Contest) vs. Anthony Pettis (20-6)
Class: Lightweight
Line: Pettis -120
Storyline: A matchup of two of the most explosive athletes in the division. Pettis is a former champion at lightweight who abandoned his experiment at featherweight earlier this year to return to the division where he has had his greatest success. The move back to 155 pounds started off well with a win over Jim Miller. Pettis may have to dictate where this bout is contested if he wants to follow up on that success. He is susceptible to opponents who make him move backwards and can either force him to fight with his back on the cage or put him on the mat. Poirier is certainly capable of doing that. He is aggressive in both his striking and takedowns. Poirier also has a ton of power in his strikes. Pettis will need to maintain distance and would be best served to work Poirier's body in order to wear him down and perhaps neutralize some of the aggression.
Hill's Pick: Poirier by third-round knockout
Fang's Pick: Poirier by fourth-round knockout
Matt Brown (22-16) vs. Diego Sanchez (29-10)
Class: Welterweight
Line: Brown -350
Storyline: Brown has insisted on this being a retirement bout since it was announced, though he has backtracked a bit this week. Now he says the door is closing on his career, but he's not locking it. Regardless of whether this is it for Brown, he's got a favorable matchup to put on a memorable performance. Sanchez has always been willing to engage in a brawl and while both fighters are well-rounded in their skill set, they are likely to just trade punches for the sake of the fans. Neither has any delusions of making a title run at this point in their careers so there really isn't a whole lot to lose. That could ordinarily mean a short fight, but they both have iron chins as well.
Hill's Pick: Brown by decision
Fang's Pick: Brown by third-round submission
Junior Albini (14-2) vs. Andrei Arlovski (25-15, 1 No Contest)
Class: Heavyweight
Line: Albini -320
Storyline: It has been a rough stretch for Arlovski, a former heavyweight champion who provided a brief late-career run back into contention back in 2015. After winning the first four fights in his return to the UFC, Arlovski has lost five straight. Three of those losses have come by knockout and another by submission. It's somewhat surprising Arlovski is even fighting again, but the UFC decided to give him another chance and the 38-year-old jumped at it. Albini has just one fight in the UFC, but has already jumped into the rankings after a knockout of Timothy Johnson in July. Albini has a whole lot of advantages in this matchup and likely just needs to avoid the big right hand of Arlovski. It's the heavyweight division and Arlovski still has talent even if he's older and slower these days, but this is a great opportunity for Albini to continue to build his name.
Hill's Pick: Albini by second-round knockout
Fang's Pick: Albini by second-round knockout
Nate Marquardt (38-18-2) vs. Cezar Ferreira (12-6)
Class: Middleweight
Line: Ferreira -275
Storyline: Ferreira has been a bit of a disappointment coming off the Brazilian edition of "The Ultimate Fighter." There are still high hopes for him, but he just hasn't been able to put it all together. His biggest problem has been with his chin as he has been knocked out three times during his time in the UFC. It's an interesting bout in that Marquardt is coming off a disappointing loss to Ferreira's mentor, Vitor Belfort. He would certainly like to exact some revenge on the protege. Marquardt doesn't have the explosiveness he once possessed, but he can still finish a fight with his power and high-level submission abilities. Marquardt's wins have been few and far between recently, but this is a big opportunity.
Hill's Pick: Marquardt by second-round knockout
Fang's Pick: Ferreira by decision
Raphael Assuncao (25-5) vs. Matthew Lopez (10-1)
Class: Bantamweight
Line: Assuncao -340
Storyline: This is a huge step up for Lopez, who is on a two-fight winning streak in the UFC after suffering the first loss of his career in his debut in the organization. A win over Assuncao would propel his standing in the division a great deal and the pressure may have gotten to Lopez, who missed weight on Friday. Lopez should actually have the overall striking edge in this bout and probably wants to keep the fight standing despite his wrestling background. Assuncao is fantastic on the mat with his submission game. He has improved his striking enough to where he's not completely overmatched anymore. Assuncao has seen it all in the cage, while Lopez is still learning and getting better. That experience may be the deciding factor.
Hill's Pick: Assuncao by second-round submission
Fang's Pick: Assuncao by decision
Joe Lauzon (27-14) vs. Clay Guida (33-14)
Class: Lightweight
Line: Guida -130
Storyline: This might look like watching a fight in fast-forward. These guys will be flying around the cage whether they are engaging in grappling exchanges or trading punches in the center of the cage. Perhaps the most fun thing to watch in this fight will be the scrambles for position. They are both so good in those situations. Both fighters will land shots and both should have advantageous positions on the mat. If Guida has a fatal flaw, it's that he has been submitted nine times in his career. Lauzon has recorded a ridiculous 18 submission wins. That may be the difference.
Hill's Pick: Lauzon by third-round submission
Fang's Pick: Lauzon by decision