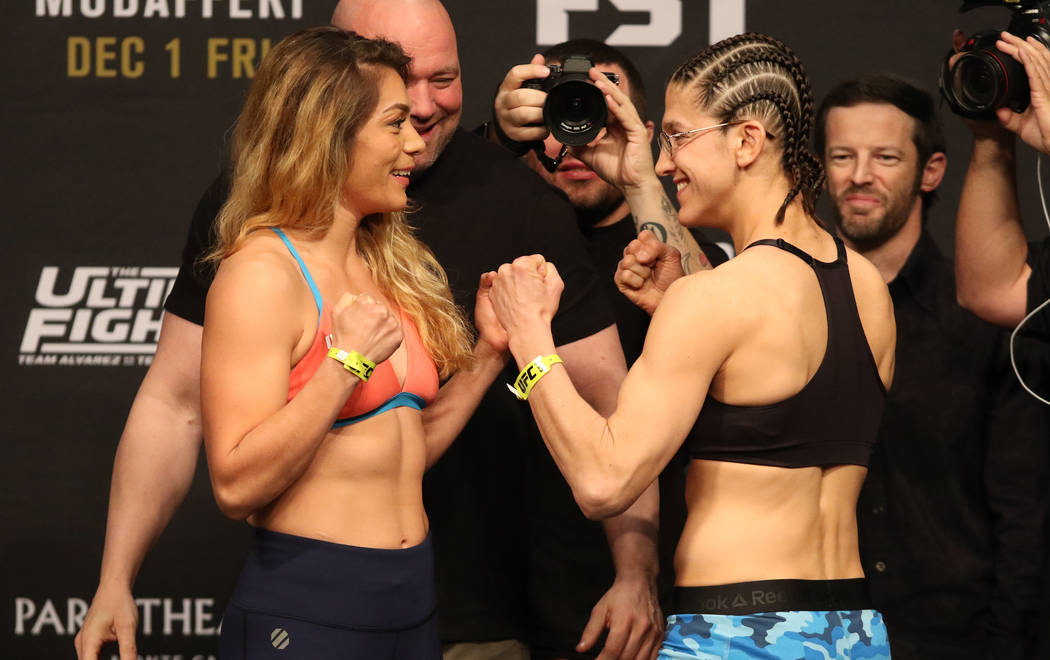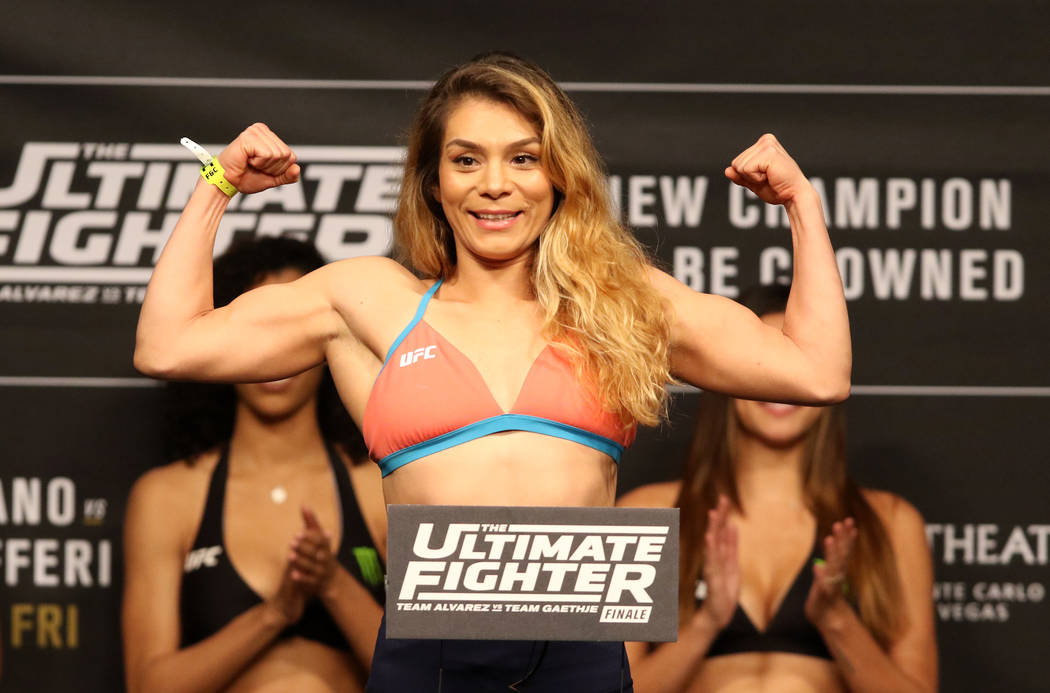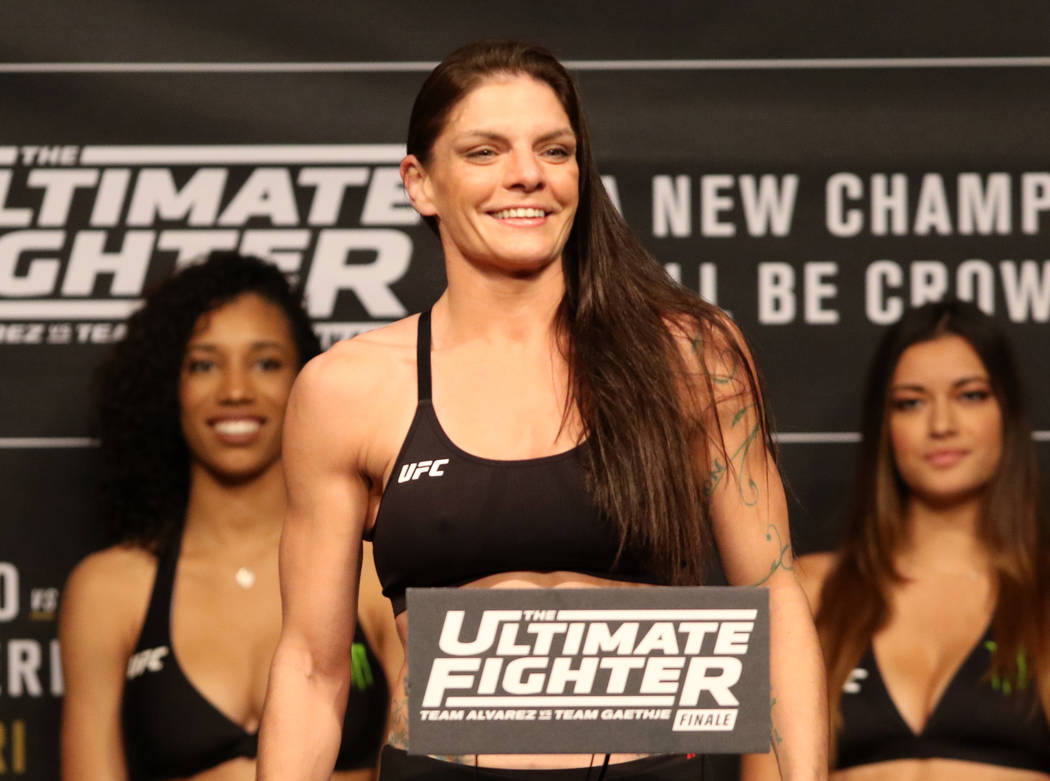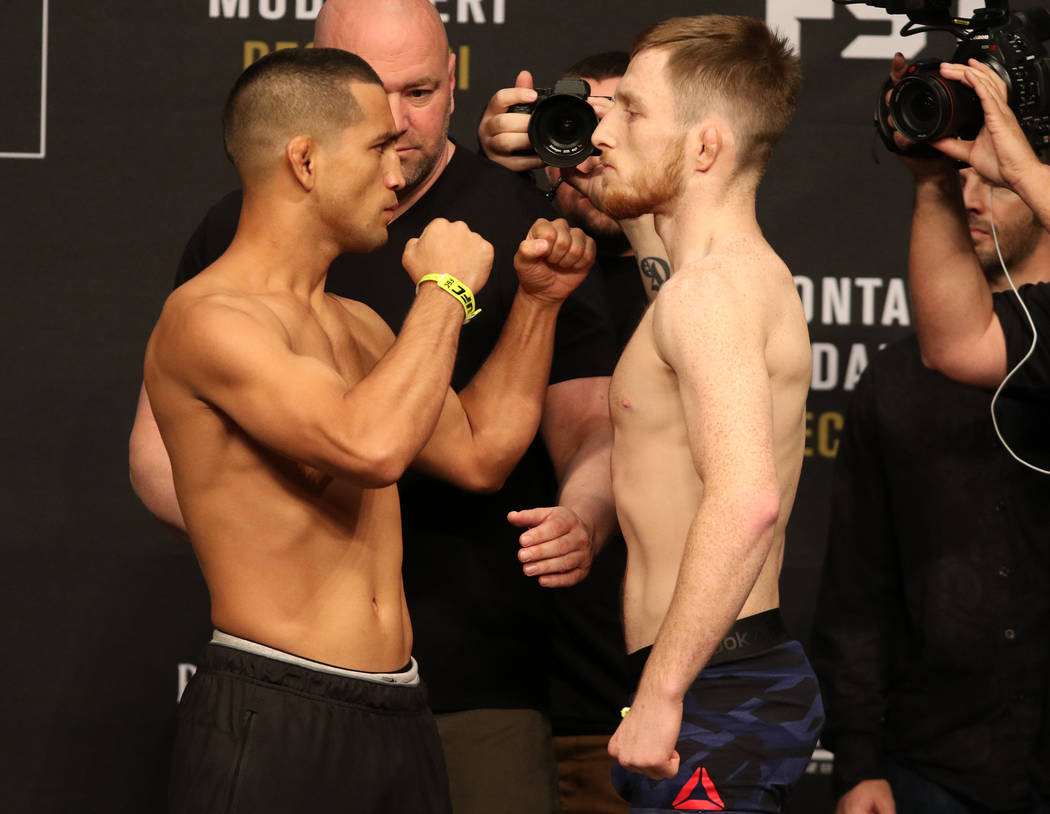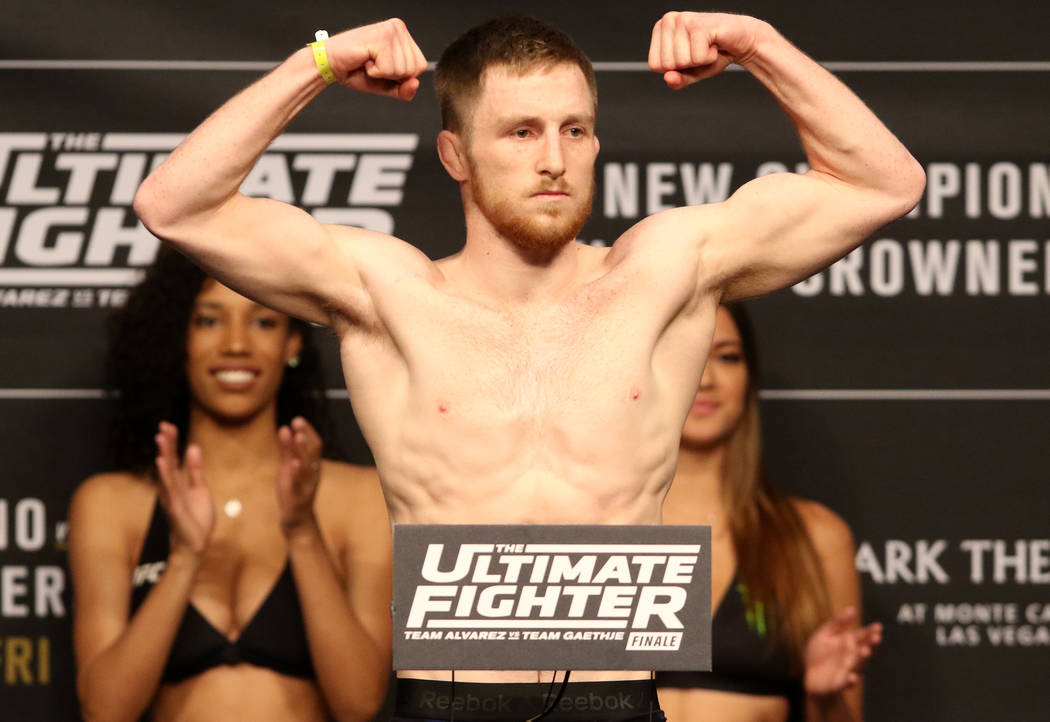 A breakdown of the fights on the main card of Friday's "The Ultimate Fighter" Season 26 Finale card at Park Theater at Monte Carlo, with picks from the Review-Journal's Adam Hill and Heidi Fang:
Roxanne Modafferi (21-14) vs. Nicco Montano (3-2)
Class: For the inaugural women's flyweight title
Line: Montano -190
Storyline: This is quite an opportunity for Modafferi, a Las Vegan who thought her title dreams ended when she lost in the semifinals of the "TUF" tournament. She got a reprieve when Sijara Eubanks was hospitalized while cutting weight on Thursday morning. Modafferi now finds herself on the verge of becoming the first women's flyweight champion in UFC history, and she will have a huge edge in experience. For much of her career, Modafferi was just a grappler who loved jiu-jitsu and looked as if she was learning striking only because she had to in order to compete in MMA. That has changed dramatically under the tutelage of John Wood at Syndicate MMA in Las Vegas. She is a completely different fighter and should be a difficult matchup for Montano, whose strengths are also in her ground game.
Hill's pick: Modafferi by decision
Fang's pick: Modafferi by third-round submission
Sean O'Malley (8-0) vs. Terrion Ware (17-6)
Class: Bantamweight
Line: O'Malley -270
Storyline: O'Malley got internet famous overnight after his knockout victory on a "Dana White's Contender Series" card this year. The flashy finish was featured repeatedly on ESPN along with the hilarious commentary of Snoop Dogg, who was on the broadcast. The rapper was so impressed with the performance that he invited O'Malley up to the broadcast booth to partake in a postfight smoke. O'Malley now gets to make his official UFC debut with a great deal of hype around him. That's far from ideal. Ware is a tough veteran with explosion in his striking game. He is a live underdog.
Hill's pick: Ware by second-round knockout
Fang's pick: O'Malley by second-round knockout
Barb Honchak (10-3) vs. Lauren Murphy (9-3)
Class: Women's flyweight
Line: Honchak -250
Storyline: This fight was agreed to Thursday afternoon after Modafferi was bumped up to the main event. Murphy came to Las Vegas and went through a weight cut just in case an alternate was needed on the card. Murphy accepted the bout and Honchak got to remain on the card. Honchak is a veteran who took three years off before returning to compete on the show. She says her passion has been reignited, and she appeared on her way to earning a title shot before running into Montano in the semifinals. Murphy has spent the past three years as a bantamweight in the UFC, but lost three of her past four bouts.
Hill's pick: Honchak by decision
Fang's pick: Honchak by decision
Eric Spicely (10-3) vs. Gerald Meerschaert (26-9)
Class: Welterweight
Line: Meerschaert -200
Storyline: Spicely trains at the same gym as Modafferi, and there is some similarity in that he is primarily a jiu-jitsu specialist who is constantly working to improve his all-around skillset. Spicely has been improving at Syndicate and probably will take another step forward Friday. He might want to show off his striking improvements, but at some point it's likely to go to the ground. All four of his fights in the UFC have ended in submissions, with two going in Spicely's favor. The problem is that Meerschaert, who will be looking to bounce back after a July loss snapped a seven-fight winning streak, has 19 submissions on his resume. That's a scary number.
Hill's pick: Meerschaert by second-round submission
Fang's pick: Spicely by third-round submission
DeAnna Bennett (8-3) vs. Melinda Fabian (4-3-1)
Class: Women's flyweight
Line: Bennett -450
Storyline: Based on their performances on the reality show, Bennett should have no problem. She certainly had the better of the first-round performances before running into trouble against Eubanks. Bennett certainly looked more UFC-ready. She's solid fundamentally in her striking and is more dynamic as a grappler. Fabian was overwhelmed on the show, but has had success as a striker. The Hungarian kickboxer could set the tone early with her leg kicks, though Bennett might be too much if the fight hits the mat.
Hill's pick: Bennett by second-round submission
Fang's pick: Bennett by second-round submission
Joe Soto (18-5) vs. Brett Johns (14-0)
Class: Bantamweight
Line: Johns -190
Storyline: Soto represents by far the biggest test for Johns, a 25-year-old Welshman who has two UFC wins. The one knock against Johns has been a lack of finishes. Eight of his 14 wins have gone the distance. Johns is well-rounded, which makes him a difficult matchup. This fight will tell a great deal about how far he has to go to reach the top of the division. Soto fought for the belt in 2014 and has won each of his past three fights.
Hill's pick: Johns by decision
Fang's pick: Soto by third-round knockout
More MMA: Follow all of our MMA and UFC coverage online at CoveringTheCage.com and @CoveringTheCage on Twitter.