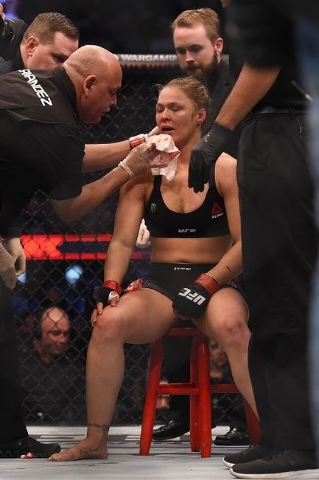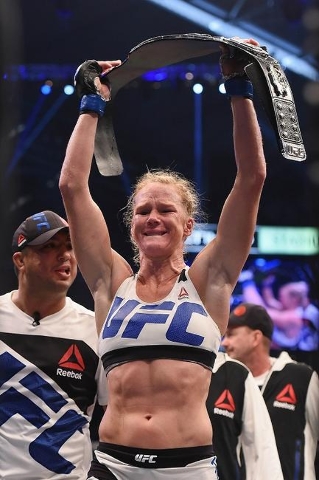 MELBOURNE, Australia — Ronda Rousey talked extensively about making history with another successful title defense before a record crowd for UFC 193 at Etihad Stadium on Saturday night (PST).
Instead, her fight will go down in Ultimate Fighting Championship lore in a way she won't want to remember.
Rousey was knocked cold by a Holly Holm head kick 59 seconds into the second round that ended her title reign and ruined her long-stated dream of eventually retiring undefeated.
It was no fluke.
Holm made Rousey chase her around the cage for much of the first round and made her pay each time she got close. The former pro boxing world champion landed several perfectly timed counter strikes to frustrate Rousey, whose face was already marked after the first round.
"We figured that was coming. We wanted to be ready for it if it did," Holm said of Rousey's aggression. "My training partners have been amazing putting that pressure on me every day."
Rousey was clearly frustrated to start the second round, swinging so wildly on one left hand she whiffed and dropped to a knee.
Moments later, Holm landed a combination that staggered Rousey and spun her around. As Rousey turned back toward Holm and tried to gather her senses, Holm landed a devastating left high kick that flattened Rousey.
Holm followed with two punches, but Rousey was completely defenseless and referee Herb Dean stopped the fight.
"You know what, getting in here I had so much love and support. I just felt like, 'How can I not do this?'" Holm said.
A shocked and dejected Rousey kept her head down as the final decision was read and almost immediately left the cage. She reportedly was taken to a local hospital, and was unavailable for comment.
"This is the type of night that makes fighting so exciting and so fun to watch," said UFC president Dana White, who added that is not premature to begin talk of a rematch between Holm and Rousey.
The other champion on the UFC 193 card had more success, as women's strawweight champion Joanna Jedrzejczyk retained her belt with a unanimous decision over Valerie Letourneau.
"You're not going to always win easy," Jedrzejczyk said. "I want to fight the best, and she's very tough."
Letourneau had some early success pressing the champion against the cage and limiting her offensive opportunities. Jedrzejczyk began creating space toward the end of the second round and was able to get the better of most of the exchanges from that point on.
The challenger was disappointed with the outcome.
"To be honest, nothing surprised me. She did exactly what I thought she was going to do," a tearful Letourneau said. "I just didn't do as good as I wanted to do."
After fighting to a draw in one of the most entertaining heavyweight fights in UFC history in 2013, Mark Hunt and Antonio "Bigfoot" Silva were ready to finally conclude the matter.
Hunt settled things quickly. The New Zealand native and Sydney resident entered the cage in the best shape of his career at age 41 and knocked out Silva with a right hand to the temple in 3:41.
"It was pretty satisfying," Hunt said. "I'm fit as a fiddle. I trained really, really hard."
Sydney resident Robert Whittaker earned a unanimous decision over Uriah Hall. Whittaker dominated the first round and held on as the two athletic middleweights traded entertaining striking exchanges over the final 10 minutes.
"This win means everything to me. Fighting at home is one of the biggest honors and privileges I could have," he said. "To win in my home country is everything. I'll go anywhere I need to fight next."
Heavyweight Jared Rosholt won a unanimous decision over Stefan Struve in the first fight of the main card. Neither was able to mount much offense. Rosholt landed takedowns in each of the first two rounds and controlled Struve on the ground. Struve finally opened up in the third as Rosholt wore down, but it wasn't enough.
"I've got so much more to offer than this. This was just a horrible performance. I've just got to go back to the drawing board," Struve said. "This was probably my worst performance ever. He did a good job. He had a good game plan and kept moving away. I should have just done more to defend his takedowns, like I did in the third round. I don't know, I was just missing my killer instinct today."
Melbourne native Jake Matthews highlighted the preliminary card with his third win in four UFC appearances by stopping Akbarh Arreola.
The 21-year-old lightweight did enough damage with five minutes of ground-and-pound in the second round, prompting the cageside doctor to recommend the referee stop the fight before the third round.
"Up close, it looked pretty bad," Matthews said. "We've been working on getting those elbows in there and finding the sweet spot, and we did that tonight."
Light heavyweight Gian Villante and welterweight Kyle Noke delivered devastating first-round knockout victories. Villante dropped Anthony Perosh with a straight right hand, as Perosh came forward to knock him cold. Noke landed a front kick directly to the ribs of Peter Sobotta, who screamed in agony as he dropped to the mat. Noke followed with a barrage of punches to stop the fight.
Danny Martinez relentlessly pursued takedowns for 15 minutes to grind out a unanimous decision over Richie Vaculik in a flyweight bout.
James Moontasri and Ben Nguyen picked up quick victories on the untelevised portion of the preliminary card. Moontasri knocked out welterweight Anton Zafir with a spinning back kick, and Nguyen submitted Ryan Benoit in a flyweight bout, both in the first round.
Dan Kelly and Richard Walsh won decisions.