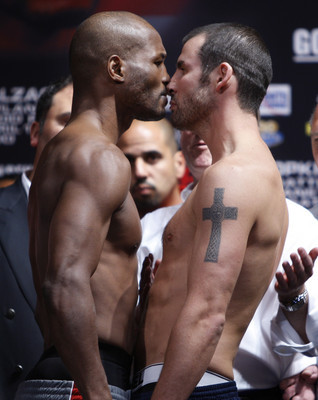 Bernard Hopkins doesn't need a calendar to remind him of his age. He doesn't need a watch to tell him time is running out on his Hall of Fame boxing career.
But Hopkins thinks he can beat the clock — saying he feels more like he's 28 than 43, his true age — and the odds, too. He will be perhaps as much as a 3-1 underdog when he steps into the ring against undefeated Joe Calzaghe tonight at the Thomas & Mack Center.
But that's fine with Hopkins.
"I'll be able to show the world how I'll be missed when I leave the sport," he said. "You're going to see this athlete and man. It's going to be an eye opener. And every time I'm not supposed to win, I step up.
"I was born an underdog. I've been an underdog my entire life."
Hopkins, 48-4-1 with 32 knockouts, said he's going back to his roots for this light heavyweight title fight in which his Ring Magazine belt will be at stake. But he's using some 21st-century thinking to prepare for Calzaghe, 44-0 with 32 KOs.
"Boxing is an art," Hopkins said. "The name of the game is to hit and not get hit. I learned that a long time ago. I'm not from this era. I live in this era. But I'm not from this era. I'm going to go old school with the art of boxing. I'm not going to be an Arturo Gatti. I'm not going to be a Mickey Ward. I will not be a UFC fighter."
To prepare, Hopkins reunited with Freddie Roach, who worked his corner in July when he defeated Winky Wright. Nazim Richardson, who has been with Hopkins from the beginning, is in his camp as well. So is John David Jackson, who has worked with Hopkins before. They brought in nutritionist and strength coach Mackie Shilstone to help prepare Hopkins' body for 12 potentially grueling rounds.
In addition to the usual road work and training and sparring, Hopkins did stretching and resistance training with Shilstone, who has worked with boxers Michael Spinks, Riddick Bowe and Roy Jones Jr. in the past.
Both Hopkins and Calzaghe weighed in at 173 pounds Friday at Planet Hollywood, 2 pounds under the limit. Hopkins looked as though he had benefited from all the training. Yet Richardson said too much is being made of Hopkins' "Dream Team" of trainers.
"I think that's being blown out of proportion," he said. "Everyone who's here has worked with Bernard in the past. The difference is this time everyone is together at the same time, which I think shows how serious Bernard is about this fight."
Roach said bringing everyone together made sense because they're not underestimating Calzaghe.
"We needed to come up with a great battle plan together to beat this guy," Roach said. "If you don't, he can beat you."
Roach said Hopkins appears more focused for this fight than he was when he prepared for Wright.
"This camp has been so much better," Roach said. "He's been hitting so hard in the gym. I never put on body armor when I go into the ring. But with Bernard, I put the armor on, and it still hurts when he hits me."
Hopkins said he and his cornermen are in agreement on the best game plan against the left-handed Calzaghe. But when the first bell sounds just after 7 tonight and Hopkins is on his own, he, better than anyone, will know what adjustments he'll need to make.
"I'm a master at adjusting to styles in the ring," Hopkins said. "(Calzaghe has) never been in the ring with someone like me. I know how to prepare for a southpaw. I'm the 'Southpaw Assassin.'
"Here's the thing: I'm the most pinpoint-accurate fighter he's ever faced. When Joe realizes he can't hurt me, that's when I become the bully. In the ring, I'm the one in control."
Hopkins, who has retired before only to return to fight, said he can't predict if tonight is the last time he climbs through the ropes. Win or lose, he said it's possible this is his last fight.
"I don't know how many fights I've got left in me," he said. "It can't be too many. I'm 43. I'm not going to fight forever. At some point, I'm going to retire for good and help groom these young kids at Golden Boy (Promotions).
"But you never know. There aren't a whole lot of challenges left out there for me. You can only go to the well so many times. I don't know how many buckets I got left.
"But I know I have a full one for this fight."
Contact reporter Steve Carp at scarp@ reviewjournal.com or 702-387-2913.
Hopkins vs. Calzaghe Preview
FIGHT NIGHT
HOPKINS VS. CALZAGHE
WHO: Bernard Hopkins vs. Joe Calzaghe
WHAT: Ring Magazine world light heavyweight championship, scheduled for 12 rounds
WHERE: Thomas & Mack Center
WHEN: 6:45 p.m. today
RECORDS: Hopkins, 48-4-1, 32 KOs; Calzaghe 44-0, 32 KOs
WEIGHTS: Hopkins 173 pounds, Calzaghe 173 pounds
ODDS: Calzaghe minus-270, Hopkins plus-240
TV: HBO (Cable 215)
TICKETS: $250, $350, $450, $1,200 and $1,500