James Vick's insults helped fuel Justin Gaethje's UFC win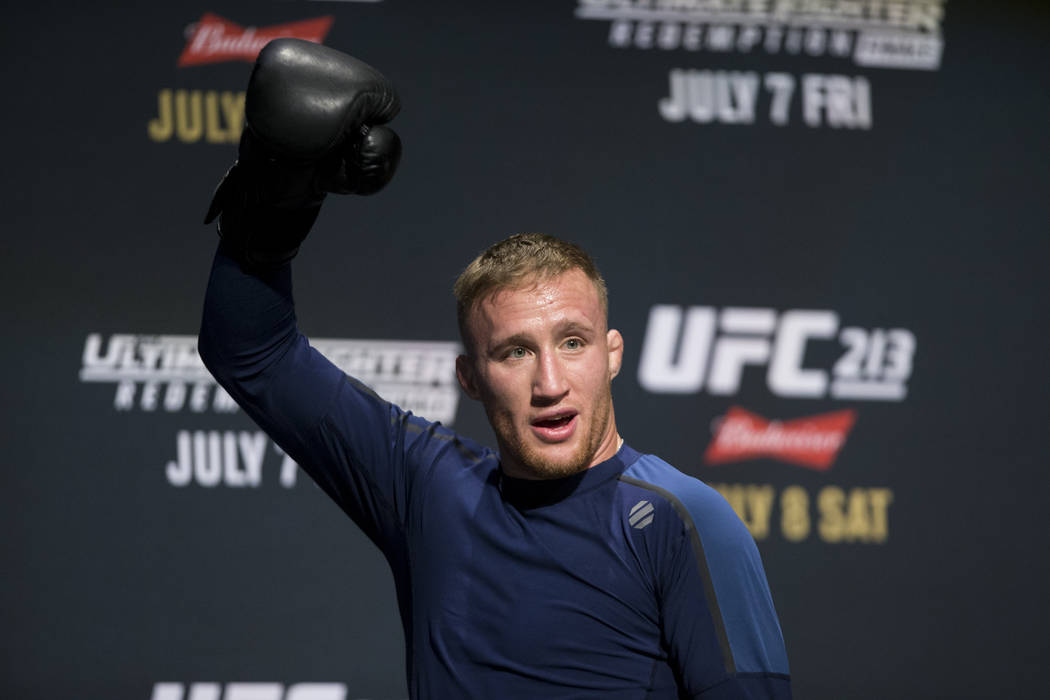 UFC lightweight contender Justin Gaethje heard everything James Vick said about him during the buildup to their UFC Fight Night 135 main event bout in Lincoln, Nebraska, on Saturday.
He made him pay the price shortly after the bell rang.
Gaethje snapped a two-fight losing streak by knocking Vick cold just 1:27 into the headlining bout.
"I'm the least fake person in this sport," Gaethje said. "I take everything personal. I took everything he said personal. I'm glad I put him to sleep.
"This game is unforgiving, man. That could easily be me right now. It's what we do."
Vick had called Gaethje a "punch-drunk retard" and "the Homer Simpson of MMA" among other insulting terms, mostly relating to his overly aggressive style.
He did take the time to apologize after suffering just the second loss of his career.
"Worst night of my life last night," Vick wrote on social media. "Thank you Justin Gaethje for the opportunity. Though confident in myself, I did always respect you. I said what I said to get and promote the fight. You are a class act and I do appreciate your kind words last night. I have no excuses. I was in shape, healthy and confident. I blew it."
Gaethje is happy to be back on track. He burst on the scene as an undefeated former World Series of Fighting champion by scoring a knockout win over Michael Johnson in his UFC debut last July before suffering the first two losses of his career. All four fights have been highly entertaining, making Gaethje an instant fan favorite. He's ready to take a step back from the wild ride before pursuing some bigger paychecks.
"(This win) should get me a business meeting with the UFC, that's what it should give me," he said. "I want to fight the best. I'm happy with the UFC, I'm not unhappy with them. But the way I put it on the line, I need all my money up front. And that's how it should work for people like me. They should use me as an example. If you want all your money, you fight like Justin Gaethje.
"I've done four fights in the last 13 months, that means I've been in camp, I've been out of camp maybe a month, and that was when I was filming 'The Ultimate Fighter,' so I wasn't out of camp. I've been training for the last 13 months, and I would like a break. But not a long break."
McGregor reflects on megafight
Sunday marked the one-year anniversary of UFC star Conor McGregor's historic boxing debut against Floyd Mayweather Jr.
The former two-division UFC champion spent the day preparing for his return to the cage for an Oct. 6 lightweight title bout against champion Khabib Nurmagomedov at T-Mobile Arena.
McGregor didn't let his training regimen get in the way of marking the occasion.
"One year ago today I adhered to a load of rules, for a load of riches," McGregor posted on social media along with a photo from his sparring session. "Not today though. Today was no rules. Just a fight. A Proper one. For nothing more than peace, and peace of mind."
It will be McGregor's first mixed martial arts bout since November 2016.
Lightweight showdown added to UFC 229
Former lightweight champion Anthony Pettis will fight former interim champ Tony Ferguson on the UFC 229 card.
The winner will have an obvious case to be next in line to fight either McGregor or Nurmagomedov.
It also gives UFC officials a great deal of flexibility should either McGregor or Nurmagomedov be unable to compete on Oct. 6.
Ferguson was supposed to fight Nurmagomedov on several occasions, most recently at UFC 223 in April. Both fighters have had to pull out of the bout for various reasons over the last few years. This time it was Ferguson, who suffered a knee injury.
"I Can't Wait To Compete For My Fans," he wrote on Twitter in his typical style of starting every word with a capital letter in announcing the fight. "This Year Has Been One Of The Most Challenging For My Family & I. The Injuries & Defamation I Faced From Certain Demographics Didn't (Affect) My Business One Bit."
UFC 229 also features a heavyweight bout between Derrick Lewis and Alexander Volkov.
Film series to debut Sept. 14-The UFC announced a 25-part documentary series to celebrate the organization's 25th anniversary.
The episodes, which debut on Sept. 14 with "Country Boy Can Survive: The Story of Matt Hughes' Fight for Survival," will stream on UFC Fight Pass.
New episodes will premiere every Monday, Wednesday and Friday at noon.
More MMA: Follow all of our MMA and UFC coverage online at CoveringTheCage.com and @CoveringTheCage on Twitter.
Contact Adam Hill at ahill@reviewjournal.com or 702-277-8028. Follow @AdamHillLVRJ on Twitter.
Schedule
— Saturday: Invicta FC 31 (Fight Pass), Kansas City, Mo.
— Sept. 8: UFC 228 (FS1/PPV), Dallas
— Sept. 15: UFC Fight Night 136 (Fight Pass), Moscow
— Sept. 21: Bellator 205 (Paramount), Boise, Idaho
— Sept. 22: UFC Fight Night 137 (FS1), Sao Paulo, Brazil
— Sept. 29: Bellator 206 (Paramount), San Jose, Calif.
— Oct. 6: UFC 229 (FS1/PPV), T-Mobile Arena