Jedrzejczyk looks to make her own name on Rousey card
November 13, 2015 - 9:37 am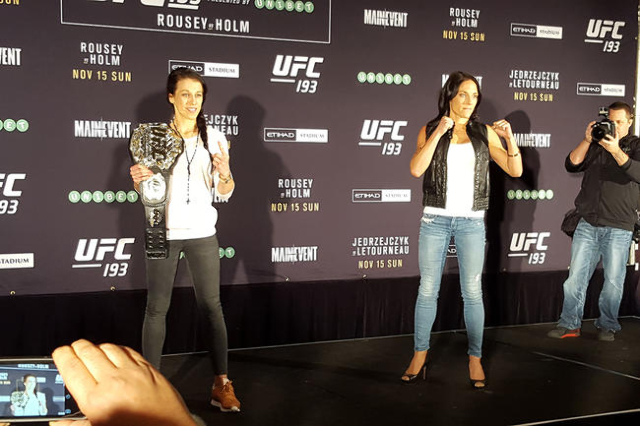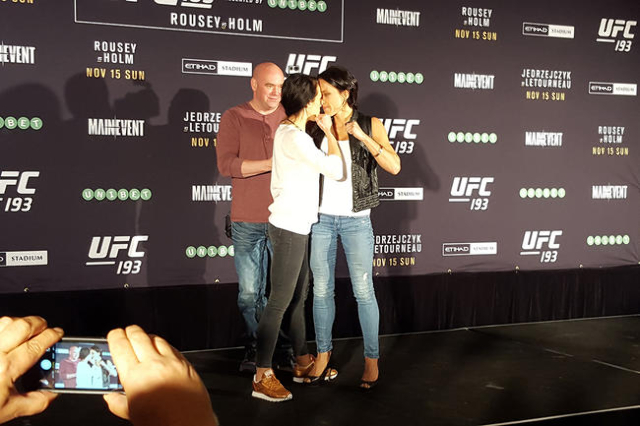 MELBOURNE, Australia — It may come as news to many casual observers of the Ultimate Fighting Championship, but the organization actually has two female champions.
While Ronda Rousey dominates the headlines, Joanna Jedrzejczyk is an emerging star.
The UFC women's strawweight champion appears intent on taking full advantage of defending her belt in the co-main event spot of Sunday's UFC 193 event at Etihad Stadium (7 p.m. PST Saturday) that will draw a whole lot of attention because of Rousey's bantamweight title defense against Holly Holm.
Jedrzejczyk isn't even waiting for her fight against Valerie Letourneau to make sure she's not completely overshadowed.
The 28-year-old native of Poland, a former professional kickboxer who is undefeated in 10 MMA fights, has ratcheted up the rhetoric aimed at her Canadian opponent.
It culminated with an intense staredown after a media session on Friday afternoon at the stadium. While much of the face-to-face exchange was inaudible, Jedrzejczyk appeared to tell Letourneau to enjoy being so close to the belt, because she would never see it again.
Earlier in the day, the champion said she had already won the fight mentally.
"She's scared. It's in her eyes, her hands, everything. I broke her already," said Jedrzejczyk, who was originally impressed with Letourneau when they met in Las Vegas a few months ago when the fight was announced. "I met her again in Australia. Come on, man, I could see it in her eyes. Her hands were sweating. She's afraid of me, believe me."
Letourneau laughed off the suggestion.
"I didn't even shake her hand, that's the funny thing. I think she'll have a bad surprise when I step in the octagon. I have to say that I'm really quite psycho when I step in there. Excuse my language, but I really don't give a (expletive) about anything when I'm in the cage," she said. "If you do this sport and you're scared, you're doing the wrong sport. I don't know what she's thinking.
"I'm scared of what? Scared to get hurt? For what?"
Jedrzejczyk, who has taken to calling herself "Joanna Champion" because of her difficult last name, has put some pretty scary footage on film in her brief time in the UFC. After decision victories in her first two fights, she overwhelmed champion Carla Esparza to win the belt in May and then delivered a fine sequel in a third-round stoppage of Jessica Penne in July.
"I'm too fast for all of them. I'm the champion and I'm on a different level. That's all," she said, adding she feels she has been embraced quickly by fans and pundits because she tries to just be herself. "I'm just natural. I'm not trying to be a different person behind the cameras than I am at home or in the gym. I'm trying to just to be me all the time."
UFC president Dana White raves about Jedrzejczyk, as does Rousey.
"I think it has so much to do with her fighting style and the way she fights. You're just captivated every time she goes out there. But her demeanor is awesome as well. She's just like the mini, gorgeous Ivan Drago," Rousey said. "I love her personality and her fighting style. She's just so genuine and authentic that people pick up on that. They love authenticity and not forced, cultivated images."
They also love winners. Letourneau feels the champion's fast track to stardom might come to a screeching halt on Sunday.
"We'll see who has the most determination. I believe I have more skills than Joanna. I know I have the more complete game," the challenger said. "She's really good at what she does, but I feel I have more tools than her and I'm going to use everything in this fight."
If she's wrong and Jedrzejczyk performs as she has over her last two fights, she could be a huge star by Monday.
Contact reporter Adam Hill at ahill@reviewjournal.com or 702-224-5509. Follow him on Twitter: @adamhilllvrj
RJ's new MMA site: CoveringTheCage.com
Las Vegas Review-Journal MMA reporter Adam Hill will bring online readers the following, with fresh content daily:
* Fighter profiles.
* Rankings of all UFC classes.
* Previews and coverage of bouts.
* Videos of fighters on and off the mat.