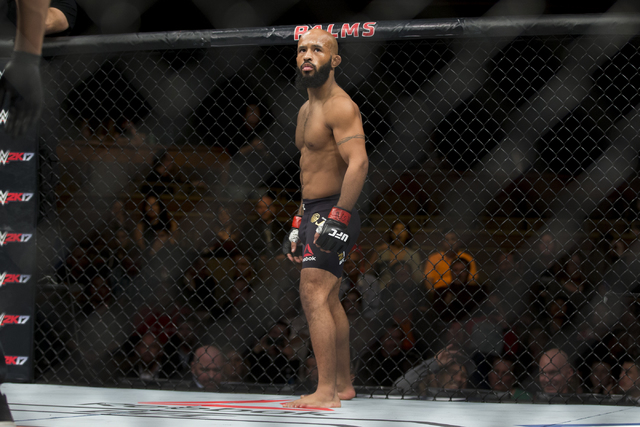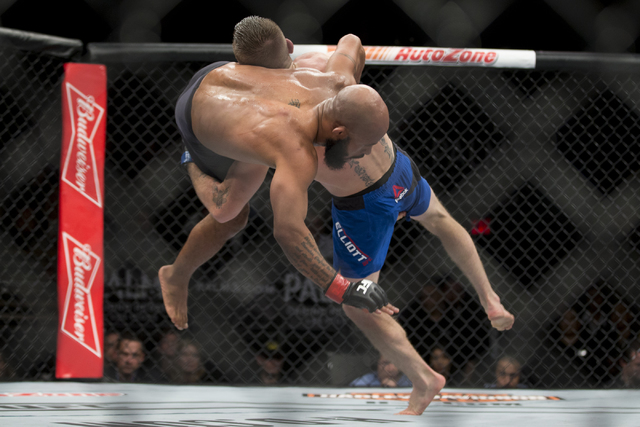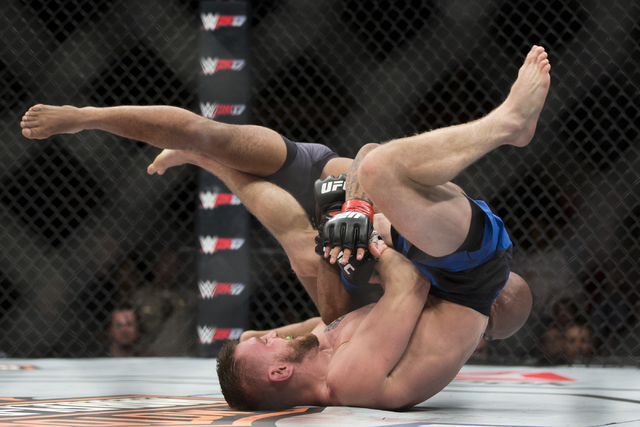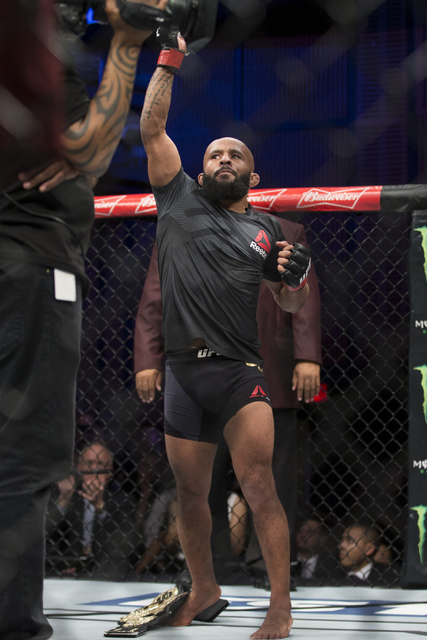 Cinderella nearly made it home by midnight.
Tim Elliott, who earned the right to face the top pound-for-pound fighter in the world by winning a reality show, came close to finishing flyweight champion Demetrious Johnson on several occasions in the first round of their main event bout on "The Ultimate Fighter 24" Finale card on Saturday night at the Palms.
Then reality set in.
Johnson took control of the fight in the second round and successfully defended the title for the ninth straight time by winning each of the next four rounds, though Elliott remained dangerous throughout the fight.
"Tim Elliott's a hell of a fighter," Johnson said. "It's like wrestling a muskrat. You just have to neutralize him, man."
Elliott dropped Johnson in the first round after nearly locking in two submission attempts to get the crowd squarely on his side. He had earned the shot by surviving a field of 16 contestants in a tournament contested in Las Vegas over the summer.
"I'm just a guy who loves to fight," he said. "I know i can hang in there. I can compete with anyone. If it's a fight to the death, I'd beat anybody. I was just behind when time ran out.
"He's the best in the world. I'm just happy to share the octagon with him."
Flyweight Joseph Benavidez may have earned another title shot with a split-decision win over Olympic wrestling gold medalist Henry Cejudo.
Cejudo had a point deducted in the first round for two low blows, but it didn't impact the outcome. All three rounds were competitive and exciting. While Benavidez landed more strikes, Cejudo appeared to deliver his with more force.
One judge gave it to Benavidez 30-26, while another saw it 29-27. The third judge gave Cejudo all three rounds and scored it 29-27 in his favor.
Benavidez is now 10-2 since dropping to flyweight with both losses coming against Johnson. He has won six straight since his last title shot.
Welterweight Jorge Masvidal's win over Jake Ellenberger was the most bizarre of the night.
Ellenberger's foot got caught in the cage as he charged Masvidal and referee Herb Dean appeared to stop the action in order to get a rule clarification.
Because there was not deemed to be a "cage malfunction," the fight was instead stopped and deemed a TKO victory for Masvidal.
"I already know that the situation with the octagon is going to take away from my win tonight," Masvidal said. "We saw how it was going though. His timing was off. He was missing and I wasn't. I hurt him. I deserve credit for that. Do I want to win like this? No. If it was up to me, we would keep going until one of us quit. The people who know what's going on know that if he would've made it to the second, he would've been tired and it would've been worse for him."
Jared Cannonier was successful in his light heavyweight debut, though he was unable to finish Ion Cutelaba with any of the big punches he landed throughout the fight.
"That dude's tough," Cannonier said. "He proved me wrong."
Cannonier dropped from heavyweight for the first time and showed no ill effects from the weight cut.
In a matchup of former women's bantamweight title challengers, Sara McMann submitted Alexis Davis with an arm triangle in the second round.
It was the second consecutive win for McMann, an Olympic silver medalist in wrestling who is hoping to work back toward another title shot after she was defeated by Ronda Rousey in just 66 seconds in 2014.
Flyweight Brandon Moreno opened the main card with a split-decision win over Ryan Benoit.The two Las Vegans on the preliminary card had vastly different experiences fighting at home on Saturday night.
Jamie Moyle, who trains at Syndicate MMA, earned a unanimous decision victory in her UFC debut after a bloody battle with Kailin Curran.
Veteran Gray Maynard, of Xtreme Couture, was frustrated by the unorthodox style of featherweight Ryan Hall for the entire 15 minutes of their bout before Hall was awarded the win on all three cards.
Moyle was thrilled with the outcome despite ending the fight with blood pouring from her face.
"I told my friend I wanted to taste some blood in this fight. I just didn't think it would be my own," she joked. "Getting my first win in the UFC is the most amazing feeling. It's like a whirlwind. The fight was a little blurry with so much going on."
Maynard's night wasn't nearly as fun. Hall, one of the top grapplers in the sport, consistently went to the mat and tried to get Maynard to engage in a ground battle. His odd entrances to exchanges also prevented Maynard from finding any sort of rhythm and Hall consistently landed kicks on a frustrated Maynard.
It was the fifth loss in six fights for the Las Vegan.
Rob Font and Anthony Smith scored knockout victories on the preliminary card. Dong Hyun Kim and Devin Clark earned decision wins.
Contact Adam Hill at ahill@reviewjournal.com or 702-277-8028. Follow @adamhilllvrj on Twitter.