Johnson retains UFC title; McGregor scores KO win
September 27, 2014 - 11:00 pm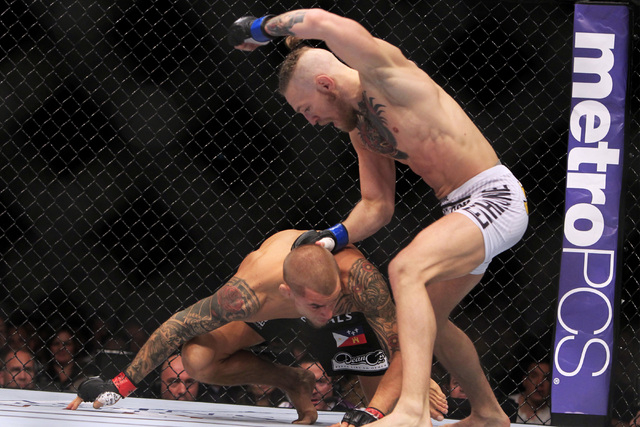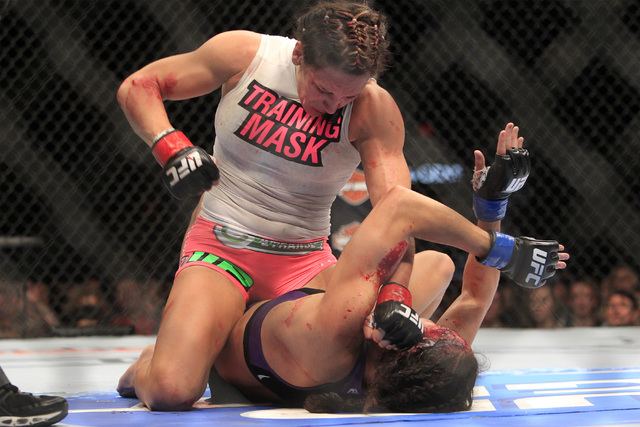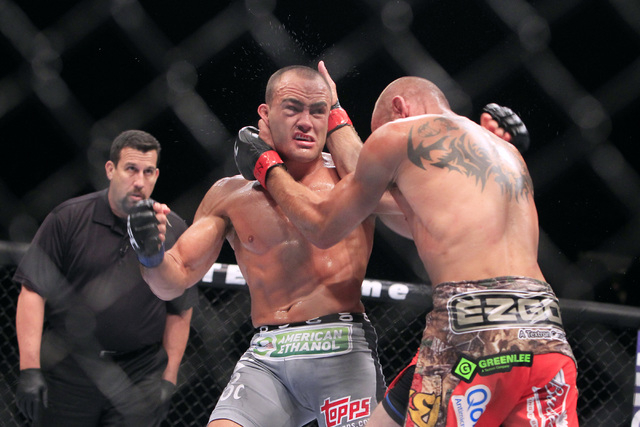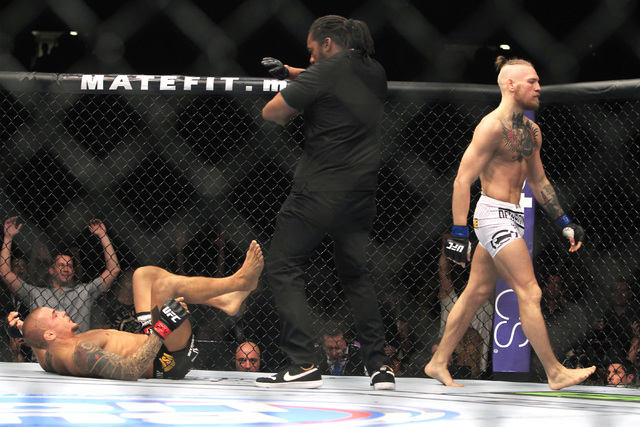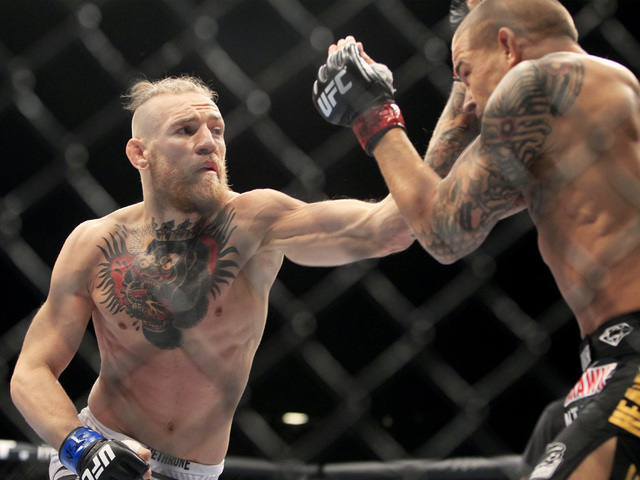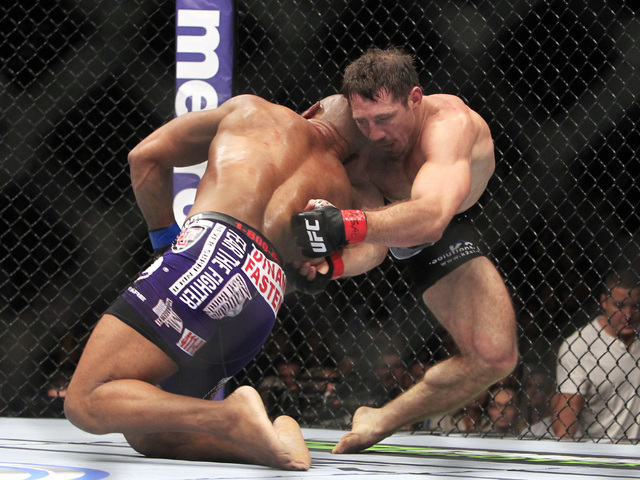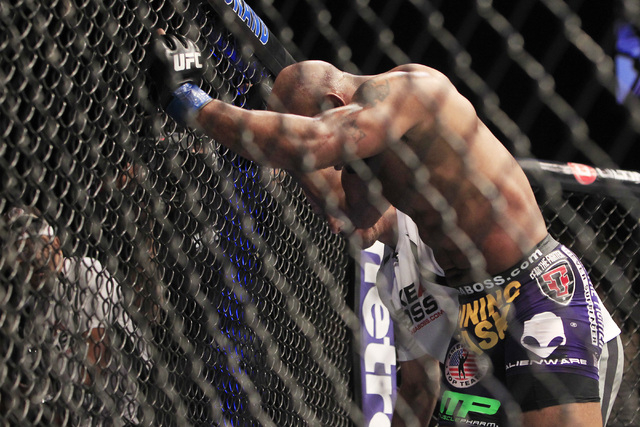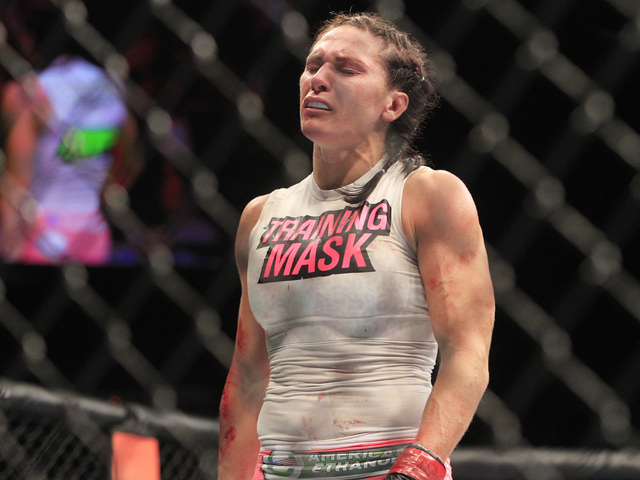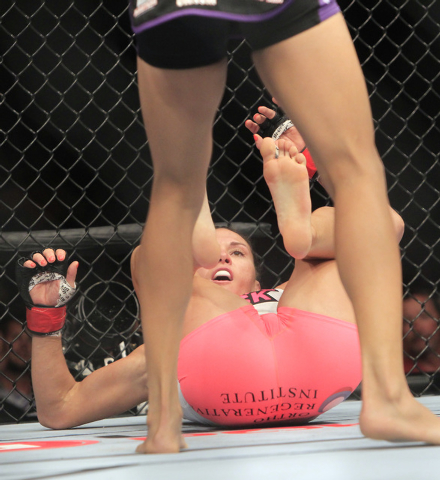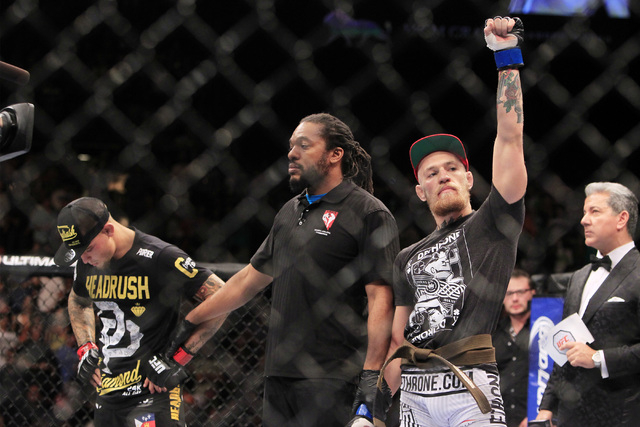 Ultimate Fighting Championship flyweight champ Demetrious Johnson dominated Chris Cariaso in the main event of UFC 178 on Saturday night to provide an expected conclusion to an otherwise dramatic night at the MGM Grand.
The event very well might be remembered more as the moment when featherweight Conor McGregor crossed over from hyped prospect to legitimate star and earned a title shot.
It was Johnson that entered the night with gold already around his waist and walked out the same way while barely breaking a sweat.
Johnson, more than a minus-1500 favorite at fight time, looked every bit of it. He controlled the first five minutes before nearly finishing Cariaso with a flurry just before the bell. Johnson quickly got the fight to the ground early in the second round and locked in a kimura that forced Cariaso to tap out.
"I always try to go out there and put on a perfect fight, and that's a challenge in and of itself," Johnson said. "A lot of people out there didn't give Chris Cariaso credit, but I trained like he was the best fighter in the world."
It was the fifth straight successful title defense and seventh straight win overall for Johnson, the first and only 125-pound champion in UFC history.
McGregor will tell anyone who will listen that he is going to experience the same type of success in the organization. Saturday may have been the first true indication that the possibility is more than just empty talk.
McGregor stole the show, not so much with a spectacular victory over Dustin Poirier by first-round technical knockout, but by delivering on the hype and fulfilling the lofty expectations he created with all of his boasting in his first fight against a legitimate contender.
In fact, the finish was almost anticlimatic.
McGregor appeared to miss Poirier with a left hand only to have his elbow clip Poirier just behind the ear. Poirier fell forward and took another shot near the back of the head. Poirier rolled over and took another shot before referee Herb Dean stopped the fight.
The blows were all determined to be legal.
The fight was a brief respite from McGregor's publicity tour. As soon as it was over, he was right back to talking.
"I'm cocky in prediction but humble in defeat," McGregor said. "I said this wasn't going to be a challenge, and I felt this was handed to me. I said I was going to show the difference between a king and a contender, and I proved that tonight because Dustin had never been knocked out and I did that in the first round.
McGregor is 4-0 in the UFC and insists he is ready to challenge for the featherweight title. Jose Aldo will defend the belt against Chad Mendes on Oct. 25 in Rio de Janeiro.
McGregor wants the winner.
"I'll go to Brazil. If they need me to step in, I'm ready," he said. "We'll see what happens, but who else can they give me? It's my belt, and I'm ready to steal it and take it back to my country."
In other fights, lightweight Donald Cerrone spoiled the UFC debut of former Bellator champion Eddie Alvarez with a unanimous decision.
Alvarez came out strong with a big first round that included landing a sustained series of punches in the clinch. Cerrone survived the onslaught before taking control of the fight in the final two rounds.
"I was thinking, 'Not tonight, not tonight,' " Cerrone said of enduring the early troubles. "I always start slow, and I really don't know why."
Yoel Romero pounded on Tim Kennedy's face with punches until the fight was justly stopped early in the third round, but the ending was not free from controversy. After Romero dominated most of the first two rounds, Kennedy connected with a flurry late in the second round and Romero was just about out when he was saved by the bell.
There was a bit of chaos between Nevada Athletic Commission officials and Romero's corner between rounds, giving Romero extra time to recover.
Romero took advantage in the third round and quickly finished Kennedy. Romero denied anything nefarious took place.
Top women's bantamweight contender Cat Zingano returned after more than 16 months out of action to remain undefeated with a third-round knockout of Amanda Nunes to open the main card.
Zingano, who missed time with a torn anterior cruciate ligament, followed by the suicide of her husband, was nearly finished by a barrage of shots in the first round.
"(Expletive) yeah," she said when asked if she was hurt early in the fight.
Zingano probably will next fight champion Ronda Rousey, an opportunity she had earned before suffering the knee injury last summer.
Dominick Cruz was the unquestioned star of the undercard.
The former bantamweight champion returned from a three-year absence because of a series of injuries to dominate Takeya Mizugaki for 61 seconds before stopping him with a series of hard left hands on the ground.
Cruz has been involved in a longstanding rivalry with Urijah Faber, and Faber's training partner at Team Alpha Male, T.J. Dillashaw, holds the bantamweight belt that Cruz was forced to relinquish because of inactivity.
He made it clear he intends to get it back in short order.
"Nothing has changed," Cruz said. "I just look forward to beating up more Alpha Fails."
Jorge Masvidal, Stephen Thompson and Brian Ebersole won decisions, as did Kevin Lee, who trains in Las Vegas.
Manny Gamburyan rallied to submit Cody Gibson in the second round of a bantamweight fight.
Contact reporter Adam Hill at ahill@reviewjournal.com or 702-224-5509. Follow him on Twitter: @adamhilllvrj.