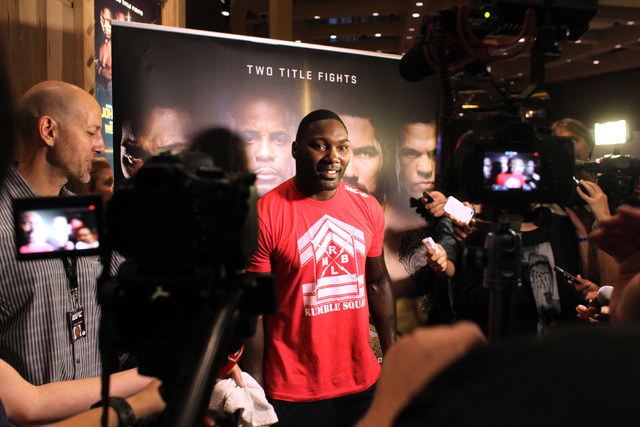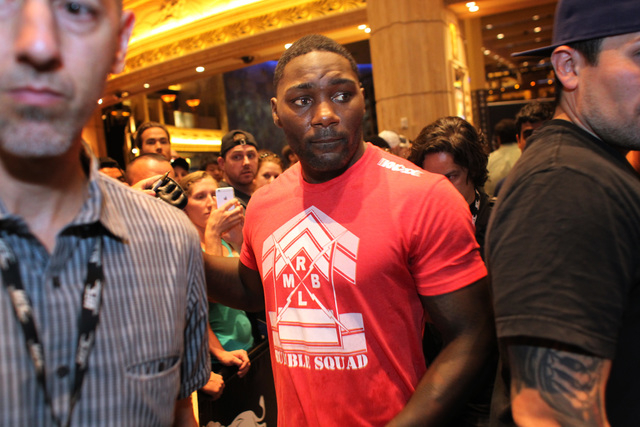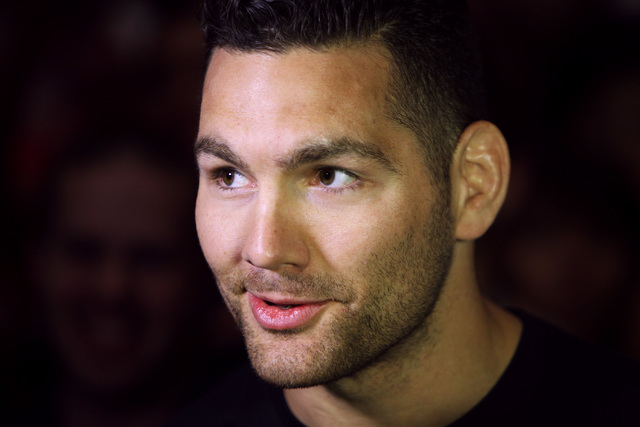 Even with two major title fights headlining one of the Ultimate Fighting Championship's biggest cards of the past few years just days away, much of the talk surrounding UFC 187 on Saturday at the MGM Grand Garden is about who's not competing.
Jon Jones was scheduled to defend the light heavyweight belt he had held since 2011 in the main event against Anthony Johnson. But that all changed last month when Jones fled the scene of an accident on foot after crashing his rented SUV into a car driven by a pregnant woman in Albuquerque, N.M.
The UFC decided to strip Jones, who had run into several other issues outside the cage, of his title and suspend him indefinitely.
Johnson instead will fight Daniel Cormier for the vacated belt in the main event. And Johnson takes exception to the notion that the significance of the title he could win is in any way diminished because Jones never lost in the cage.
"Of course I look at it as the title fight," Johnson said. "I worked my ass off to get where I am right now."
Still, there is no question how much Jones' presence — or lack thereof — is being felt this week.
"He casts such a big shadow on the division," Cormier said. "So any time this weight class is going to be discussed, there's going to be some mention of Jon Jones. It's expected."
Cormier fought Jones for the belt in January, losing a unanimous decision after a contentious buildup to the bout that included a brawl after a news conference in the lobby of the MGM Grand.
Cormier said he thinks that if anyone should be bothered, it's Johnson, because Johnson was scheduled to fight Jones. Johnson did acknowledge all the talk about the guy who's not fighting has gotten to him at times.
"As far as me, it does get a little annoying because it's like people aren't showing the respect Daniel and I deserve," he said. "It's like they almost see us like some chumps or something like that, you know what I mean? Once again, we didn't make Jon do what he did. That was his own doing. But we're athletes. We are top of the food chain right now, and it is what it is, so it does get kind of aggravating when people want to say you're the paper champ and things like that.
"But in my eyes and in my heart, whoever wins this title isn't the paper champ. We are the absolute champion of the weight class. We're the No. 1. We're the best."
Still, Johnson knows solidifying his spot as the true champion of what traditionally has been the organization's premier division will eventually require beating Jones.
"Jon, in my eyes, is still the pound-for-pound best fighter in the world and our weight class," Johnson said.
If Jones is casting a shadow over the fight and Johnson in general, he's more like an anchor on Cormier.
The two-time Olympic wrestler thought he was done with Jones for a while after their feud was settled in January.
"After that fight, it almost felt like a weight was lifted off my shoulder," Cormier said. "I thought, 'You know, it didn't work out, but now maybe I can separate myself from this guy.' This happens, and it's like I can not separate myself from Jon Jones."
That's not likely to change anytime soon.
"He'll get himself together, and then how great will it be for you guys for him to come back and have to cover Jon in a challenger role against me," Cormier said. "And I'll run him through the mud."
One thing Cormier won't do is feel sorry for Jones, though he does have sympathy for Jones' loved ones for having to deal with the consequences of his actions.
"I think it's time for people to stop feeling sorry for this guy and make him realize he has to do things the right way," Cormier said. "By feeling sorry for him, it's almost like you enable him to continue to do bad things. I don't feel sorry for Jon, I feel sorry for the lady he hit with his car who has a baby coming. I feel sorry for his parents who have to wake up every morning and see those types of things in the media. I don't feel sorry for him. He did this."
Johnson and Cormier agree that Jones should get an immediate title shot if he returns to competition. But as of Saturday night, one of them will be the first new light heavyweight champion in more than four years.
"The thing for me and Anthony to do is hold that belt high and be proud of the accomplishment that we will achieve because there are so many people in the world that will never reach that level," he said.
The bout will headline a pay-per-view card that also features a middleweight title bout between Vitor Belfort and Chris Weidman.
Contact reporter Adam Hill at ahill@reviewjournal.com or 702-224-5509. Follow him on Twitter: @adamhilllvrj.