Jon Jones pulled from UFC 200 after potential doping violation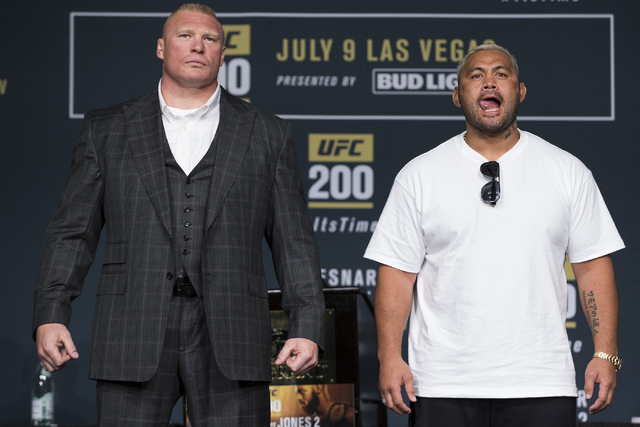 Former UFC light heavyweight champion Jon Jones has been pulled from the main event of UFC 200 because of a potential violation of the organization's anti-doping policy.
Jones was scheduled to face light heavyweight champion Daniel Cormier in a rematch for the belt in the main event of the historic card Saturday at T-Mobile Arena.
A heavyweight bout between Brock Lesnar and Mark Hunt now will be the main event.
The main event for UFC 200 is Brock Lesnar vs Mark Hunt. pic.twitter.com/RQU5ZcBRl9

— #UFCFightWeek (@ufc) July 7, 2016
"Very disappointed," Cormier said of his emotions less than an hour after learning of the cancellation. "I worked really hard to prepare for this. You take care of what you can take care of. That's what I did. More than anything, I'm just really disappointed."
The policy, which was enacted in 2015, is independently administered by the United States Anti-Doping Agency.
In a hastily scheduled news conference Wednesday night at the MGM Grand, UFC officials announced an out-of-competition test administered to Jones on June 16 was flagged by USADA.
Dana White holds a press conference live now https://t.co/FvY0drt5gG

— #UFCFightWeek (@ufc) July 7, 2016
Jones, who did not attend the news conference, has a right to due process, but officials determined there was not enough time to fully adjudicate the case and made the decision to pull him from the fight.
"It is important to note, that under the UFC anti-doping policy, there's a full, fair legal-review process that is afforded to all athletes before any sanctions are imposed," Jeff Novitzky, UFC vice president of athlete health and performance, said in announcing the change.
UFC president Dana White said the organization was informed of the potential violation shortly after 7 p.m. Wednesday.
"This sucks," White said when asked what he would tell fans upset by the loss of the long-awaited main event. "It's unfortunate. I don't know what to say."
White said he hoped to find a replacement opponent for Cormier, though he wasn't overly optimistic on such short notice.
"I've trained hard and long," Cormier said. "If anyone would fight, I'd fight them. Why not? I worked hard and long for this. But if it doesn't make sense for the UFC and me, then it doesn't make sense."
White was at dinner at Mandalay Bay when he received the news. He immediately texted Cormier, who was resting in his hotel room.
He summoned Cormier to the MGM Grand for an 8 p.m. meeting.
"I got a very bad feeling in the pit of my stomach," Cormier said. "I've dealt with a lot of negatives in my life, and the mood didn't feel very good. I was actually early for probably the first time I've been early to anything in my life. I just had to find out what it was."
White said he had not talked to Jones. A representative for Jones said a news conference is scheduled for 8:30 a.m. Thursday at the MGM Grand, where the fighter is expected to discuss the positive test.
The substance that triggered the failed test was not revealed. Jones faces a suspension of up to two years.
It's not the first time he has run afoul of the rules.
After Jones defeated Cormier in January 2015, it was revealed he had tested positive for cocaine during an out-of-competition test a month before the fight that wasn't supposed to be screened for drugs of abuse.
He was stripped of the belt and suspended indefinitely later that year following an arrest on a hit-and-run charge in Albuquerque, New Mexico. He also pleaded guilty to a DUI in 2012.
The flagged out-of-competition test would appear to indicate a performance-enhancing drug violation, though officials could not confirm that is the case.
Jones returned to win the interim title with a win over Ovince Saint Preux in April and set up the rematch to unify the belts.
"It's obviously disappointing from a competitive standpoint and a financial standpoint," Cormier said.
The distraught champion conceded the drug testing program is good for the sport, even though it probably cost him the opportunity to fight on what was expected to be the biggest event in UFC history.
"USADA changes a lot of things," he said. "They are a great organization that's going to clean up our sport. You're going to have casualties. Jon deserves due process. But if this is true, if a guy that's going to do something that affects you negatively a month before their fight, there's a good chance they'll do something that will enhance them, too."
Contact reporter Adam Hill at ahill@reviewjournal.com or 702-224-5509. Follow him on Twitter: @adamhilllvrj
RELATED
Ticket refunds available for UFC 200 with Jon Jones off main event