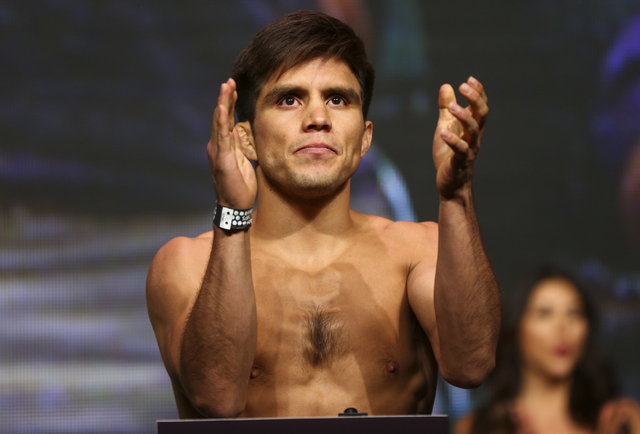 Jon Jones isn't proud about how he has lived the past 15 months.
Whether it was the revelation of a positive cocaine test in January 2015 or the infamous hit-and-run case in April 2015 in Albuquerque, New Mexico, for which he was suspended indefinitely by the Ultimate Fighting Championship and stripped of his light heavyweight title, or multiple court appearances where his dirty laundry was aired, Jones was in the news for all the wrong reasons.
But the defining moment for the man widely considered the best mixed martial artist in the world — and possibly ever — came at home in the kitchen with his fiancee, Jessie, and their three daughters in May.
"The moment I realized I had to change was the night I watched Daniel Cormier and Anthony Johnson fight for my light heavyweight championship, and I saw DC walk away with it," Jones said. "I was at home with my fiancee, and I thought, 'Man, here I am, possibly one of the best fighters ever, and I'm here in my house without a belt and without a sponsor, just completely wasting talent. I should be in the arena in front of thousands of people and millions of viewers, but instead I'm in my kitchen watching with my family. That moment is what made me realize, 'OK, Jon, you are ruining something very special.' It's time to pull your head out of your ass and do things right and really ace the rest of this story, the rest of this book.
"That's what I'm going to do."
The 28-year-old gets a chance to start writing his redemption story Saturday when he fight Ovince Saint Preux for the interim light heavyweight title in the main event of UFC 197 at the MGM Grand Garden. Saint Preux stepped in after Cormier suffered a leg injury and pulled out of the fight this month.
Jones, a minus-600 favorite tonight, said he never thought about removing himself from the card to wait for Cormier to get healthy.
"Over the last year, it's been really tough to be a Jon Jones fan, for sure," Jones said. "I haven't made it easy. I had to do this for my fans."
Throughout much of his career, Jones wrestled with living the life of a young, successful athlete who admits he could "party with the best of them," while trying to portray a public image he thought would endear him to a more mainstream audience.
He was often accused of being fake when cameras were on, though his persona became less believable after a 2012 DUI charge and a nasty feud with Cormier.
Jones seems to be relieved now that so much of his private life has become public.
"He has said that 100 times in interviews that he feels the most free he has ever felt in his life," said his longtime manager, Malki Kawa. "I think he worked very hard on protecting his private life, and he wanted to be the ultimate, consummate professional in public. I think he wanted to be that guy that everybody could look at. It was something everybody threw on him that he was going to be the mainstream guy. He was going to be the guy that would skyrocket to the moon and put the organization on his back to make it mainstream.
"So when that happens, a guy starts to think, 'Hey, I've got to dress up in a suit. I've got to speak this way.' I think that's what it was. I think he was just embracing what people expected of him."
Jones said he has been sober for seven months, which would make sense because he is on probation. It has given him plenty of time for introspection.
"The toughest part is just coming to the realization when it's just you by yourself and looking in the mirror that, 'God darn it, maybe I'm being a piece of (expletive),'" he said. "That moment when you really realize that I'm really messing up and ruining my life. I've been an (expletive) and just getting comfortable with that. Realizing that your piece of (expletive) qualities are making people around you suffer, and coming to that honest place in your life that you need to change. Those are the tough moments. It really makes you question who you are as a man. We all like to think of ourselves as good people, but I hit somebody in my car and took off running. That is a terrible thing to do.
"You take moments like that and accept them and promise yourself you're going to be better than that. Now I have to prove it."
He has proven himself in the cage. In 22 pro fights, his only setback was a controversial disqualification against Matt Hamill in 2009. His 12 straight wins have included eight consecutive title defenses.
Still, Jones says he can get better. He also insists he is done trying to play a character on camera.
"I have been my own worst enemy, but at the same time I've grown and I can't really beat myself up for my past because it's made me the guy I am today, so I'm grateful for my struggles," he said. "I've made it through them and been able to grow a lot. After one of my fights, my fiancee's mom told me adversity is the opportunity to grow, and I wasn't growing for a while.
"Now I'm able to grow."
That could be scary for the rest of the division, starting with Saint Preux.
The bout headlines a pay-per-view card at 7 p.m. that includes a flyweight title bout between champion Demetrious Johnson and Henry Cejudo. Four fights from the preliminary card will air live on Fox Sports 1 at 5 p.m., with the remaining bouts streaming live on UFC Fight Pass at 3:30.
Contact reporter Adam Hill at ahill@reviewjournal.com or 702-224-5509. Follow him on Twitter: @adamhilllvrj
RELATED
What to expect from each bout at UFC 197