Jones quiets Jackson with fourth-round tapout
September 25, 2011 - 1:00 am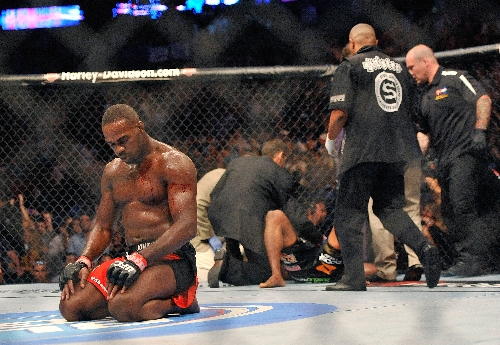 DENVER — The bad blood ended with Jon Jones planting a peck on the cheek of Quinton "Rampage" Jackson after the fight.
That was after Jones punished him so bad that Jackson needed stitches to close a wound above his right eye. It's simply the way respect is earned in the octagon.
Jones retained his light heavyweight title by putting Jackson in a choke hold and forcing the veteran to tap out Saturday at UFC 135.
Jones, 24, relied on his quickness and long reach to get inside on Jackson and inflict damage. In the fourth round, Jones put a bleeding Jackson in a rear naked choke hold, and Jackson signaled he was done. It was the first time Jackson has tapped out in his Ultimate Fighting Championship career.
The fighters entered the bout in the midst of a squabble. It started when Jackson accused Jones of sending a spy into his camp to steal his secrets, a charge Jones vehemently denied.
From there, the acrimony escalated, with Jones and Jackson exchanging barbs until it was time to brawl.
Afterward, the feud was declared over, replaced by talk of respect. Jones even gave Jackson a quick hug and a peck.
"I told Quinton that I admire him so much, that I respect him so much," Jones said. "Told him, 'You're awesome. It's such an honor to fight you.' "
The feeling was mutual.
"I thought he was all hype," Jackson said. "But he's the real deal."
In the other big fight of the night, welterweight Josh Koscheck knocked out UFC Hall of Famer Matt Hughes.
For the UFC, this was a return to the city where the organization staged its first championship fight 18 years ago. A capacity crowd filled the Pepsi Center and was largely split in its loyalties to Jones and Jackson, who is known for his role as B.A. Baracus in the big-screen version of "The A-Team" almost as much as his MMA career.
The charismatic Jackson put in the work to get ready for this fight, giving up burgers and relocating to Denver to train in the altitude. That's how motivated he was to win back a title he once held.
And while Jackson maintained Jones was the future of the sport, Jackson said he was the present.
It didn't take Jones long to end that notion. Jones opened a cut above Jackson's right eye with an elbow in the third round, and it was pretty much all over from there.
With his win, Jones might just bring stability back to the division. The belt has switched hands a number of times since Jackson last won the crown in 2007.
Down the road, Jones will face Rashad Evans, who was taking in the fight from the seats.
Evans knows Jones quite well, and there's no love lost between them.
He was friends and training partners with Jones before a falling out led to some bitter feelings.
The low-key Jones beat Mauricio "Shogun" Rua in March to become the youngest titleholder in UFC history. But he was facing probably the hardest puncher around in Jackson.
However, Jackson never had much of a chance to get inside.
"He insulted me, saying I had no punching power," Jones said after the fight. "We got together and improved my striking."
Koscheck wasn't even Hughes' intended opponent, becoming a late fill-in when Diego Sanchez broke his hand.
This was Koscheck's first fight since December, when he had the orbital bone in his eye shattered in a title fight against Georges St. Pierre.
Koscheck showed little signs of rust, as he jumped on Hughes early. With a second remaining in the first round, the referee halted the fight.
"I just want to say thanks to Matt Hughes for taking this fight late in his career. He's a legend," Koscheck said. "I'm really proud to fight him."
Koscheck was booed when he entered the ring, partly because Hughes is so beloved. Hughes, 37, said he's pondering retirement.